After the earthquake nearly two years ago, thousands of Haitians lost their homes and businesses and became Internally Displaced Persons (IDP), the majority of whom remain in tent structures and transitional shelters.
Planned communities seem to be the panacea for Haiti's housing shortage, but developing a successful planned community is tricky and can't be done solely through think-tanking without engaging the community. One project just beginning the first phases of construction, Santo Community, is being designed collaboratively by Architecture for Humanity, Habitat for Humanity and nearly 100 project beneficiaries already living onsite. A Haitian architecture and planning firm SODADE also assisted with community engagement and planning oversight during the initial stages. The process for designing Santo has been engaging and inclusive, and although the development is small-scale in comparison to Haiti's housing need, it may serve as a model process for designing communities.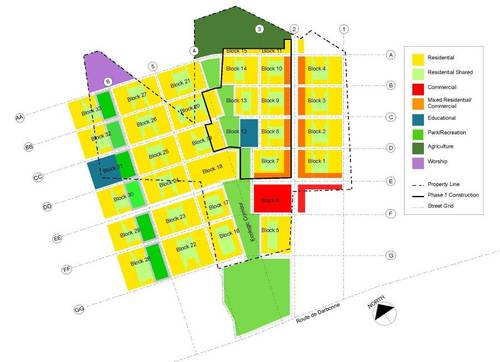 Santo Community Plan by Architecture for Humanity
The project will provide an urban infrastructure and up to 500 homes while incorporating informal settlement already located on the 20 hectare/74 acre site. Support projects include schools, health clinics, a sports facility, community market and opportunities for formal and informal commercial development.
Multiple groups have participated with heated discussions and arm-waving resulting in preferred lot layouts, housing options, market placements and sanitation preferences. The involvement in the community struck me as particularly important. Such community engagement is often left out of the process, but is essential to gain the trust and respect of future residents and also to learn about Haitian culture and how it translates into planning and architecture. Without this input and collaborative design, the project cannot truly be successful and won't have occupant buy-in crucial to creating community leaders and residents who truly care about their neighborhood and its development.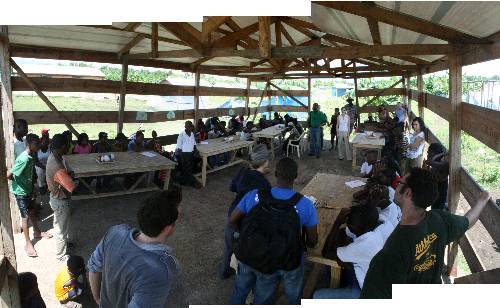 One of several onsite charrettes - photo by Architecture for Humanity

As a follow-up to the housing charrette, participants were given a short survey to gauge their preferences for lot and block layout. Some examples include extension of the starter home, latrine placement on the lot (the toilet facilities will be separate from the house) and parking needs. Informal commerce was also addressed (many women participate in community life as 'sellers' of housewares and fresh food as a means of income), as well as agriculture and community garden placement.

A model home has been constructed by Habitat for Humanity and construction of infrastructure and the initial 150-home neighborhood is under construction. Construction of the schools, sports facility, and marketplace along with other support structures are planned for 2012.
As always, track our progress down on the ground at The Haiti Rebuilding Center or AIA for Haiti.
Editor's note: Stacey writes from a unique vantage point as a former Design Fellow with Architecture for Humanity, co-supported by the American Institute of Architects (AIA) and US Green Building Council. Stacey returned to the United States in August 2011.

SUBSCRIBE TO & FOLLOW TRUMP'S FIRST 100 DAYS
How will Donald Trump's first 100 days impact YOU? Subscribe, choose the community that you most identify with or want to learn more about and we'll send you the news that matters most once a week throughout Trump's first 100 days in office. Learn more