"That's what you're wearing?", President Bush asked his wife, Laura, as she was getting dolled up for their first state dinner in honor of Vicente Fox in 2001.
"It's Mexico -- I'm going to wear something bright, " she replied.
"Well, I think you should wear a black one ( dress), " he chimed in.
This is one of the many charming vignettes offered in Nancy Clarke's new book My First Ladies.
Politics is not always a rosy affair, but Clarke, who served for twenty-five years as the White House florist, says that flowers add beauty and magic to the presidential mansion, so the president and his guests can escape from the sometimes ugly side of Washington.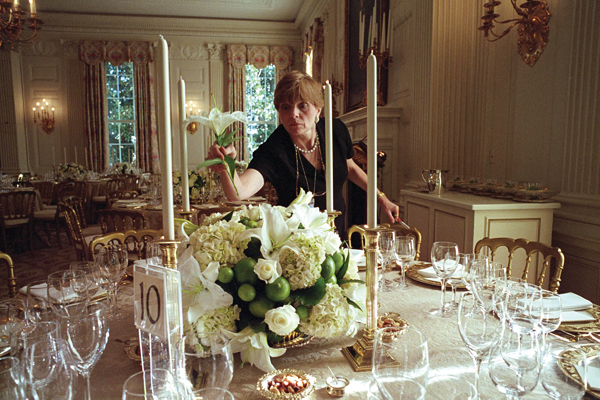 According to Clarke, President Obama is fond of saying his favorite part of living at the White House is seeing the elegant arrangements of les fleurs on constant display.
In her new book, she offers a behind the scenes peek into her career at the Maison Blanche and her close working relationships with six first ladies from Rosalynn Carter to Michelle Obama.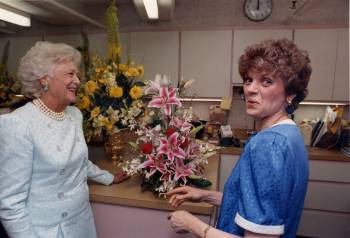 She held a book signing event at Washington's signature jewelry boutique Tiny Jewel Box this week sponsored by the online floral service H. Bloom.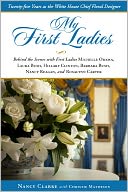 Of course, in addition to the bon mots from presidential history, one takes away a renewed appreciation of all things floral from her book, and Clarke told me that even if you live in a studio apartment on less than a presidential budget, you can learn how to brighten your home with flowers.
She suggests starting with house plants, and then graduating to orchids, once you get acquainted with your green thumb.
Clarke also says cutting a rose or gardenia bloom from a friend's garden and placing it in a simple cup or vase adds a nice touch.
FOLLOW HUFFPOST