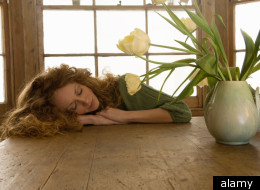 Having difficulties falling asleep or staying asleep? Here are some tips to help you get a good night's rest.
6 Tips For A Better Night's Sleep
In a perfect world, you would shut your phone, iPad, laptop, desktop, television, etc. off one hour before bed. But let's start with a half-hour first. The light that emits from your iPad keeps your brain awake, according to sleep researchers. Flickr photo by Kevin Spencer

When you are working or studying while in bed, you connect that stress level with sleeping. Plus, if you are sleep-deprived, you're going to fall asleep while reading or studying. Mind you, sleeping and sex are two separate activities. Don't fall asleep during sex. That's kind of a no-no. Flickr photo by SuperFantastic

Get some hotel curtains -- the kind that block out light. (I mean buy them. I don't want to start getting calls from hotels that have naked windows.) The darker the room, the sounder you sleep. Heavy curtains are used in locations close to the Arctic Circle, because during the summer the sun sets for about 10 minutes. One summer I was walking around Oslo in broad daylight, and realized it was actually 10:30 pm. I was wide awake.

If you work from 9 to 5 from Monday through Friday, then you stay up until 2 a.m. on Friday night, your body gets all off track. It spends the rest of the weekend trying to catch up, and it may be more difficult for you to get to bed at a decent hour on Sunday night. Get up at the same time every morning, even on weekends. Yes, you read that correctly. Make yourself get up.

I'm all for napping. I think napping is an essential part of wellbeing. That being said, there's a right way to nap and a not-so-right way to nap. Napping in the morning is better for your sleep cycle than napping in the afternoon or early evening. The closer your naptime is to your bedtime, the more difficulties you may have falling asleep. Also keep your naps to about one hour or less.

The more you exercise, the better you sleep. When you exercise, it raises the level of a brain chemical called dopamine. When you raise your dopamine levels, it helps reduce anxiety and depression. Less anxiety and depression = Less insomnia. Even if you're not the exercising type, you can squeeze a little exercise in here and there. Park your car further away from your office and hoof it. Take the stairs instead of the elevator. Every little bit counts. Flickr photo by Denis Todorut

If you've had a lifelong problem with getting enough sleep (or if you snore), there may be a physiological reason behind it. Sleep apnea is when you have shallow breathing or pauses in breathing while you sleep. You may not wake up during the night, but your body never gets into deep sleep. Many people with sleep apnea are undiagnosed. Chronic sleep apnea has been linked to weight issues, heart problems, and "micro sleeps", where your brain checks out for seconds at a time. You can find more information on sleep apnea, including a video, here. Check with your primary care doctor about your sleeping difficulties. He or she may refer you to a sleep specialist so you can get a sleep study. Treatment for sleep apnea is available -- and it not only helps improve your sleep, it makes for a happier spouse/partner as well!
How can you tell if you're sleep-deprived? Here's a helpful quiz.
Here's to getting a good night's rest!
For more by Stephanie Sarkis, Ph.D., click here.
For more on sleep, click here.
www.stephaniesarkis.com
Copyright 2012 Sarkis Media LLC
Follow Stephanie Sarkis, Ph.D. on Twitter: www.twitter.com/stephaniesarkis