The simple fact that Oglala Sioux Tribe members filled out ballots and slid them into slots in bright blue boxes on November 2 was a victory for equal rights. According to tribal member and South Dakota state legislator Kevin Killer, the months of continual and ever-changing efforts to repress, and even shut down, Oglala participation in the national election steeled voters' resolve. "Everything that happened made clear the power of our vote and encouraged our people to come out today," Killer said.
Standing in the parking lot of the gas station across from the precinct in the center of Pine Ridge village, the largest town on the Pine Ridge Indian Reservation, Killer watched fellow Oglala Lakotas transform the fear-mongering, race-baiting, and inanity of election 2010 into a celebration of citizenship. Kids at each corner of the nearby crossroads danced and shook brightly colored placards proclaiming, "Vote." Parades of cars and pickups with similar signs wound around the precinct, and the catchphrase of the day was "honk if you're for voting."
Though Killer was enjoying the festivities, he also had his mind on serious matters. With half the population of Pine Ridge under age 18 and an unemployment rate of 85%, desperately-needed economic development must happen sooner rather than later, so jobs await these young folks as they move into their twenties, he said. This year, Killer ran unopposed in his district, and when the 30-year-old Democrat starts his second two-year term in the legislature, he'll focus on employment and financial opportunities in renewable energy, particularly wind, which the Northern Plains has in abundance. He's also planning to ensure that redistricting resulting from the 2010 Census does not cause Native people to lose representation unfairly. "If we don't accomplish these things, matters will get worse," he said.
Wind energy may be a breeze, as the South Dakota legislature has supported incentives for projects of this type -- as long as they aren't seen as environmentally sound, it seems. Right-minded legislators aren't buying that analysis; in the last session, for example, they took up a bill that supported teaching youngsters that "astrological dynamics" are one cause of climate change and that carbon dioxide is no greenhouse gas, but rather "the gas of life."
Redistricting, however, will not be an easy fight. With more Republicans in control than ever -- a two-thirds majority in both of the state's chambers -- heavily Democratic Native American populations may well be targeted for loss of representation, just as their voting rights have been persistently attacked for the past several months.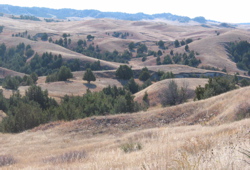 The next two years will be telling ones for Kevin Killer, for his compatriots on the reservation (whose pines and ridges are shown at left), and for job seekers nationwide. As we all now know, the Obama Administration's lack of progress on employment led voters across the country to repudiate many Democrats, who have traditionally been allies of Native Americans. Outgoing Democratic officeholders include South Dakota's congresswoman, Stephanie Herseth Sandlin, as well as local legislators. In a fit of altruistic revenge -- that's when you punish another in a manner that harms you as well -- the electorate turned to Republicans, who are more industry- than worker-friendly, who have opposed extending federal unemployment benefits, and whose last president was famously able to distinguish between the "haves" and the "have mores."
In South Dakota's Sioux counties, the poorest in the nation, it's hard to see how the belt can be tightened further. Tax cuts for the rich just won't cut it here.
Photos by Stephanie Woodard.
SUBSCRIBE TO & FOLLOW TRUMP'S FIRST 100 DAYS
How will Donald Trump's first 100 days impact YOU? Subscribe, choose the community that you most identify with or want to learn more about and we'll send you the news that matters most once a week throughout Trump's first 100 days in office. Learn more