That was fun. The Tampa Bay Rays beat the Red Sox and send all the obnoxious fans of Red Sox Nation into the winter with tears in their bloodshot eyes. TBS rose to the occasion, with a crew that let the game unfold on its own and commented with appreciation, insight and restraint. Hats off to Chip Carey, Ron Darling and Buck Martinez. I suppose that Craig Sager was dressed appropriately for the home of the Ringling Brothers Circus and did a creditable job under his usual sartorial circumstances.
Probably the best part was the coverage of the large pile the Rays formed on top of reliever David Price, featuring isolated replays of Carl Crawford and B.J. Upton racing in from the outfield, shedding equipment and clothing along the way and then taking running high dives on top of the pile.
Normally, I root against a dome, but if they are going to play during the second half of October, being inside is a good idea. Next year, the seventh game of the World Series will be on November 5th. If a couple of Northern teams are in it, they will be bumping up against your local Turkey Bowl.
Now the bad news. The World Series is on Fox. Joe Buck announces baseball as if it were a funeral. It is like trying to watch a game from the old Seattle Kingdome. You become depressed no matter what is happening. Combine this with Tim McCarver's incessant proctologic prattlings and you have a recipe for watching The Daily Show instead. Or just constantly refreshing the polls on realclearpolitics.com.
Buck does not even like baseball, and it shows. His dad was one of the best. He is the absolute worst. Luckily, you can enjoy Jon Miller and Joe Morgan if you have one of these and slow then down about ten seconds.
Who is the best? There was a time when Vin Scully did the World series on national TV. His call of the Dodgers' last inning of the season shows why L.A. fans still enjoy him after all these years. Doing his best Vin Scully imitation, he pointed out between pitches that in June, no Dodger fan would have imagined being in the NLCS, quoted the old chestnut about W.C. Fields wanting his tombstone to say, "all in all, I'd rather be in Philadelphia (remember he lived near Ronald Reagan in Pacific Palisades), and acknowledged that the better team was about to win. It just felt right.
And one more thing. The Rays are no longer the Devil Rays and they have the picture of the sun on their chests, meaning, I presume, that they are now named after the rays of the sun.



So, why do they still have a devil ray on their sleeves?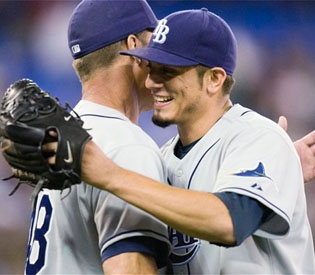 (photo from Boston Herald)
(Corrected to name correct Carey. Thanks)