I am receiving hundreds of e-mails a week from people who are finally "getting it" on how to save their jobs. They finally "get" my concept that there are unique and secret tips to bulletproof your job during a recession - a time when bosses have a "blank check" to fire almost anybody for any reason and blame the economy.
Getting back to the point of this blog, in Bulletproof Your Job (HarperCollins) I have 50 rules to follow that will guarantee that you can "bulletproof your job" in these economic times, even when your company is letting people go and everyone around you is losing their jobs. HarperCollins asked me to write the book in 45 days so they could rush it to bookstores by Labor Day. Clearly, the publishers that work for Rupert Murdoch (who owns NewsCorp, which in turn owns HarperCollins) are better at forecasting an economic downturn than the economists at Standard & Poor's. They hit it right on the nose with the turnaround time when I brought them the book proposal.
Last summer, Harper asked me to appeal to some booksellers in order to place out-of-buying schedule orders. Many of these booksellers felt inconvenienced, thinking there would be no customers interested in such a book until January. Some of these booksellers didn't bulletproof their own jobs by realizing that a book on this topic would sell like hotcakes. One book buyer from a major chain actually told me that a workplace self-help book was the last thing that people needed and that she'd be better off slapping Suze Orman's frosted-haired head on a book and it would sell right away. With all due respect to my fellow guru, Suze... investments? I appreciate that we need to protect our investments, but as Viscusi disciples know, it's health, family, job, and then money. Remember that expression "Jobs, Stupid"?
And many of the print journalists and TV producers who were among the first to review the book were of the age group who had not experienced the economic downturn of 1991. Many of them weren't even working during the post-9/11 mini-recession because they were still in school. Therefore, they were naive to the fact that there are unique strategies that you need to employ during a recession that will allow you to keep your job even when everyone else around you is being fired. Their response to my formula of how you can beat that bullet instead of biting it job-wise was taken as a gimmick. A trick, smoke and mirrors. This response was mostly based on the belief that working hard -- being a top performer -- was all that was needed to keep one's job. "Aren't you telling people to brown nose?" was the question reporters asked me most often.
I'm talking about something new and relevant that wasn't an issue 15 years ago. Who had ever heard of Google, or even Starbucks, then? Talk about relevant. Get it?
The basic premise is that work is not a democracy, and that it's important to build a personal relationship with your boss. The 50 secrets I reveal in my book on how to keep your job, even during these tough times, DO work, according to the e-mails I've been getting from readers.
Maybe President-elect Obama should consider recruiting my editor and publishers away from Rupert Murdoch as economic forecasters. They obviously were ahead of the curve by publishing Bulletproof Your Job.
Stephen Viscusi is the author of Bulletproof Your Job (HarperCollins) and can be reached at stephen@viscusi.com. Please visit him on the web at www.bulletproofyourjob.com.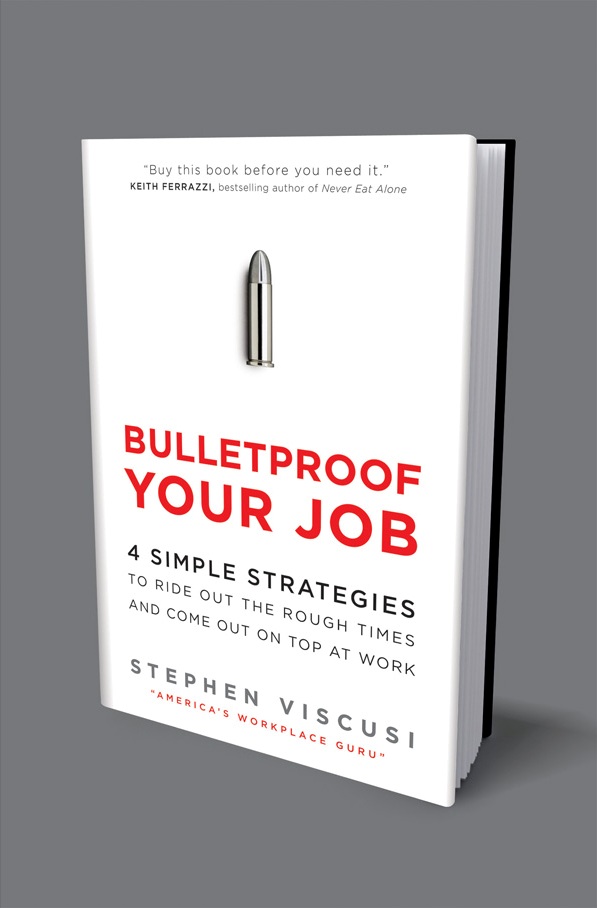 This Blogger's Books and Other Items from...
FOLLOW HUFFPOST