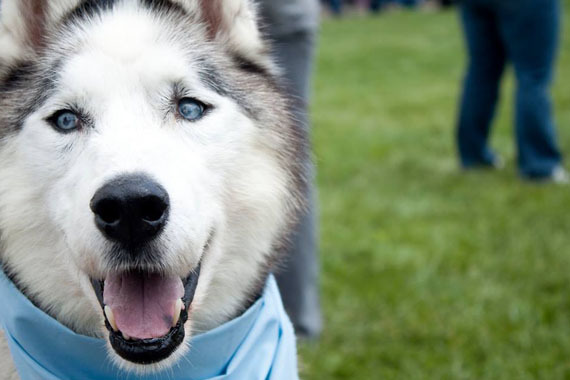 On March 12, 2011, Logan Falk, an eleven year-old Husky, was violently attacked by an unknown assailant. Logan was in his kennel in Michigan that night, when someone entered the Falk property and threw acid on Logan's face, blinding him and burning his face severely. Matt Falk found Logan the next morning and rushed him to the vet. Though doctors were eventually able to control the spread of the burn, the medication destroyed his liver and kidneys. The Falks buried Logan just a few months later, and he is dearly missed by his family, and by supporters around the world. His tragic story is a reminder of why law enforcement must take animal cruelty cases seriously... and why individuals must take a stand to protect animals in their communities. That is why the Animal Legal Defense Fund hopes you will join us for the sixth annual National Justice for Animals Week, February 16-22, 2014 at ALDF.org.
Logan is honored as the campaign mascot for National Justice for Animals Week 2014 to raise awareness about how individuals can work within their communities to achieve justice for animals who are victims of terrible cruelty, like Logan. National Justice for Animals Week also honors law enforcement, prosecutors, and legislators who have made contributions to animal protection: America's Top Ten Animal Defenders. Actress and long-time animal advocate Charlotte Ross (Glee, NYPD Blue) has teamed up with the Animal Legal Defense Fund as spokesperson for the week.
ALDF's Top Ten Animal Defenders include Sheriff Tom Dart, who Time magazine named one of the 100 Most Influential People in the World. Under his direction, Cook County, Illinois founded its first Animal Crimes Unit. Jane Velez Mitchell, an award-winning television journalist and host of her own cable news show on HLN, who consistently reports on animal cruelty, and New York Council Member Peter Vallone Jr., who sponsored a measure that will create a city-wide animal abuser registry, also made the list.
But don't leave the fight up to lawyers and lawmakers -- animals need your help too! During National Justice for Animals Week, daily actions include a letter-to-the-editor writing campaign and online actions for change. We also highlight the Animal Legal Defense Fund's Crime Tips smartphone app, which anyone can download for free. "Crime Tips" allow people to easily document and report animal cruelty to law enforcement from their phones. More than 36,000 people have downloaded the app so far, and the Houston Humane Society and Vermont Humane Federation are among the first animal shelters to promote the app as their primary tool for reporting animal cruelty in their jurisdictions.
"There are so many ways that you can help stop cruelty," Charlotte Ross urges. "Please join us in fighting animal cruelty and honoring animal victims." Visit ALDF.org to download ALDF's Crime Tips app, and to take action for animals today!