Yesterday, the second half of the Stanford Engineering Lean LaunchPad Class gave their final presentations. Here are the final four (the first five are here.)
Team ParkPoint Capital
This team spoke face-to-face with 326 customers. As often happens, this team came into class convinced that their market research proved that their business was providing credit to underbanked customers. Eight weeks later they ended up as a financial service provider for immigrants. Lots of learning and pivots on the way.
To see the slide presentation, click here.
The ParkPoint Capital customer discovery narrative blog is here.
We thought the team summarized their lessons learned well: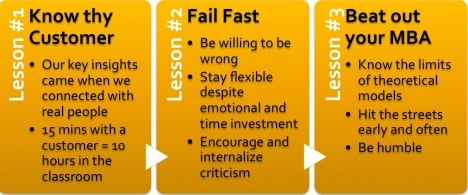 Team DentalOptics
Team DentalOptics spoke face-to-face with 72 customers. Their journey was from a lighting solution for dentists to an automated way to test for periodontal disease. How they got to their destination was truly amazing.
Team MiCasa
They spoke to 105 customers and surveyed 98 more.
You can watch as this team pivots through Customer Segments by clicking through their business model canvases at the end of presentation. It is the first film-strip of entrepreneurship in action.
Team ZiiLion
Interviewed 154 customers in China plus surveyed another 48.
This team was trying to do something extremely difficult. Create an app for Renren (a Chinese version of Facebook) for event planning. And do it while in school in the U.S. Lots of learning and Pivots here.
Congratulations to all the teams. They taught us a lot.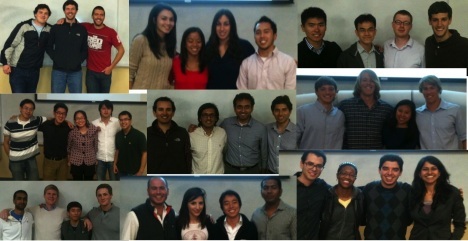 Stanford e245 2012 class photo
Next week the Lean LaunchPad class will be taught to 25 teams for the National Science Foundation Innovation Corps. And later in the week we'll be sharing what we learned with other entrepreneurial educators it at the NCIIA conference. Then in April we'll be teaching Corporate Entrepreneurship at Columbia University.
Lessons Learned Class is a mix of engineering students and MBA's
Students apply as preformed teams
Application to the class is the teams business model canvas
Curriculum = business model canvas + customer development
Minimal lecture, maximum experiential immersion
Relentless customer visits (10-20 a week)
On-line journal to document their customer discovery narrative
One mentor (VC or experienced entrepreneur) per team
Mandatory office hours
Weekly in-class presentations for all teams
Weekly critiques of team customer discovery progress
Workshop on how to present a story-arc and narrative
This Blogger's Books and Other Items from...
SUBSCRIBE AND FOLLOW
Get top stories and blog posts emailed to me each day. Newsletters may offer personalized content or advertisements.
Learn more