There are certain foods that instantly transport you. Sometimes, when a kao soi has just the right balance of coconut milk, chile and pickled mustard greens, I'm whisked off to that night market in Chiang Mai. Similarly, a warm, puffy homemade pita that's slathered in a crunchy, herbal, sesame-flecked za'tar takes me back to a brief visit in Israel many years ago. The same is true of the Alphonso mango from India, which I had on a trip to the subcontinent seven years ago; the floral, fruity aroma and mind-bendingly sweet, juicy flesh has haunted me to this day. Fortunately, the good folks at Patel Brothers have once again tapped their connections in India, and have imported these beauties for a second year in a row.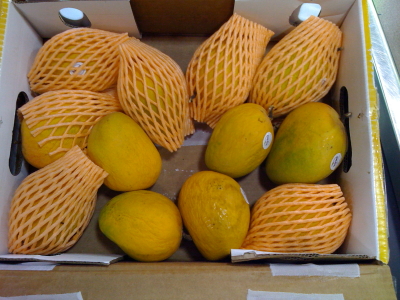 The Devon Avenue grocery store is always a must-visit for any kind of Indian spices. But the family also owns the Swad brand of frozen and shelf-stable foods, which always surprise me with their bold flavors and reasonable prices. The coveted Alphonsos are not exactly reasonably priced - about $25 for a case of 12 - but that's still far less than the $35 they charged last year. They've apparently figured out the shipping details and distribution, and have made these fruity gems available for a limited time.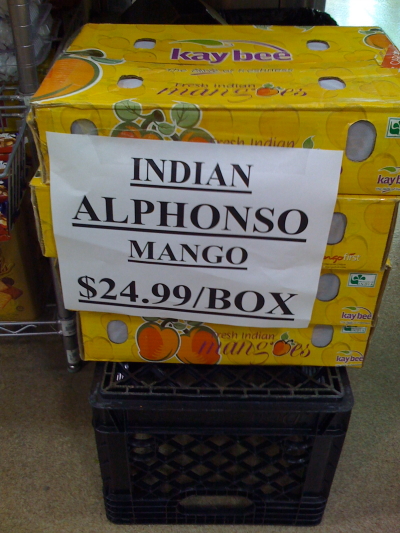 How good are they? Consider that most of the mangos we see in Chicago are the popular Julies, often sold unripe and, even when they're at their peak, their interiors have the texture of stringy jicama or daikon radish. A lot of Mexican markets will carry the smaller, oblong, yellow-colored Manila mangos, but even those are unreliably tart and often under or too overripe. The Alphonsos are small - about half the size of the gargantuan Whole Foods variety - and yet they pack a wallop: just cut down the sides of the middle seed, score each half with a knife into cubes, and then pull the sweet flesh off with your teeth. A small squirt of fresh lime juice might help, but these wonders of nature need little help. The aroma will entice you, and then the sweet, juicy flesh will suck you in like a crack addict.
One case for the family? Hell, you'll be running back to Devon Avenue before you know it.
FOLLOW HUFFPOST