Six years ago I met a wonderful high school teacher at the United World College -- Eyad Shabaneh. Together with Victor Salama, NFTE's Vice President of Business & International Partnerships, we started a youth entrepreneurship program in Hebron on the West Bank.
I remember sitting in his class when I visited the United World College in Montezuma, New Mexico. I thought he was one of the best economics teachers I had ever seen. I immediately asked him if he would like to do a program for us in the Middle East. He carefully explained his background to me at that time.
Eyad was born in Hebron, a busy commercial center on the West Bank. While his family was middle class, Eyad's father could not afford to financially support his son's studies abroad. So, at the age of 18, Eyad went to study in Canada. He had to work very hard to pay for his Economics degree from Victoria University. He began to teach and earned an MA in graduate school in Economics. Eyad moved again in 2000, this time to the U.S. for his teaching position at United World College -- he is the Economics Instructor and IB summer institute director there.
After five years, he returned to Hebron to teach in a mosque. His class had between seven and ten young Palestinian children, all learning the basic NFTE program. Eyad has been spectacularly successful and he stayed in touch with all 35 graduates. He used a version of the NFTE curriculum that was translated into Arabic.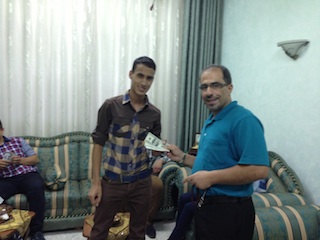 Mohammed was born in Hebron in 1996. He says he hopes to finish school and pursue scientific studies at university. His business plan is to sell fresh, natural juices to refresh people in the hot, dry summer. He joined NFTE to learn about leadership and project development. Mohammed says that through NFTE, he learned to survey the market, look at ways to reduce prices, and responsibly plan for and evaluate costs.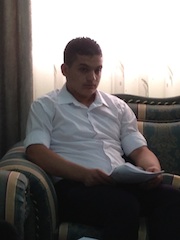 Magdi is also from Hebron. He is now studying electrical engineering at a nearby university. His business is a sewing service, in response to the decline of sewing machine use in households. The business would work to provide high quality and convenience for families. Magdi says that the price per unit is 10 shekels, something she learned the importance of with NFTE.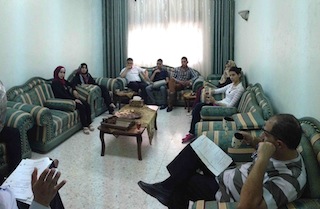 Eyad Shabeneh and his brother, Jihad Shabaneh teaching.
Eyad shared with me the importance of entrepreneurship education in his home country:
Through this program, my brother and I have taught the basics of conceptualizing, planning, and running up a business for students in Hebron, West Bank, Palestine. This program also provides these students with the seed money to start a very small business that I am sure will benefit them in all aspects of their lives. Add to that, the financial benefits that they and their families receive from just participating in this project and program. When a student receive $100 for participating in the program, it makes a difference in his life. Yes, $100 is not a lot of money here, but in Hebron, it is considering the very harsh economic situation there. All you need to see is the smile on these youngsters' faces when they receive the $100 for their business plans or $300 for the first prize. $300 back home is sometimes equal to someone's salary for the whole month.

The hope and confidence that this program can instill in youth from low-income communities is priceless. Entrepreneurship, the ability to coherently organize resources into productive activity, remains the bedrock of healthy economies. The potential here is astounding.