Monday brought three conference calls, each about an hour, with executives from each of the Detroit Three announcing, dissecting and, most of all, spinning, their final 2008 full-year sales figures, as Wall Street-type industry analysts and reporters ranging from outlets including the Associated Press to Motor Trend, from Automotive News to the Huffington Post (your loyal poster) took notes and could ask questions.
Auto industry sales numbers can be as skillfully sliced, diced and presented for consumption as easily as my favorite TV pitchman, Vince, demonstrates his newest kitchen gadget.
How did the day go? Well, the only non-loser in the US in 2008 was Subaru, with a 0.3% sales increase. They sold 491 more cars in 2008 than 2007.
Outside of Fuji Heavy Industries' car-making division (see above, Subaru), the 2008 numbers were negative and, well, miserable.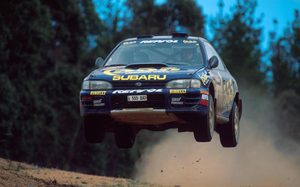 (Subaru's WRX World Rally racer under the control of the late World Rally Champion, Scotland's Colin McRae. Subaru was the only carmaker in the US to see a sales increase in 2008).
General Motors, Ford, American Honda and Toyota USA all reported declines of more than 31% in December; Chrysler experienced a plummeting 53.1% drop when comparing December 2008 and 2007 sales.
For all of 2008, BMW dropped 9.7%, Daimler (Mercedes, Smart and Maybach) fell 1.5% , Isuzu lost 33% and Mitsubishi, 24.6%. Nissan was down 10.9%, Porsche had an even 25% loss and Volkswagen sank 4.4%.
Officially, the US auto industry just ended its worst year since 1992.
All the conferences were a bit like the end of the Wizard of Oz, when the curtain is pulled back to reveal the Wizard as all-too-human; that's because, thanks to the recent Congressional hearings, the entire world now knows much of what's wrong in America's carmaking capitol.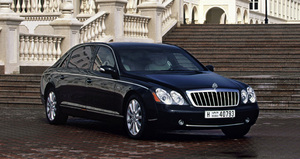 (A Maybach, really an outrageously elongated and outfitted version of the Mercedes-Benz S-class for about $300,0000 more. Even mighty Daimler, including Smart, saw a drop in sales last year).
A year ago, the 2007 full-year sales figures saw car and light truck sales just a tick over 16 million (in car parlance, the light truck category includes pickups, minivans, SUVs and some crossovers).
And as the world started doing business for 2009, carmakers selling in the US reported 2008 total sales of 13,139,058.
Doing what TV judge Marilyn Milian calls "a little rough justice" on our calculator, that works out to an 18.7% drop from '07, and a loss of 2,913,122 sales.
With the average price for 2008 vehicles at $27,958, that means a loss, in America's car marketplace, of $81.5 billion, with the overseas auto industry faring no better.
Not incidentally, all three companies said their full-size SUVs and other truck sales increased beginning in late September/early October, as gas prices started trending down (while they're already on once again an upward slide).
And no Detroit conference call participant would predict sales numbers or market shares for 2009, except to say there is little on the horizon, for at least the first half of '09, to indicate there will be any recovery; that things will remain about the same for the foreseeable future.
During GM's call, they showed enthusiasm for "...six major launches in the US in 2009. There's a new Buick Lacrosse, in the large mid-car segment, the new Camaro in the regular sport segment, which offers conquest opportunities (gaining new customers who had previously bought other brands), the new Cadillac SRX, a bone fide strong player in the mid-luxury crossover segment, the Cadillac CTS wagon in a market we have not yet been in, and Chevrolet's Equinox crossover and a GMC version of it. These will all get 30mpg and will be near the other leaders in their segments." Well, we shall see, won't we?
The execs also said that, "When the Obama Administration comes in, there's likely to be a long honeymoon period, and a lot of excitement because of the change he's promised, and for us, he's coming at a perfect time." They also have high hopes for Obama's choice for Treasury Secretary, Timothy Geithner, now head of the NY Federal Reserve.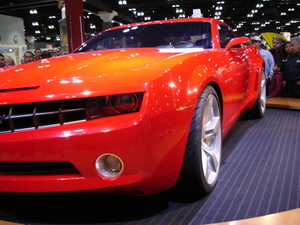 (The 2010 Camaro prototype at the Los Angeles Auto Show; it's base model comes with a 300-horsepower V6 and the numbers go up from there in cylinders and power. Ford has brought out a not-really-new-but-freshened-up Mustang to compete with the General in this segment, and Dodge has their new Hemi-available Challenger. Last round-up of the Pony Cars! YeeHaw!).
Ford execs, in their conference call, explained what they called a "milestone" in today's numbers. "The pendulum has swung back towards passenger cars in 2008. It is the first year since 2000 that passenger car sales were higher than light trucks, though light truck sales were still significant," said the company's top analyst. He estimated the car market share at 51%; the rest are (still) trucks.
Ford also announced that 30% of their 2009 cars and trucks will be all-new models, and they hope their new Fusion gas/electric hybrid (and its Mercury twin, the Milan hybrid) to bring many new buyers into their showrooms (though the new Mustang will probably draw more shoppers).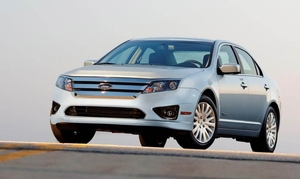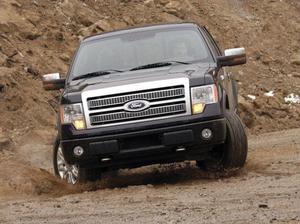 (Ford's new 2010 Fusion hybrid, top, will soon hit the roads of America, but their all-new F-series truck is where the company knows they can make the big bucks).
Chrysler wants a national Car Czar appointed, an executive saying, "It would make it a lot easier for us" if the post were filled. They want more bailout loan money so their in-house financial company can more easily finance customers (GMAC now finances buyers with FICO scores of 620 and above; before GMAC's recent bailout loan, that number was 700).
They also talked about 90 million new potential car-buyers who belong to credit unions, which have agreed to try and finance Chrysler vehicles. Saying that 20% to 25% of Chrysler's showroom visitors haven't been able to get financing, "add to that a 51% drop (in sales), and you've got a problem."
And the company proudly announced a 29% cut in warranty costs and costs-per-claim, saying that $500 million spent on product quality was paying off. Unfortunately, they didn't talk a lot about new models, and the terms "hybrid" and "EV" never crossed their lips.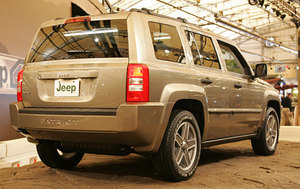 (Chrysler says their Jeep Patriot had strong sales in November and December, and hope that the public hearing that info will bring more interested buyers into their showrooms).
Following 2008, with Washington and the public demanding to know what these companies are planning for our futures, a Detroit PR staple line about their products - "Just wait'll next year"! - might belong only to Chicago's Cubs, once and for all.
The Wizard's curtain is torn away; car companies are only human, after all.
SUBSCRIBE TO & FOLLOW THE MORNING EMAIL
The Morning Email helps you start your workday with everything you need to know: breaking news, entertainment and a dash of fun. Learn more