We now have 150 digital images from the 2008 SEMA Show in Las Vegas available for your viewing. Just click anywhere on this line and the Photo Album will open in another window. As you may already know, the SEMA Show is sort of the "un-green" auto show of the year. In short time we'll also have videos posted from that exhibition. Next up on the schedule: Media Days for the Los Angeles Auto Show happen next week. We'll have plenty of photos and videos from that show, one of the world's most complete and a necessity for companies trying to reach green-oriented buyers. We'll be getting into and driving some of the newest green vehicles and filing our reports soon after.
Flush with victory and a good old-fashioned mandate, president-elect Barack Obama, in his first press conference since the election said, "The auto industry is the backbone of American manufacturing and a critical part of our attempt to reduce our dependence on foreign oil. I would like to see the Administration do everything they can to accelerate the retooling assistance that Congress has already enacted."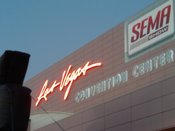 But many observers think that grave damage has already been done to the Detroit Three, and that the $25 billion in direct government loans already approved and starting to trickle into GM, Ford and Chrysler will be too little, too late.
Several analysts have said that if even one of the Detroit Three files for Chapter 7 bankruptcy, when a company dissolves, rather than Chapter 11, which allows a company to stay in business while it reorganizes, more than two million Americans will lose their jobs.
Last week, we spent time at the annual automotive high-performance orgy known as the SEMA Show. Founded in 1963, the Specialty Equipment Market Association is a lobbying group and professional organization made-up of some 7,000 companies worldwide, which manufacture performance and appearance products for a near-$40 billion automotive aftermarket: consumers wanting to personalize their cars and trucks.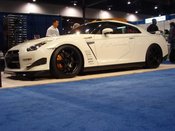 (Nissan's new GTR should have been a popular SEMA Show platform to showcase new products, but with only 1,500 of them for sale in the US this year, there were only two or three at the show; most show-goers had never seen one in the flesh. Other popular show cars were the new Dodge Challenger, the Smart and the all-new 2010 Chevrolet Camaro, but it was found nowhere outside GM's huge exhibit).
Their annual exhibition in Las Vegas draws about 100,000 participants from around the globe, including those from product manufacturers, buyers ranging from teams working for giant chains like Wal-Mart to a single person from a local hot rod shop, members of the enthusiast and general-interest media and the car-makers themselves.
Many of the people and companies we saw at SEMA last week may very well be out of a job or out of business by next year's show. And those on the losing side could range from a closed two-person aluminum wheel repair company run out of a garage to General Motors, Ford and Chrysler.
To its credit, SEMA did try to create some excitement for "green" products, services and marketing approaches. One exhibit showcased companies active in the development, deployment and marketing of green technologies, while SEMA tried to prove that being environmentally friendly can also be "cool."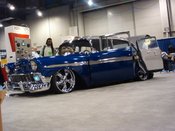 (SEMA exists for people who own old cars, too, like this this heavily-modified '57 Chevy Lowrider, and note the suicide doors. Such car-owners spend many thousands of dollars on their pride and joy).
They've also begun a new program, partnering with the Auto Club of Southern California, called the Fuel Economy Challenge. SEMA member companies can submit powertrain products for testing to determine their effect on fuel economy. A good outcome of this challenge will be real-world results to help consumers save some of the hundreds of millions of dollars wasted every year on gimmicks and gadgets sold by companies with just one target: Americans' wallets.
While many SEMA member companies make and sell appearance products, from expandable plastic car covers to paints, waxes and cleansers and all the tools to apply them, the membership is firmly rooted in high-performance. These are companies which design, manufacture and sell turbochargers and superchargers, replacement aluminum cylinder heads offering car-owners more horsepower, nitrous oxide systems (not the kind in-use at your dentist, but the kind to add 100-or-more instant horsepower), "slick" racing tires, gasoline high-octane additives and hundreds more. To these companies, the majority of SEMA's membership, all "green" means is the cash needed to make a car or truck go faster.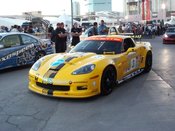 (Ron Fellows, a sports car driving champion from Canada who also dabbles in NASCAR, was the test and development driver for the C6 Corvette program, the current Corvette model. This C6R, the car's racing version which has won its class at Daytona, the 24 Hours of Lemans, the 12 Hours of Sebring and elsewhere, was at SEMA to promote Chevrolet and Fellow's new driving school).
A few companies at SEMA did seem to "get it."
One, Snow Performance of Woodland, CO, takes their existing products, water/methanol injection systems which cool gasoline and diesel engines to produce more power, and is re-marketing them to green buyers. How? The technology can also increase fuel economy and reduce emissions.
Powertrain Integration of Sterling Heights, MI, specializes in small runs of engines and transmissions (from one to several thousand) built to different specifications than those built by the car-maker. For example, taxi companies using GM-produced engines and transmissions will hire Powertrain Integration to modify engines to run on natural gas rather than gasoline and modify transmissions with gearing allowing for more miles-per-gallon.
(Volkswagen all-new 2009 CC, which looks like a nicer version of the $75,000 Mercedes-Benz CLS sedan, also known as the "Cialis," just went on-sale in the US. A near-200 horsepower four-cylinder and a near-300 horsepower V6 are available; pricing is around $35,000 depending on engine choice. It was at SEMA to showcase a new car which parts-makers might want to use for a "project car" at next year's SEMA Show. No official word on whether the car will be available in the US with a clean diesel engine).
With support from the President-elect and his obvious determination to see an American car-building culture survive and prosper, perhaps SEMA and its members, while rolling with the economy's ups and downs, will see high-performance and green combined into all-new products which allow everyone to have the car and truck of their dreams - while protecting the environment and keeping "fun" a powerful part of that industry.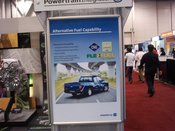 FOLLOW HUFFPOST