The only thing worse than October's US car and truck sales are November's.
GM, Ford, Toyota and Honda sales all dropped more than 30% compared to November, 2007. Ford declined for the 12th consecutive month. GM plunged more than 40% for the second straight month. Even mighty Toyota was down for the 11th time in the past 12 months and American Honda's fall was its steepest this year. BMW had a 26.8% drop, Volkswagen 19%, and Subaru 7.8%.
Now that they have our attention, the Detroit Three, in plans submitted to Congress Tuesday, increased their appeals for federal loans from $25 billion to $34 billion, according to industry journal Automotive News, a GM teleconference Tuesday evening and other sources.
No other recipient of Washington's recent largesse has been required to provide plans for using and/or paying back loans. In fact, no other loans have been given; the nearly-trillion dollars already handed-out to the financial industry, from AIG to Citigroup, are all outright grants, aka bailouts.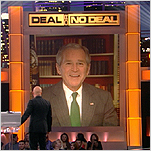 (Couldn't find a more appropriate photo of George W. Bush --- Deal, or no deal?).
These required plans could be part of a final "gift" from President Bush and Henry Paulson to Wall Street (and Detroit boardrooms); by plans demanding unprecedented union concessions, to once-and-for-all crush the United Auto Workers.
The UAW, to a great extent, created and still keeps humming along with the blue-collar, middle-class of skilled laborers in this country, and there's nothing more frightening to a Wall Street republican than a large, powerful and organized group of smart, skilled workers.
GM, not surprisingly, wants the most money, their plan asking for $18 billion, up from the $10 to $12 billion requested last month. GM says without $4 billion this month, the company could collapse.
Ford wants $9 billion, up from the $7 to $8 billion asked for in November, and says profitability may come in 2011. Ford is also cutting 2009 first-quarter production by 38%.
Ford said if the economy doesn't get much worse, they may not need the money. If they may not need it, why did they ask for more than they asked for last month?
Chrysler wants $7 billion in loans, unchanged from November's performance in front of Congress by CEO Robert Nardelli, and says they need $4 billion - this month - to stave off failure. The company expects profitability in 2009. Frankly, I don't see that happening.
GM CEO Rick Wagoner, that corporation's board of directors, Ford's Alan Mulally and Chrysler's Nardelli all say if their companies get the loans, they will all work for $1 a year. If that happens, they'd still be overpaid.
Without loans, they say, they'll all likely shut-down. Talk about your basic greenmail ...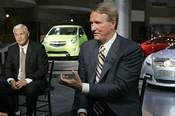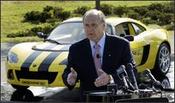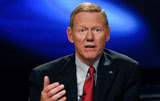 (Left to right, GM's Bob Lutz and Rick Wagoner, Chrysler's Bob Nardelli and Ford's Alan Mulally all promise to take an annual salary of $1 --- But only if they get their loans).
GM and Ford are promising to sell their corporate aircraft; Chrysler, a private company, doesn't have to make such plans public, though doing so might help their standing with the public and Congress.
The legal structure for $25 billion of direct, low interest government loans for the Detroit Three was approved in an energy bill signed in December, 2007.

Clearly, Detroit was planning well over a year ago to get tens of billions of dollars from taxpayers to compete with Asian and European carmakers.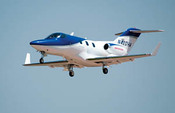 (GM, Ford and Chrysler will sell their corporate jets; Honda has started building them. Must make it easy and relatively cheap to fly company execs around the countries where Honda does business).
Yet, GM's Wagoner, who in Tuesday evening's teleconference said, "A shortage of liquidity does focus the mind," was still insisting his company's poor health is the result of the recession, not due to building products most Americans haven't wanted to buy.
GM execs also said in their conference call:
- their plan focuses on its "core brands" of Chevrolet, Buick, GMC and Cadillac, and selling Saab, shrinking Pontiac to a niche brand and selling or closing Saturn,
- GM will not pay stock dividends until all government loans are repaid, though that payback term could be 25 years or more,
- they were keeping Buick (and it's 2,700 US dealers) because of expected success for the brand in China,
- that eventually, GMC and Chevrolet trucks will no longer be "badge engineered" versions of each other, and each will develop their own unique vehicles,
- Buick/GMC/Pontiac stores will sell all those products under one roof. Pontiac will sell sporty cars like their Solstice coupe (which, like the Saturn Sky, is a US version of the Opel GT, its Kappa platform having been developed in Europe).
I think Pontiac will be gone within a year. Oh, and the Tiger Woods/Buick promotions are over. And Hummer is still for-sale.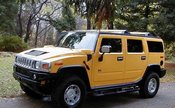 (GM's Hummer brand, which they bought from AM General in 1999, is on the auction block. Bids, anyone? I'm thinking of a sale to either an Indian, Chinese or Russian company).
Pontiac long ago lost its status as a leader in styling and performance. Their recent "new" GTO is already gone. A Corvette-drivetrain-equipped sedan called G8 is a still-born dud. Both cars were imported from Holden, GM's Australian division, on orders from GM VP Bob Lutz, were sales bombs. And not in a good way.
And 'twas GM killed Saturn.
Consumers liked Saturn's plastic body panels, fuel-efficient engines, vehicles built at a brand-new, dedicated factory in Spring Hill, TN, no-haggle pricing, clean and bright dealerships and, most important, the "Saturn buying experience."
Saturn played to the future, too, with the EV1, the first modern electric vehicle from Detroit, having been leased through Saturn dealers.
GM stole back Saturn's hard-won reputation, though, with sheetmetal replacing plastic, Saturns built at factories not in Spring Hill or even in America and every EV1 taken back and crushed.
Behind-the-scenes, politics may be involved in GM seeking to rid itself of Saturn. The division was created during the tenure of then-CEO Roger Smith, "star" of Michael Moore's iconic film, "Roger and Me." Smith was not universally-loved within the corporation; hence a corporate bull's-eye on Saturn.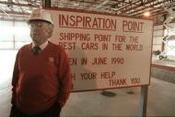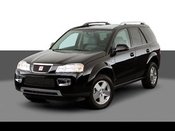 (GM's then-CEO Roger Smith in the Spring Hill, TN Saturn factory; Saturn's 2006 Vue).
Mulally, Ford says, is driving one of the company's old Escape hybrid SUVs from Detroit to Washington this week; GM's Wagoner's driving, too, pedaling a Chevy Malibu hybrid on his 800-mile-or-so round trip. I can just imagine Wagoner and Lutz fighting over who drives and who's got shotgun.
Meanwhile, Detroit carmakers are encouraging their suppliers and dealers to loudly lobby Congress and America this week.
Detroit Three's execs will appear in front of Congress again this Thursday.
So, what should happen Thursday when Wagoner, Mulally and Nardelli, et al, appear in front of Congress again, and, what will really happen?

SUBSCRIBE TO & FOLLOW THE MORNING EMAIL
Start your workday the right way with the news that matters most. Learn more