By now we've all heard the news from GM -- the claim that the Chevrolet Volt extended-range hybrid will get as many as 230 miles per gallon in city use.
It's an exciting and bold claim, but the question is: What do you think will be the reality for Volt?
It's due for-sale at the end of 2010 and most analysts are saying the price will be near $40,000 (and no one at GM is denying that).
Volt's mpg ratings are a bit backwards from what we're used to; in-town mileage is much better than highway, because the first 40 miles in-town can be run on the lithium ion battery alone, no gasoline necessary. On the highway, Volt will make use of its gasoline engine to keep the battery charged, so mileage will be worse than in-town, but still impressively in the triple-digits, says GM.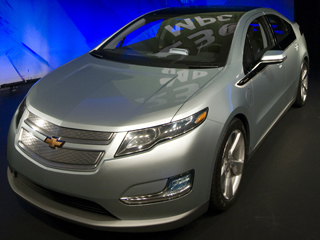 Chevy's Volt as seen today at 230mpg announcement in near-production trim
Using EPA numbers, Nissan's Leaf EV (profiled in an earlier blog post), also due out late 2010, will achieve the equivalent of over 350 mpg, all the time. But of course it has to be stopped and recharged, while Volt, which can also be plugged-in for recharging, will use its gasoline engine to keep the battery 'up' while on the road.
One other thing I found a bit 'backwards' -- GM making the Volt announcement today, the same day some 250 GM dealers in California started selling cars on eBay. I thought the two stories should have had more space between them to get the most public attention. Maybe Bob Lutz should have had a little marketing input to GM's announcement plans today.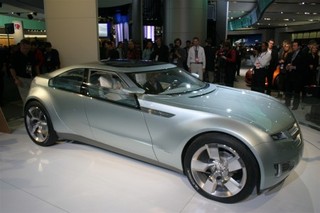 Volt at the 2008 Los Angeles Auto Show --- this prototype looked a lot different from what we saw today
But let's get right to it: What about the Volt? Will you be in the market for one? If so, why, and if not, why not?
Believe me -- top people from GM will be reading your comments.
SUBSCRIBE AND FOLLOW
Get top stories and blog posts emailed to me each day. Newsletters may offer personalized content or advertisements.
Learn more