For over 15 years, the Rodeo Drive Concours d'Elegance in Beverly Hills, CA, has grown into one of the most prestigious and enjoyable Concours events in the world. Held on what's often called "the world's most famous shopping street," the Concours began more than 20 years back as a fundraiser for the Beverly Hills Fire Department at Beverly Hills High School.
The event has moved from the high school to the best-known street in the famously upscale city, yet still raises monies for the local fire department and various other charities. The Concours is free, open to the public, and attended by many stars... with their cars.
"Eclectic" is the byword of the Concours.
Click on this line to see our brand-new and extensive photo album of one of the nation's best-known Concours, held June 21, 2009!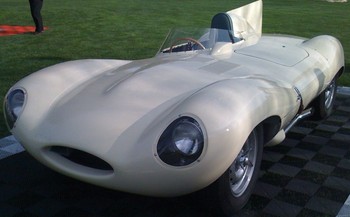 This Jaguar D-type racer is typical of the classics and collectibles found at Concours such as the Rodeo Drive event held in Beverly Hills on Father's Day, June 21, 2009.
All Concours photos (c) 2009 by Steve Parker, Don Kent and www.SteveParker.com.
Follow Steve Parker on Twitter: www.twitter.com/autojourno