THE BLOG
Five Scariest Detroit Auto Show Moments -- 2009
1- "North American Car and Truck of the Year"
In yet another automotive advertising-supported "best-of award," some 50 "journalists" picked two vehicles as the best of 2009: The 2009 Hyundai Genesis sedan (best car), which comes with either a 3.8-liter V6 making mileage between 18 and 27 mpg, or a 4.6-liter V8 achieving between 17 and 25mpg. Interestingly, the 2010 Genesis will be available with two DOHC V8's and one DOHC V6, as well as a turbocharged four-banger (no mpg figures yet).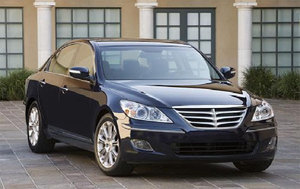 (Here it is - North America's Car of the Year, South Korea's Hyundai Genesis!).
The best truck is (shockingly!) the 2009 Ford F-150 pickup, available with three different V8's offering between 14mpg in-town to 20mpg highway depending on the engine chosen.
According to MOTOR TREND, "Runners-up for the car award were the Volkswagen Jetta TDI and Ford Flex, while the F-150 beat out the redesigned Dodge Ram and Mercedes-Benz ML320 Bluetec in the truck category."

America is the world's biggest automotive market, yet offers very little in the way of independent analysis and car, truck or motorcycle testing. Apart from this blog and my other sites and Consumer Reports (which has made several embarrassing mistakes in their automotive judgments), it's nearly impossible for Americans to find opinion from anyone without a vested-interest in the industry's ongoing success.
2- GM, FORD, CHRYSLER WILL NOT ATTEND TOKYO MOTOR SHOW; SHOW ITSELF MAY BE CANCELLED
Yesterday, the Detroit Three announced they were dropping out of the 2009 Tokyo Motor Show, certainly the biggest, most-inventive and frankly eager and fun car show in the world; like the Stuttgart show, it's so big it's held only every other year. Japanese food is much better and healthier than German repasts, though.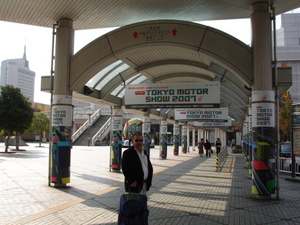 (Me at the most-recent Tokyo Motor Show - We want to go back later this year).
Today, word out of Tokyo is that the show itself, the country's most-important industrial and societal exhibition, may very well be cancelled for 2009.
At this point, all bets are off.
If it's true that "product is king" in the car business, how will people get excited if there's no new product to see at the world's crucial auto shows?
I've been visiting the Tokyo show for over 20 years; I'll miss it.
3- IMPORTS STILL DOMINATE IN EVs
"Tesla founder and chairman Elon Musk took the occasion of his company's first Detroit show appearance to announce that Tesla will provide components for the Smart Electric.
"Musk said Daimler gave him permission to reveal Jan. 13 that the German automaker has been working with his firm for nearly a year and half. Tesla will provide the battery pack and charging systems, initially for 1,000 units." - AutoWeek magazine.
Smart cars can only be bought in the US at dealerships controlled by Roger Penske's Penske Automotive Group, made-up of over 300 dealerships in 19 states, the UK, Wales, Germany and Puerto Rico. It's a publicly-traded $17-billion enterprise (maybe not anymore, though) and Penske himself is said to have turned-down the chairmanship of GM more than once.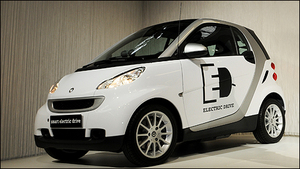 So Americans will be buying Smart Electrics from Daimler, Swatch and Roger Penske, not from Chrysler, Ford or GM.
Not directly from the show, but NYC Mayor Michael Bloomberg announced today that BMW Group will loan a fleet of 10 MINI E electric zero-emissions cars to the City of New York. These will be among the 500 MINI Es the BMW Group is producing to determine the viability of electric vehicles in real-life use.
Ford seems serious about developing a slew of hybrids and EVs, and may have the resources to do so, while GM and Chrysler lag behind.
GM's Volt "extended-range plug-in EV" is delayed until 2011, and with a base price at or above $40,000, the company certainly isn't aiming at the fattest part of the market.
GM also announced they will be making their own lithium-ion batteries for Volt in-house in Michigan and will open an automotive battery laboratory later this year. The company also is establishing a partnership with the University of Michigan to create a curriculum for battery engineers.

(Cadillac Converj concept at Detroit uses the Volt powertrain).
Finally, it's a big question as to whether Chrysler can remain in business much longer, especially judging by some of the haggard-looking EVs the company has been trotting-out recently. CEO Bob Nardelli had one of the all-time dumb lines in history on CNBC Monday morning from the Detroit show: "I don't think if Washington thought we couldn't pay back the $4 billion, they never would have loaned it to us."
Yeah, Bob. Right. That could never happen.
4- CHINESE CARS
BYD and Brilliance were the only two Chinese automakers at the Detroit show. BYD is a pioneer in China for its electric and hybrid technology. A company controlled by investor Warren Buffett bought 10 percent of BYD late last year with an investment of about $230 million. The vehicles are expected to retail for less than $30,000 each.
China's Brilliance had a larger display with three sedans, named the M1, M2 and M3, and a hatchback called the FRV. All have four-cylinder turbocharged engines and are expected to sell in the $15,000 to $25,000 range.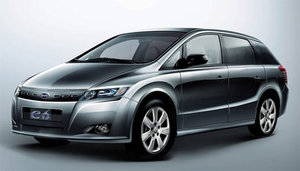 (BYD's E6 electric).
These two companies alone seem to be more intent on entering the US market with EVs and hybrids than any American carmaker. And Warren Buffett is buying interests in Chinese car companies, not in those in the US.
5- ALL-NEW TOYOTA PLUG-IN HYBRID COMING IN 2010
At the show, Toyota announced that it would build its first plug-in hybrid by 2010, apparently beating GM and their Volt to that claim.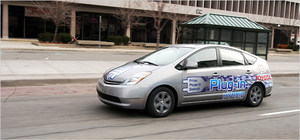 (Prius "mule" for Toyota's 2010 plug-in hybrid).
The plug-in hybrid displayed at the show was nowhere near its final form; it will be a version of the Prius, which it will differ from in that it will have two nickel-metal hydride batteries under the floor of its trunk, instead of the Prius' one large (and heavy and expensive) battery pack.
Heckuva car show - What do you think?

Some photos by www.SteveParker.com
MORE:
Cars
,
Electric Cars
,
Warren Buffett
,
General Motors
,
CNBC
,
Chevrolet
,
Mayor Michael Bloomberg
,
Detroit Auto Show
,
Consumer Reports
,
Detroit Automakers
,
Detroit Three
,
Lithium Ion Battery
,
Daimler
,
Roger Penske
,
Bob Nardelli
,
Tokyo Motor Show
,
Ford F 150
,
Motor Trend
,
Dodge Ram
,
Hyundai Genesis
,
BYD Auto
,
Volkswagen Jetta Diesel
,
Penske Automotive Group
,
Chinese Cars
,
Swatch Watch
,
Ford Flex
,
Mini E
,
Prius Plug In Hybrid
,
BMW Group
,
Smart Electric
,
North American Car And Truck Of The Year
,
Mercedes Benz ML320 Bluetec
,
Geely
,
Chengfeng
,
Brilliance
,
Nactoy
,
Mini
,
Chery