"In a lot of ways, terrible to say this I suppose, but apart from the fact that Hitler got taken away and persuaded to do things that I have no idea whether he wanted to do or not, he was in the way that he could command a lot of people, able to get things done. In the end he got lost, so he wasn't a very good dictator.""
Who said this last week? Some White Power or KKK leader? A Kremlin apparatchik? Mel Gibson?
All wrong --- It was none other than Bernie Ecclestone, commercial rights-holder to the Formula 1 series, the world's most-watched and most-expensive motor racing series; he's essentially the boss of Formula 1. Throughout Europe, he's known simply as "El Supremo" and is one of the top ten wealthiest people in the UK.
The scandal might have passed quickly, but this isn't the first time Ecclestone (and his minion, Max Mosley) have been seen as cheerleaders of a sort for the Third Reich.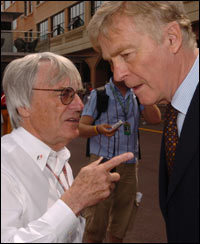 Bernie Ecclestone (l) confers with his sidekick, Max Mosley
As a result of Ecclestone's comments, the governor of Germany's Baden-Wuerttemberg state, Guenther Oettinger, canceled a planned meeting concerning the German Grand Prix.
Other indications of Ecclestone's brain activity were his comments about women, to paraphrase, after being asked if a woman could become a F1 driver, that they "should dress in all white and stay in the kitchen like the other appliances."
Also, when asked about the racist banners, taunts and threats aimed at the current F1 champion, Lewis Hamilton, the first black driver in F1 history, rather than condemn them, Ecclestone dismissed it as, again to paraphrase, fans "just expressing their opinion."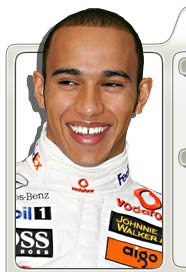 Current F1 champion Lewis Hamilton
According to The Times of London, Ecclestone acknowledged that it "doesn't help" that he is praising Hitler a little over a year since Max Mosley, president of F1's governing body, took a British tabloid to court after being accused of being involved in a Nazi-themed sadomasochistic orgy."
Mosley was caught in this off-track action with several women dressed in Hitler-era regalia, and though there was worldwide outrage when the photos were leaked, Mosley didn't resign from the F1 governing board.
Mosley is the son of the late Oswald Mosley, Britain's best-known fascist politician in the 1930s. At the Mosley's wedding, Hitler's right-hand man, Hermann Goering was in attendance. Apparently, sometimes the apple doesn't fall too far from the tree, eh?
Ecclestone's pre-F1 life can only be termed as hazy. Rumors even had his family involved in the famous Great Train Robbery and some of that money served as the seed for getting Ecclestone into Grand Prix racing.
The irony here is that F1 itself is in complete disarray concerning the upcoming 2010 season.
USA Today reports that, "Formula One's fragile peace deal was thrown into doubt Wednesday when eight leading teams walked out of a meeting with the governing body after being told they had not been entered into the 2010 championship and would have no say on finalizing cost-cutting measures."
The ruckus involves putting a cap on how much the teams can spend, among other issues. Of course the leading teams (Ferrari, McLaren, BMW, Toyota, Williams and etc) don't want the cap, but the lesser F1 teams are all for it. That's because they feel a cap would have those leading teams somewhat restricted in their R&D and on-track testing throughout the year. It's an attempt by F1 to level the playing field.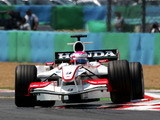 Honda was rumored to be spending over $400 million annually on their F1 team and dropped out of the sport this season
Honda, which left F1 this year due to those high costs, was rumored to have been spending $400 million on their two-car F1 team.
And as they do almost every year, those big-shot teams are talking about forming their own series to rival F1. In this economy that's just not going to happen. What company has an extra billion-or-so in the petty cash drawer?
So, what to do about Ecclestone and Mosley? Is it a problem for F1 or not? Should sponsors boycott the series? Should fans do the same? Should both be kicked-out of F1?
Follow Steve Parker on Twitter: www.twitter.com/autojourno