Here's some good automotive news for a change: The Danica Patrick IndyCar racing juggernaut keeps rolling along. And just in time for the biggest auto race of the year.
Time magazine, relying on an Internet poll to determine its third annual list of the top 100 most influential people in the world, named race car driver, advertising icon, Midwest fashion plate and the generally hot Patrick to position #93.
The only woman to ever win an IndyCar race (at Motegi, Japan, 2008) outpaced NYC Mayor Michael Bloomberg, Queen of All Media Oprah Winfrey, FOX's Bill O'Reilly (maybe racing can save the world) and Prince (who, physically, is about the same size as Patrick).
Patrick received 523,545 votes. The magazine noted this is Patrick's first appearance in their Top 100 list.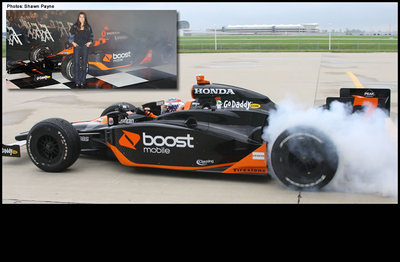 This past week, Patrick unveiled a new black/orange paint sheme on her #7 Honda/Dallara IndyCar racer, just in time for the upcoming Indy 500
In the PR statement she didn't write, Patrick's people said: "I'm humbled and honored to be on the list with so many other amazing people. I'm grateful to have wonderful people around me that keep me grounded and in the moment. I know I don't say it often enough, but thank you for helping me achieve my goals and dreams while allowing me to be myself in the fast-paced lifestyle I lead."
Why do sponsors always think these drivers have to sound so damn homogenized? I wish the PR people would get out of the way and let ... racers be racers. Racers don't say things like, "the fast-paced lifestyle I lead." They say, "Get out of my way or I'll put you in the wall and kick your freakin' ass." And then they do.
And with the Indy 500 coming up May 24th (which will celebrate the 100th anniversary of the circuit itself, the world's first purpose-built race track; the race's 100th birthday comes in 2011), attention on the sport and its drivers is reaching, well, if not exactly a fever-pitch, we can say that for the first time in over a decade, an American racing series besides NASCAR is getting some attention in the nation's general interest media.
(On KCRW radio's "Left, Right and Center" broadcast Friday, co-host Robert Scheer opined that the Republican Party has become a solidly Southeast-based group with little membership outside that part of the country. "Aha! Just like NASCAR!" I thought).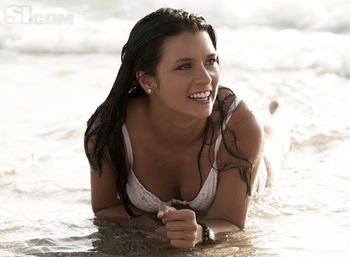 Patrick in the 2008 Sports Illustrated Swimsuit Edition
And right now, the 28-year old Patrick is the uncontested most-popular (and most-interesting and certainly best-looking) driver in open-wheel or any other kind of racing. Smart, skilled, built tighter and sleeker than any race car she drives and with a non-stop and sometimes snarky mouth which her team owners (including Michael Andretti) find tough to control, Patrick simply is IndyCar.
As always, the world press and racing fans see Indy as "the" event of the racing year, surpassing any NASCAR or even Formula 1 race for prestige and excitement.
Even F1's signature event, the elegant, somewhat inbred and royal-tinged street race through the principality of Monaco, can't hold a candle to Indy and its legendary American action and kitsch, with Jim Nabors kicking-off the race festivities by singing "Back Home in Indiana," its celebratory swig of milk for the winner, its row of bricks at the start-finish line, bricks having originally made-up the entire 2-1/2 mile oval and the sheer, vast number of spectators who make the Indy 500 the largest single-day sporting event of any kind in the world.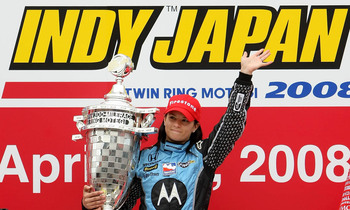 Patrick's win at Motegi, Japan in 2008 was the first victory for a woman in a major open-wheel racing series

And, oh yeah, there are those 33 cars and their crazed drivers hitting speeds approaching 240 miles per hour on the track's near-one-mile long front straightaway.
Other sportspeople on the Time list included Kobe Bryant (my man) of the Los Angeles Lakers (#9!), Spanish tennis star Rafael Nadal, who at #60 got the ad over Buddhist star Dalai Lama (#61) and Olympic swimmer and conservative target Michael Phelps.
Tiger Woods was in there, too, but I couldn't quite figure out where he ranked. That's because the poll and its results are pretty confusing, maybe intentionally so, to help spread the glory around as many people and categories as possible..
There were categories (Leaders & Revolutionaries, Builders & Titans, Artists & Entertainers, Heroes & Icons, Scientists & Thinkers) and because the voting was done on the Web, one Time editor wrote that, in essence, the results should be taken with more than a grain of salt; in fact, perhaps a mine-full.
President Barack Obama finished in 37th place (one behind good ol' boy Rust Limbaugh, four better than Miley Cyrus) and our own Arianna Huffington took 87th, one position better than White House Chief of Staff Rahm Emanuel and within ten places of Pope Benedict XVI, Jim Cramer, Sarah Palin, Bernie Madoff and John McCain. Quite a gang, anyway you look at it.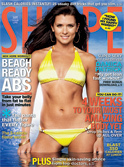 Patrick is everywhere - this is the cover of next month's SHAPE magazine; it's all in preparation for the Indy 500 and keeping her Big Momentum going
The top vote-getter was moot -- the 21-year-old college student and founder of the online community 4chan.org, whose real name is Christopher Poole. He received 16,794,368 votes.
Danica Patrick, who just this week introduced a nifty new orange and black almost-Halloween style paint job on her Honda-powered Dallara race car, has as good a chance of winning the pole position and this year's Indy 500 as any other driver on the track.
Le Force Danica heads now for what should be the biggest race of her life, May 24's Indianapolis 500, and with the imprimatur of Time magazine to boot. Go Black/Orange 7!
Join us LIVE this weekend on www.TalkRadioOne.com at 5pm Pacific Saturday for The Car Nut Show and Sunday at 5pm Pacific for our exclusive World Racing Roundup! Special guests, your phone calls and all the latest in the world of cars, trucks, motorcycles and motor racing!
SUBSCRIBE TO & FOLLOW TRUMP'S FIRST 100 DAYS
How will Donald Trump's first 100 days impact YOU? Subscribe, choose the community that you most identify with or want to learn more about and we'll send you the news that matters most once a week throughout Trump's first 100 days in office. Learn more