Opening in the shadow of the worst auto sales in the US in over 15 years, the biennial Paris Car Show begins welcoming the public this Saturday and runs through October 19th at the Porte de Versailles in Paris. Two media-only days are held today, Thursday, and tomorrow.
We'll feature some of the greener vehicles displayed there in this blog today and tomorrow. Most of the information below comes from the exhibiting carmaker press kits, but we toss-in our own thoughts on occasion, too - as per usual. And if you're a new visitor - Welcome! - And you can click on any of the photos to see them in a larger format (sometimes much larger). Then just click your browser's "back" arrow to return to the story.
No one expects the sales news to be any better or get any better anytime soon in Europe, as the show's opening came with a warning, according to weekly industry journal Automotive News: New-car sales in western Europe likely will decline by between five and seven percent this year and by another 10 percent in 2009, said Thierry Dombreval, Toyota Europe's executive vice president.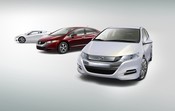 (Big show news: Honda's Insight hybrid will be around $19,000 when it hits showrooms next April; Insight will sport a 1.3-liter, four-cylinder engine and lightweight aluminum wheels, although it will drop the aluminum body panels used in the Insight's earlier two-seat incarnation).
Honda's all-new "Prius-fighter" called Insight (same name as their first hybrid sold in the US), along with a Nissan EV concept and the promise of a Renault EV production sedan next year are some of the green-oriented highlights of the biennial show.
There were plenty of the usual (and always crowd-pleasing) far-out concept cars and the first official look at the latest supercar from Ferrari, the California, while competitor Lamborghini hit the stage with a - hybrid? - concept called Estoque. Audi and Citroen also made green news, with a gasoline/electric hybrid, diesel/electric hybrid, the lastest in stop-start technology and more all showcased among just those two companies.
And everyone got their first official look at the production version of the Chevrolet Cruze, which goes on-sale in Europe in March, 2009, sometime later in the US, and which GM says they expect will be a large-volume seller for their biggest and most-important division.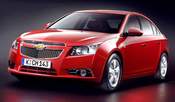 (Chevy's Cruze will replace a car called Nubira in Europe - some might remember Nubira was also an early Daewoo sold in the US - and which might eventually replace their popular Cobalt in the US. It will be built in multiple locations around the world including Lordstown, Ohio, St. Petersburg, Russia, and Korea. The Cruze goes on sale in March 2009 in Europe, where it will be available with 1.6-liter and 1.8-liter engines and a 2.0-liter turbodiesel).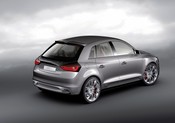 (Audi unveiled its A1 Sportback concept powered by a gasoline-electric hybrid engine. The car has a four-cylinder, 1.4-liter turbocharged engine delivering 150hp and also a 27 kilowatt electric motor that assists the gasoline engine under acceleration. The electric motor can power the car for short distances. The plug-in hybrid concept's lithium-ion batteries give the car a range of 100km, or 62 miles, and can be charged from any power socket, said Audi. The concept has CO2 emissions of 92g/km. It uses 3.9 liters of fuel per 100km, about 1.03 gallons per 62 miles, in mixed mode. The concept is a preview of a production A1 entry-premium car that Audi will build at a rate of about 100,000 units a year starting at the end of 2009).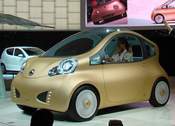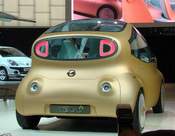 (Nissan has already announced plans to introduce an all-electric car in Japan and the US in 2010 and to mass-market it globally in 2012. Nuvu is not that car - thank goodness - though it does share some of the technology that will feature in the planned production vehicle. Compact - it's just 3 meters long. Across its all-glass roof are a dozen or so small solar panels. Shaped like leaves on a branch, the power they generate is fed to the battery using a 'tree trunk' within the car as a conduit. Nuvu also uses natural, organic and recycled materials within the cabin; no word on whether any are actually edible).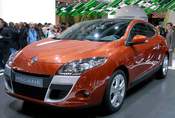 (Renault owns Nissan, and Carlos Ghosn leads both car companies, instantly place-shifting between Paris, Tokyo and Nashville - Nashville? In a fit of apparent absolute insanity two years ago, Nissan North America moved their long-time corporate headquarters from Los Angeles to Nashville. Renault brings Formula One racing heritage to the table, and Nissan brings some serious EV and battery development. Renault will launch a lower-medium sedan called the Fluence next year. An electric version of the car will go on sale starting in 2011, in a body very much like the one above. The Fluence will replace the four-door sedan in Renault's lower-medium Megane line. Renault launched the third-generation of its top-selling Megane line at this Paris show).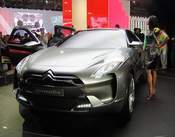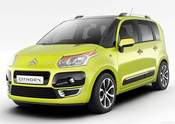 (Citroen's Hypnos concept, top, unveiled for the first time a new diesel-electric hybrid powertrain. The concept's 200 horsepower engine will deliver "driving thrills" while limiting fuel consumption to 4.5 liters per 100 kilometers, about 1.18 gallons per 62 miles, Citroen said. Its CO2 emissions are 120 grams per kilometer. Below Hypnos is Citroen's C3 Picasso, which goes on-sale in Europe in February, 2009. Citroen's C3 Picasso minivan will feature second-generation stop-start technology starting in 2010. Its newly-raised floor should also allow installation of different kinds of engines and drivetrains, like the Smart car. The new system will reduce CO2 emissions and increase fuel consumption by about 15 percent, Citroen said. To improve performance, new-generation stop-start will also recover energy during braking and deceleration to recharge the vehicle battery without consuming fuel. Fitted with a six-speed electronic transmission and the new stop-start system, the C3 Picasso has emissions of 110g/km and fuel consumption of 4.2 l/100 km, about 1.1 gallons per 62 miles).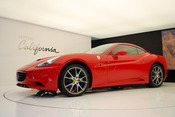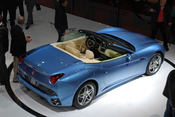 (Ferrari's latest California model had its official public introduction yesterday in Paris. A hardtop convertible Ferrari with two back seats? Sounds like the perfect car for aging Silicon Valley CEOs, their partner and two kids - or dogs. Also, it's priced under $250K, certainly a bargain price for any new Ferrari, and tough economic times. The blue California shows the automatic hardtop in hiding. The folding roof is made of aluminum panels, and they say it drops or raises the top in under 20 seconds. The front-engine California is powered by a 4.3-liter V-8 with a direct-fuel-injection system and makes 454 horsepower at 7500 rpm. Transferring the power to the rear wheels is a new dual-clutch gearbox - a Ferrari first - with seven speeds. Ferrari is promising performance and fuel economy to the tune of 0 to 60 in less than four seconds and 18 mpg on the highway, mileage figures downright respectable for any Ferrari in an age of "less is more" - maybe).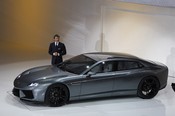 (If Ferrari brings a theme of "tough economic times," Lamborghini always must go their neighbor one better. Behold Lambo's Estoque. Measuring 5.15 meters, or about 17 feet, long, Estoque looks a bit like a swoopy, space-agey station wagon concept from the American '50s. Under the hood is the same 560 hp V10 from the Gallardo LP 560-4 model with all-wheel-drive. A production version is planned to arrive as early as 2010. With the support of parent company VW Group, variants of the Estoque could include a supercharged V8, a hybrid and even a top-range diesel engine - most likely the V12 TDI from the Audi Q7).
We'll believe it when we see it. By the way, estoque, we're told, are the shoulder blades of a bull, between where the matador drives home his sword for the final kill; keeping with Lambo's reliance on names associated with ... bulls. Now, class - create your own "bull..." association!
More from Paris tomorrow.
SUBSCRIBE TO & FOLLOW THE MORNING EMAIL
The Morning Email helps you start your workday with everything you need to know: breaking news, entertainment and a dash of fun. Learn more