At this year's version of the Los Angeles Auto Show, the 205-mile per hour, $100,000, 2009 Corvette ZR1 is relegated to the very rear of the Chevrolet exhibit, like the "adults only" section in video stores. The Green Car of the Year is a diesel and the usually standout exhibits from GM and Chrysler/Dodge/Jeep were strangely quiet (we'll have Ford, Ferrari, Porsche and more news in posts this weekend). And so posts are well under-1,000 words each, we'll report only on all-new cars or trucks.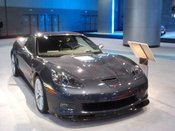 (Corvette's over-600 horsepower 2009 ZR1, the $100,000 car relegated to an empty space in the back of the Chevrolet exhibit, just like so much automotive pornography).
For the past two years, Green Car Journal has given an award titled Green Car of the Year. Toyota's Camry hybrid won the first, and Chevrolet's Tahoe hybrid won last year, which, although a good choice, was hard to explain to non-tech-types.
Volkswagen's Jetta TDI clean diesel won this year, the first car with clean diesel technology approved for sale in all 50 states. Now we await the first pure, mass-produced EV to win (which will be from Nissan, if you believe company chief Carlos Ghosn, who spoke to the media at the Los Angeles show about that very thing), then the first mass-produced hydrogen-fueled fuel cell EV.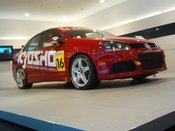 (VW's Jetta TDI was named Green Car of the Year; this is a turbocharged racing version of the car built for VW's "TDI Cup" racing series).
Nissan had the stand-out exhibit in terms of size and brightly flashing video screens. Their exhibit introduced two all-new vehicles, the 370Z and the Cube, two autos which could not be more dissimilar.
The newest Z-car is familiar-looking, and its engine is a 3.7-liter V6 producing 332-horsepower and the car is priced at just under $30,000.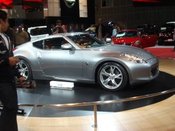 (Nissan's all-new 370Z is very familiar-looking; the original Z-car turned then-Datsun into one of the top-selling car companies in the US, Nissan).
Nissan's 2009 Cube is for those who feel Scion's xB is just not funky enough. The car's website says, "Symmetry is so last year," and apparently unsymmetrical is in. Cube's 1.8-liter 4-banger offers 122-horsepower and 30+ miles-per-gallon (the + is from Nissan's website). A six-speed manual transmission or CVT (continuously variable transmission) can be picked, and while I am no lover of CVTs, Cubes so equipped will probably get better mileage than the stick shift. And it's base price is under $14,000.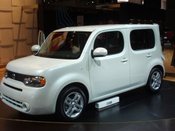 (Nissan's 2009 Cube - Say no more).
Nissan's luxury channel Infiniti showed their 2009 hardtop convertible version of the current G37 coupe. The Z-car and G37 share many parts and are rear-wheel drive cars; G37 can be ordered with all-wheel drive. The car's top-up and top-down time is rated at 23 seconds; there are many people who see hardtop convertible operation times as a new form of automotive competition. Expect G37 convertible pricing in the $60K-range.
BMW rolled out their latest Mini, the Mini E (E for "electric"). Mini is leasing 500 E models, and it's going to cost the chosen lessees $850 a month. After a year, Mini takes the E back, and they'll use the cars to develop information for an E model slated for mass production.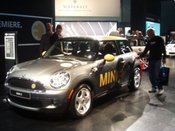 (Mini's E attracted a lot of attention, the EV is a first for BMW).
All The General's divisions were on-hand for the show, but GM's exhibits had, apart from the 2010 Camaro and the 2009 Corvette ZR1, no really all-new models. There were a few mostly uninteresting concept cars, some looking suspiciously like ones we've seen before.
A Chevrolet Volt plug-in hybrid had little cachet with visitors; they'd seen it last year, and all over TV, and it might not be any closer to production now, anyway.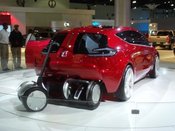 (Saturn's FlexTreme concept stores two Segways under its rear hatch - Interesting idea!).
A 3.6-liter V6 2010 Camaro will produce 304-horsepower and start well under $25,000. The 6.2-liter V8 makes 400-horsepower and will start at under-$30K.
The 2009 Corvette ZR1 makes 638-horsepower, and it was positioned right next to (and lower than) the Camaros. It was almost a Festival of Wastefulness, demonstrating exactly how Americans need to stop thinking about cars.
The Camaro had been seen in near-production form at the last two L.A. shows, and the ZR1 doesn't look much different from the standard 'Vette to the casual viewer (Chevy made the same mistake with earlier generation ZR1s; people who pay more for a car want their neighbors to know).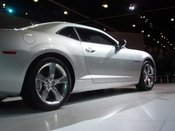 (The much-anticipated 2010 Camaro did not disappoint styling or horsepower enthusiasts; a V6 version is reasonably-priced).
The high-mileage Cruze, a Daewoo-built car which was originally planned for late 2010 U.S. sales, now has no schedule for U.S. manufacturing or sale; a Korean version already on-sale wasn't at the show.
But Volkswagen's exhibit was packed. They had much to show, even apart from their Green Car of the Year Jetta TDI. Their new CC sedan (they call it a four-door coupe) was a big attraction, as was a Touareg SUV outfitted with a clean diesel engine, but not yet available; if VW were questioning visitors about the vehicle, a Touareg TDI will be here within two years, judging by comments I overheard (research, you know).
VW partner Audi showed-off their clean diesels with a messianic fervor, too, showcasing Audi's recent cross-country "Mileage Marathon." In a 23-strong contingent of Audi Q7's, Q5's and A4's using the 3.0-liter V6 TDI, and A3's using 2.0-liter TDI engines, they averaged 38.5 miles-per-gallon in a New York-to-Los Angeles jaunt between October 5 and 20.
Hyundai had a large exhibit, featuring their V8-powered Genesis sedan. There was also a pretty cool cutaway of their proposed new Blue Drive hybrid system, due in the U.S. in a year or two.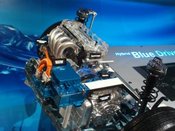 (Hyundai's cool Blue Drive gas/electric hybrid system is being developed for the company's US-market cars and trucks).
Smart had a, well, small exhibit in the vast South Hall. Available in the U.S. only at around 70 of Roger Penske's near-200 dealerships, more than 20,000 have already been sold. The U.S. is the 37th country where Smart is available, and is already third in sales, ranking behind Germany and Italy. For 2009, Brabus, a German aftermarket tuning firm, is adding their touch to the handling and appearance of the 2009 Smart Fortwo.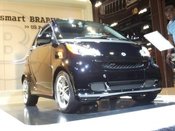 (German tuning company Brabus has developed an appearance and handling improvement package for Smart's Fortwo).
The Los Angeles Auto Show remains open until 8pm Sunday, November 30, in the Los Angeles Convention Center. All photos by www.SteveParker.com.

Follow Steve Parker on Twitter: www.twitter.com/autojourno