Usually auto shows are dominated by news about new cars and trucks and concept cars. The LA Auto Show is the first international-level auto show in America during the exhibition season, but this year the big news is, much to the chagrin of car-makers and their PR people worldwide, about GM and their ongoing leadership problems.
Before the LA Auto Show opens to the public Friday, Dec. 4, there were two press days held for media and car company executives. Tuesday evening, hours before the first press day on Wednesday, General Motors announced that their CEO, Fritz Henderson, on-the-job for all of eight months, had been "retired" by the corporation's board of directors.
Henderson had been scheduled to give the show's keynote address at the annual media breakfast the very next morning, so GM stalwart/warhorse vice-chairman Bob Lutz was the last-minute fill-in.
Ironically, the company which probably will suffer worst from this personnel, and not product news, is GM. At this LA show, GM is showing the public a close-to-production Chevrolet Volt, the company's "extended-range hybrid" which the GM says is capable of about 200 miles per gallon, if not more, and will go on-sale November 2010.
This CEO story has outshone just about everything product-related at the auto show, but there are still some pretty cool cars displayed there you should know about, so here's your LA Auto Show guide, 2010 edition.
Chevrolet Volt (and let me know what you think of it)
Porsche Boxster Spyder (shades of James Dean!) and Panamera four-door if you've yet to see one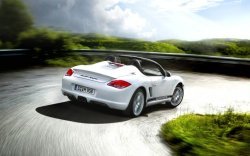 Porsche's new Spyder in action
Cadillac CTS coupe (two-door version of the powerful, popular CTS sedan)
Dodge Viper SRT 10 (see it before Fiat/Chrysler sells the Viper brand in 2010)
And, in the not-very-exciting-but-damn-popular category, Toyota has a brand-new Sienna minivan and it gets it first display to the world at this show
North American Debuts (which means they were exhibited first at the Frankfurt or Tokyo shows in October):
Audi e-tron concept (must-see; all-electric sporty Audi)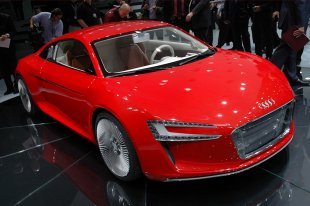 e-tron concept from Audi, seen first at the Frankfurt Auto Show
2011 Ford Fiesta (it's their best-seller in Europe, American-ized for this market)
Ford Mustang (America's first pony car just got a new V6 producing 305-horsepower, keeping up with Camaro)
BMW Vision EfficientDynamics Concept (looks a bit like the classic M1)
Buick Regal (new version of the car on an Opel platform)
Chevrolet Cruze (high-mileage "world car" which eventually will be built in Korea, Australia, India, China, Russia, Thailand and even the far-flung reaches of Lordstown, Ohio)
Lexus LFA ($375,000 made-in-Japan sports car; only 500 will be produced each year for the world and Lexus is allowing two-year leases only on the car to try and keep speculators from getting one)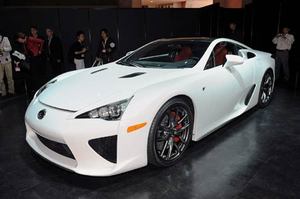 LFA at the Tokyo Motor Show
Porsche 911 GT3 RS (a race car for the street)
Rolls-Royce Ghost (a smaller version of the big Roller)
Toyota Prius plug-in concept (it'll go on-sale in late 2010)
For show-goers, the Convention Center is now right in the middle of LA Live, the huge new restaurant and concert hall complex right across the street. And Staples Center is on the same property as the Convention Center, so there's some good sight-seeing in the immediate area.
The show runs from Dec. 4 through 13. Naturally, weekends and even weeknights are the most-crowded times to visit. Weekdays are when the crowds are smallest. Wear your walking shoes, bring a camera, and perhaps most important: keep in mind that parking at our Convention Center is $12 a day. And food courts inside the building charge often outrageously high prices. Why? Because you have to park and eat somewhere ... and most Southern Californians (unfortunately) don't know enough about downtown to go gallivanting off on their own in search of food and a parking spot.
More information (including discount tickets) is at www.LAAutoShow.com.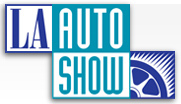 There are two main exhibit halls at the center, North Hall and South Hall. This is where the bulk of cars can be found. For several years, Porsche has had their own exhibit hall right across from North Hall, and it's always worth your time, especially to see their Panamera four-door sports sedan and brand-new Boxster open-top Spyder.
There's a long walk between the two main halls, but on your way from one to another is the Concours Hall, home of the exotics like Rolls-Royce and Spyker.
Ferrari usually exhibits just outside that hall, but that company, along with Lamborghini and Bentley, are skipping the show this year. It's a drag because the cars are always fun to see, but it will also cut down on dealing with the arrogant factory reps usually manning those booths.
And don't miss the "basement," Kentia Hall. Elevators outside the South Hall get you there. This started years ago as an accessories exhibit, but over the years it has turned into a mini-SEMA show with dozens of parts-makers displaying their wares. And if you want model cars, Ginzu knives, great car books or spinners for your Monte, this is the place to go.
Almost every display will show-off some award they've won for their vehicles. A lot of usually-meaningless awards are given out by just about every media outlet to various car-makers, but the one award which has taken on some importance is the Green Car of the Year. Presented by Green Car Magazine (www.GreenCar.com) this year it went to the Audi A3 TDI clean diesel. You'll be hearing more about this award in Audi advertising through next year.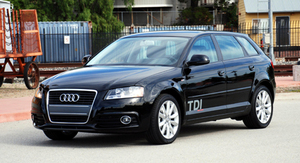 Your Green Car of the Year, Audi's A3 TDI
So there you have it -- enjoy the show and let us know what you think of it!
My automotive blog (http://www.huffingtonpost.com/steve-parker) contains posts of national interest, but now with our new Los Angeles section, we can cover all the great automotive events (and collections and museums and personalities and races etc) in Southern California. Be sure to check back often, and if you have a story suggestion or any other comment or question, write me at SteveParker@RoadRunner.com.
Also please visit our main site, www.SteveParker.com, to find out more about me, our web work, weekend radio shows and more.
FOLLOW HUFFPOST