Sunday was a big day for record-making and -breaking in NASCAR. Jimmie Johnson placed fifth in the Homestead/Miami race, but he's Number One --- again --- in America's favorite motorsport.
Johnson has won his fourth straight NASCAR Sprint Cup title --- the first driver ever in NASCAR's 61-year history to accomplish this truly remarkable feat.
Also Sunday, 50-year old Mark Martin, the oldest full-time driver in Sprint Cup, took second place in Sprint Cup points for a record fifth time. Martin, a tough little piece of gristle, is one of the smartest and certainly most-technically skilled drivers to ever sit behind the wheel of any race car.

Johnson's near-perfect pit crew in action this season at Pocono
But has a fault from which Jimmie Johnson and Johnson's crew chief, Chad Knauss, don't seem to suffer: Martin has emotions and he shows them; they don't call Johnson and Knauss "the Icemen" for nothing.
Martin, the best driver to never win a series title, will be back next season. Like the Cubs' fans say, "Just wait'll next year!"
At the same time, drivers from the Rick Hendrick Motorsports stable set yet another record by finishing their Chevy Impalas in the top three places for the Sprint Cup season; Johnson first, Martin second and Jeff Gordon third.
And there's more for the stat-crazy racing fan: In 2009, Ford drivers won a total of only three Sprint Cup races. Matt Kenseth and Jamie McMurray were the Ford drivers with the victories. And in spite of Jack Roush owning no less than five factory-supported Ford teams, most his drivers, including Carl Edwards, never went to victory circle this season. A quick look through the record book shows that even Toyota teams won nearly ten Sprint Cup races in their Camrys, about 30% of the year's events.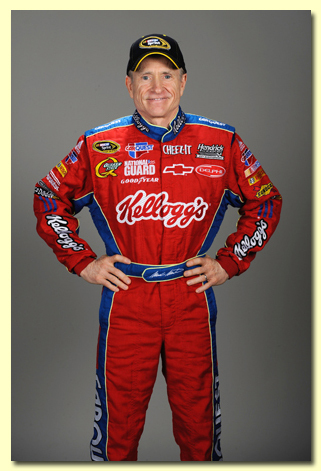 Sometimes it seems Mark Martin will NEVER win a Sprint Cup title!
How difficult is it to win one championship title? I've met and interviewed and observed plenty of motor racing series champs in all the major disciplines. Series title-holders are always so different from their fellow competitors that you walk away saying to yourself, "Whatever that guy's got, I want some of that, too".
So besides skill in the car inside and out and that vague, undefined "extra" which makes champions, imagine the difficulty of winning more than just one title in Sprint Cup, or any major series (which makes Michael Schumacher's seven World Driving titles in Formula 1 all that more amazing).
Besides Jimmie Johnson, only NASCAR legends including Lee Petty and his son Richard, David Pearson, Cale Yarborough, Darrell Waltrip, Dale Earnhardt (Sr.) and Jeff Gordon have won more than two titles in their careers; Johnson's four-in-a-row is unprecedented.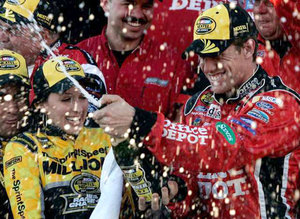 Ford driver Carl Edwards had plenty to celebrate in 2008, but this season he didn't notch a single Sprint Cup win and Ford had only three overall
Johnson was interviewed after his title win by National Public Radio. Apart from being referred to as "Mr. Johnson," possibly a first by any reporter addressing Jimmie, uh, Mr. Johnson, the record-breaker said he was truly worried after his third-lap crash at Texas Motor Speedway two weeks before the final race of the year.
When his crew toiled for about an hour in the Texas heat and practically rebuilt the damaged race car while Johnson sat in it, never leaving his seat, he told NPR that after the wreck, and the entire following week leading up to Phoenix, the sport's penultimate race, it was the only time during the Chase that he was nervous about having to actually "defend" his third championship, that he might not be able to make four-in-a-row history with the 100-or-so points of cushion he lost in the Texas shunt.
He didn't need to worry too much; he dominated and won Phoenix and essentially clinched the championship at that one-mile desert track the Sunday before Homestead/Miami.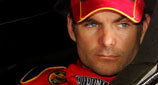 Jeff Gordon (photo) is third in overall Sprint Cup season points, Mark Martin second and Jimmie Johnson first --- a huge statement by the Rick Hendrick team and Chevrolet
Johnson also told NPR that he has chronic motion sickness, that if he's in the back seat of a car, like a NYC taxi, for "10 to 15" blocks, he invariably gets physically ill. Like many people (including me), when he's driving a car on the street or track he has no problems.
"Some people might say it's a control thing," Johnson told the interviewer, "and I wouldn't disagree with them." My own experience is that concentrating on driving takes your mind (and stomach) off whatever discomfort you might be feeling. Maybe I do have something in common with Jimmie Johnson after all!