It took fewer than 60 years for America to forget the causes of the Great Depression, unbridled greed and avarice in the banking industry and on Wall Street, until we made all the same mistakes again, and invented some new ones, too.
But throughout the reorganization of the US auto industry, some of the much more recent lessons of the past 30 years have already been forgotten.
Frighteningly, at least to those of who focus on the product side of the auto industry, few if any of the Obama Auto Task Force members and the new leaders of Chrysler and GM taking over after the bankruptcies have product-sector experience.
And as you'd have thought Detroit and Washington might have learned the past few years, the Harvard MBAs in the auto executive suites wouldn't know a good car if they got run over by one.
And ultimately it's the cars which are going to save GM and Chrysler.
The announcements this weekend that GM will build a series of small cars in the US rather than make them in China, and that Fiat will sell their Mini-like Cinquecento (500) in some Chrysler dealers within the next 18 months were welcome, but not nearly enough to guarantee these companies' futures.
With the sad facts now well-known, with Chrysler's assets being sold to Fiat and General Motors entering bankruptcy, the men appointed to lead these companies post-bankruptcy don't have any background in the automotive business.
In the last year, since dropping fuel prices and the collapse of the credit market sealed the fate of the former auto giants, I suggested the US government spend time and money recruiting some of the top executives from the world's car companies, asking them to take a highly-paid sabbatical from their own firms and share their expertise with GM and Chrysler for a two- to three-year period. It would be patriotic in a world sense.
While even I thought it a little outrageous, I still think it's a better idea than who Washington has come up with to run GM and Chrysler.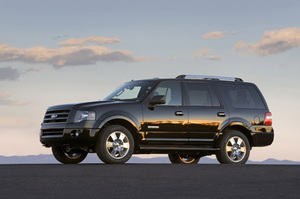 Behemoths like this 2008 Ford Expedition and low gas prices kept sales of giant SUVs strong through the early part of the 21st century
Robert Kidder will be the new chairman of Chrysler and Al Koch will be "chief restructuring officer" at that's left of The General.
Business consultant Robert Kidder is now set to become the new chairman of Chrysler Group as it emerges from bankruptcy. Kidder, 64, will replace the ill-fated and bumbling Bob Nardelli, who was hired in 2007 after Daimler sold Chrysler to private equity group Cerberus.
A new board of directors, to be formed after the bankruptcy, will hire a new CEO for Chrysler. But that position is expected to be filled by Sergio Marchionne, CEO of Fiat. Yet Kidder will initially hold the top Chrysler job.
Kidder's résumé includes a stint as CEO of Duracell. He currently is a lead director at investment firm Morgan Stanley and CEO of 3Stone Advisors of Columbus, Ohio, which manages a private equity fund focused on investing in water-quality testing. Great -- Nardelli did such a wonderful job at Chrysler after his hiring by private equity fund Cerberus.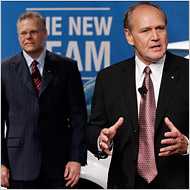 Bob Nardelli was hired in 2007 to run Chrysler by Cerberus; it's been an unmitigated disaster for the company, Nardelli, a former Home Depot chief, having no automotive background
Cross-town from Auburn Hills, GM plans to name turnaround executive Al Koch to serve as its chief restructuring officer to help the company through bankruptcy protection.
Koch, a managing director with AlixPartners LLP, is a veteran turnaround specialist who helped Kmart Corp. through its bankruptcy protection reorganization. He will lead the separation of the automaker's assets into a "New GM" and the remaining parts of the company that will form "Old GM." Koch will lead the management team that winds down the "Old GM" company once the automaker emerges from bankruptcy.
Another finance guy from another private equity firm.
Unless and until GM and Chrysler and the Obama Auto Task Force develop a balance of middle and senior management which can handle not just the finance side of these companies but the product sides -- developing the cars and trucks Americans and the world will want to buy in the near-term -- there's little chance for either GM or Chrysler to make successful rebounds.
SUBSCRIBE TO & FOLLOW THE MORNING EMAIL
The Morning Email helps you start your workday with everything you need to know: breaking news, entertainment and a dash of fun. Learn more