Chrysler's CEO, Robert Nardelli, who has been running the company for just 14 months, fears the collapse of an "extremely fragile" auto industry amid the credit crisis and Wall Street meltdown. Nardelli said federal officials, preoccupied with trying to unfreeze credit, don't appreciate the importance of the auto industry.
Nardelli is nothing if not a "master of the obvious." His statements show why appointing someone with no relevant experience to the highest position of an American industrial giant was a huge mistake. Chrysler owner Cerberus (at least they still owned it as of midnight Monday, Pacific Coast time) now wants "out" of the car business as soon as a buyer or merger partner can be found (or coerced).
One group Nardelli will be hearing a lot from is a new organization representing Chrysler's 700 European dealers. Since the Daimler-Chrysler merger was ended when Cerberus bought Chrysler from Daimler, the company's Euro dealers feel they lost any juice they had with Chrysler executives in the US (Highland Park, MI, to be specific).
European sales of Chrysler, Dodge and Jeep models fell by 11.7 percent to 70,407 units in the first eight months of 2008; the company's minivans and larger Jeep models, like Commander and Grand Cherokee, are surprisingly popular in Europe.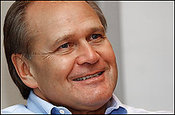 (Chrysler CEO "Smilin' Bob" Nardelli has let on that he thinks there might be some problems with the auto industry - But, hush ... mum's the word!).
Volkswagen, meanwhile, has a 1,200-strong franchised dealer network in Germany, and is offering smaller dealers cash to close their doors. According to industry journal Automotive News, VW only wants large dealers selling 1,000 to 1,200 new cars a year. Currently, average annual sales for a VW dealer is between 300 and 400.
But "coming to the rescue" of the slumping European market for new cars and trucks might be China's Brilliance Jinbei Automotive. Founded in 1990, Brilliance has become China's 16th-largest automaker, with 2006 sales of $1.3 billion.
Their new BS4 lower-medium sedan (think Nissan Sentra size) goes on sale at 132 dealers in Germany later this month. The BS4 is longer and less expensive than comparably powered rivals from other brands. The car has a 134-hp 1.8-liter inline-4 cylinder engine, available with a five-speed manual or four-speed automatic transmission and ABS brakes. But here's the thing: Getting on the Autobahn in a BS4 must be pretty exciting, as it takes over 13 seconds to move itself from 0 to 60mph. This is the kind of ar which takes drag racing off race tracks and puts it back on public roads.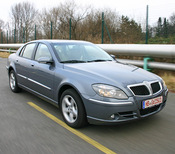 (Chinese-made Brilliance BS4 goes on-sale in Europe later this month, and hopefully with a different name; BS 4 ... whom, exactly?).
On another automotive-related story from Europe, Austrian investigators say far-right politician Joerg Haider's car was speeding at more than twice the posted limit when it crashed and killed him.
Police reconstructing the fatal accident in southern Austria say the speedometer in the wreckage of Haider's Volkswagen sedan was stuck at 142 kilometers per hour (88 miles per hour). The speed limit on the stretch of road where he died was just 70 kilometers per hour (43 mph).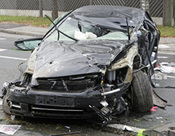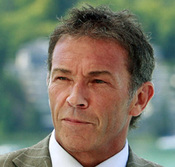 (AP Photo of Haider's car; he was killed in a single-car wreck, alone and at high speeds; maybe he "sieg'd" when he should have "heil'd"; real fascist Mussolini was driving a one-of-a-kind Alfa-Romeo when he and his mistress were captured by Italian citizens).
Police said the car veered off the road after Haider overtook another vehicle, then struck a concrete pillar and rolled over. Haider, who was alone in the car, suffered multiple injuries and died while being rushed to a hospital.
Sources say that Haider had been developing his high-speed driving skills for a possible opening on the "Kurt Waldheim Memorial 'Master' Race Team."
Karma can be a bitch (just ask John McCain, and though I am certainly not comparing John McCain to Joerg Haider or even Kurt Waldheim ... blah blah blah ...).

SUBSCRIBE TO & FOLLOW THE MORNING EMAIL
Start your workday the right way with the news that matters most. Learn more