Join us live Saturday and Sunday at 5pm Pacific time on www.TalkRadioOne.com for our exclusive live motoring and motorsports talk shows!
Steve Parker's The Car Nut Show
Saturday starting at 5pm Pacific
Big auto story of the week - we'll all talk about the four-month long Cash for Clunkers program which lasted all of four days. The White House has already put another $2 billion into the program, originally-funded with just $1 billion, but many questions remain about why the program was slated for such a short lifespan in the first place - and with "only" $1 billion. One thing there's no question about: The program wonderfully "primed the pump" for domestic and import car-makers and their dealers!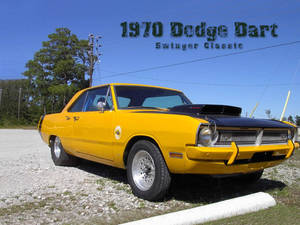 This cute, little1970 Dodge Dart Swinger Classic can't participate in the clunkers program --- only cars and trucks less than 25 years old make the grade
Be sure to join-in the conversation: The call-in number is: 213-341-4353.
Steve Parker's World Racing Roundup
Sunday starting at 5pm
Former seven-time World Driving Champion Michael Schumacher is back in a Ferrari F1 race car! He's going to fill-in for the injured Felipe Massa until Massa can come back and re-take his seat. At the height of his career, Schumacher was the highest-paid athlete in the world, with a salary from Ferrari estimated to be near $90 million annually; endorsements, personal service contracts and other activities made Schumacher incredibly wealthy --- but it's one of those rare cases where --- he deserved it! And not a steroid in sight ...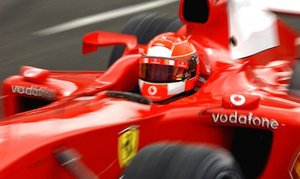 Michael Schumacher pictured in his natural habitat - the business end of a Ferrari F1 car ...
Ferrari F1 driver Felipe Massa is out of intensive care and his prognosis is guarded but good after a crash during qualifying for the Hungarian Grand Pix which nearly killed him. A piece of the rear suspension of a Brawn Mercedes GP car fell off in front of Massa and the small piece hit Massa's head at over 170 miles an hour. It penetrated his helmet, causing several life-threatening skull factures, a serious concussion and a very deep cut right above Massa's left eye. Ferrari is especially concerned with Massa's eye and whether the injury will affect his sight or allow him back into the sport.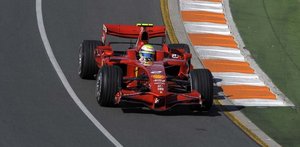 Felipe Massa handles the curves at a recent Australian Grand Pix
Plus, we get you up-to-date on NASCAR, IndyCar, NHRA drag racing and all the rest ...
The call-in number is: 213-341-4353. Podcasts of the shows are available one hour after the live shows' conclusions. That's this Saturday and Sunday at 5pm USA Pacific time on www.TalkRadioOne.com!
SUBSCRIBE TO & FOLLOW THE MORNING EMAIL
Start your workday the right way with the news that matters most. Learn more