They say "start out bad news with a joke," so: In Peter Gent's "North Dallas Forty," a football coach is talking with the team owner's son about his father's recent death and says, "When a man with your daddy's money dies of cancer, you know there's no cure."
Translated to our Bush/McCain economy: When rich people buying and leasing cars and SUVs are paying high interest rates, you know there's no easy credit.
US new car and truck sales plummeted to 965,160 last month, down 26.6 percent last month compared with September 2007, according to the Automotive News Data Center.
The last month when car and light truck sales were below one million was February of 1993.
General Motors even managed to look like the winner among the Detroit Three yesterday as its sales totals, combined among their many divisions, dropped "only" 15.6 percent compared to September, '07. Cross-town rivals Ford lost over 36 percent and Chrysler sank almost 33 percent.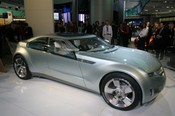 (GM's Volt plug-in hybrid at the LA Auto Show last year, and in better-looking days, according to some. Steve Parker photo; click photos to make them larger).
GM's market share last month rose to 29.3 percent, the company's highest in three years. But starting next week, GM plans to cut as many as several hundred US contract workers, in addition to cutting about 5,000 of their 32,000 salaried employees, a process already underway.
Even mighty Toyota and Honda found themselves in the loser column, Toyota slipping 32 percent and Honda 24.
California State Treasurer and Speaker of the State Assembly Jesse Unruh (D) once famously said, "Money is the mother's milk of politics."
That being so, then this week more than ever, we can say that credit is the lifeblood of the auto industry.
This week, the Detroit Three will start receiving their $25 billion bailout from taxpayers.
But the New York Times reported yesterday, as we've been pointing out in this blog for some time, that the biggest problem for the car business is prospective customers unable to get loans to buy or lease a new, or even used, vehicle.
In 2007, nearly 83 percent of applications for auto loans in the US were approved, according to CNW Marketing Research. But so far this year, that's plunged to 63 percent.
Even buyers with blue-chip credit can now only get loans at high rates. But at least they can make those purchases; their good credit may enable them to be late occasionally with a payment, if they "work" with their lender.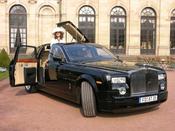 (Yes, this car is horrendous; we use it to make a point: Buyers of these kinds of road-going tanks almost always pay 100% cash and don't worry about financing; by the way, this is a 2008 Rolls-Royce Phantom "customized" by a company called EDAG; shouldn't it be E-GAD?).
More urgent, though, customers with mid-range or poor credit who need subprime car loans at higher interest rates are getting hit hardest. While 67 percent of those consumers were approved in 2007, only 22 percent are getting loans this year.
Someone missing their mortgage payment is almost certainly late on and probably missing their car note(s), too. But while it can take from several months to a year for a lender to foreclose on a home and possibly put people on the street, with some lenders just one late car or truck payment can mean a repossession (or having the car shut-off electronically, the 21st century's version of a repo).
In the bailout bill rejected by the House, there was a provision allowing the purchase of subprime car loans by a new government entity, similar to plans for subprime home mortgages.
The government buys them now, when they're nearly worthless, and holds them until value starts to return and the private sector buys them back, and maybe at a profit for we taxpayers. At least that's the idea ...
Many Americans, especially in the Southeast and the country's western half (including Alaska, where Ms. Palin rules), often find public transit spotty even when and where it does exist. They desperately need their new-but-usually-well-used cars and trucks to get to and from work, school, doctors, clinics, hospitals, shopping for basics and much more.
Car dealers need large amounts of revolving low-interest credit to buy cars and trucks from the carmakers, and to finance them while they're on their lots and in their showrooms until they're sold.


(This rare 1948 Pontiac Woodie could be a valuable classic; working people trying to get financing for even a used car are finding it almost impossible. Carey Parker photo).

And the original equipment manufacturers (OEMs), the carmakers themselves, need huge amounts of revolving credit so their doors stay open, assembly lines stay humming and American workers stay employed.
Selected carmakers' American sales for September, 2008, and the percentages lost compared to September, 2007:
GM (includes Buick, Cadillac, Chevrolet, Hummer, Pontiac, Saturn, GMC Truck and Saab)
282,086 units; -15.6%
Toyota/Lexus/Scion 144,260 units; -32.3%
Ford/Lincoln/Mercury/Volvo 120,355 units; -36.3&
Chrysler 107,349 units; -32.8%
Honda/Acura 96,626 units; -24%
Nissan/Infiniti 59,565 units; -36.8%
Hyundai 24,765 units; -25%
VW/Audi/Bentley 24,504 units; -9.4%
Mercedes-Benz/Smart/Maybach 20,582 units; -8.4%
BMW/Mini/Rolls-Royce 18,543 units; -25.7%
Kia 17,383 units; -27%
Mazda, 16,669 units; -35.6%
Acura 9,997 units; -27.5%
Industry: 965,160 units; -26.6%