Before we get into what's become the expected bad news from the worldwide auto industry, newsweekly Automotive News lets us in on who is actually on Pres. Obama's new auto industry restructuring task force.
The task force held its first meeting today, Friday, behind closed doors, without any auto industry representatives or President Obama, and Treasury says the task force may make its initial recommendations by next week.
The White House said Pres. Obama is likely to participate in future task force sessions.
As we've reported, the co-chairs are Treasury Secretary Tim Geithner and chief White House economics adviser Lawrence Summers. Can Geithner and Summers handle everything now on their plates?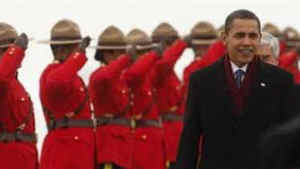 (President Obama in Canada Thursday, his first international trip).
Another task force member is being singled out by Treasury. Ron Bloom is a former investment banker who walked away from Wall Street and became a union official, known for brokering turnaround plans for struggling companies; like Bloom, other outside advisers are said to be involved.
The Treasury Department listed these automotive task force members:
• Secretary of Transportation Ray LaHood, a former Republican member of Congress
• Secretary of Commerce, not yet appointed (maybe Bill Richardson can still be snuck in there ...)
• Chair, Council of Economic Advisers Christina Romer
• Secretary of Labor Hilda Solis, secretary designate
• Secretary of Energy Steven Chu (an actual scientist in the president's Cabinet!)
• Director of the Office of Management and Budget Peter Orszag
• Environmental Protection Agency Administrator Lisa Jackson
• Director of the White House Office of Energy and Climate Change Carol Browner
Listed as designees of the task force members:
• Diana Farrell, Deputy Director, National Economic Council
• Gene Sperling, Counselor to the Secretary of Treasury
• Jared Bernstein, Chief Economist to Vice President Joe Biden
• Edward Montgomery, Senior Adviser, Department of Labor
• Lisa Heinzerling, Senior Climate Policy Counsel to the EPA Administrator
• Justan Goolsbee, Chief Economist of the Economic Recovery Advisory Board
• Dan Utech, Senior Adviser to the Secretary of Energy
• Heather Zichal, Deputy Director, White House Office of Energy and Climate Change
• Joan DeBoer, Chief of Staff, Department of Transportation
• Rick Wade, Senior Adviser, Department of Commerce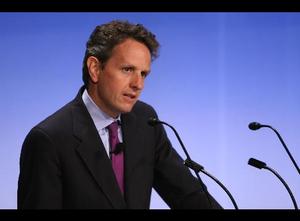 (Tim Geithner).
As for the end-of-week news, The Detroit News reports that car dealers saw a record number of them closing last year. According to a study by Urban Science, which started tracking dealership closings in 1991, 2008 had the highest number of closures ever, totaling 881.
Most of the closings came in the fourth quarter. There were 20,084 U.S. dealers at the end of 2008, and domestic automakers accounted for 80% of the closures.
General Motors division Saturn has begun alerting customers that it may be spun-off by GM as an independent marketing and distribution company.
This is not a bad idea; Saturn dealers, who developed what might be called the "Saturn way," should not throw away all that money, effort and time - or customers. Saturn's no-haggle sales plans and repair and warranty policies were much appreciated, as were the first decade of plastic-paneled Saturn cars (including the EV1).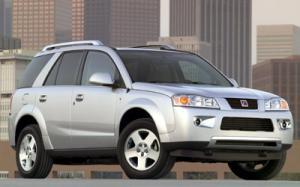 (Initially, Saturns were built in one factory, in Spring Hill, TN, but today, the cars and crossovers are made mostly in Europe and don't have the ding-proof plastic body panels which helped make their first models a hit; pictured is a 2006 Saturn VUE).
Even the UAW contract, created just for what was the single Saturn factory, in Spring Hill, TN, was considered a rare win/win for both sides and parts of it were often emulated by the union with other car makers.
The discussion about what cars the approximately 435 soon-to-be-ex-Saturn dealers might sell, and who would build them, has just begun.
Saab's fight for survival intensified today as the General Motors unit won protection from creditors while trying to find a new partner and raise fresh funds. Saab today asked for $1 billion from the Swedish government to become self-financing under a self-managed Swedish bankruptcy court process.
GM's Opel has become the first Germany-based carmaker to seek a government bailout, asking for $4.15 billion to keep it afloat through the end of 2011.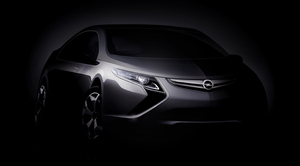 (Opel's Ampera is slated to be the Euro version of the Chevrolet Volt extended-range hybrid; this teaser photo was just released by GM).
Ford's worldwide sales kept the company alive during the oil shortage-created US market sales slump in the 1970s, but the company's worldwide sales are dropping right along with those of most other car makers, and this time might not be able to keep Ford alive in the US.
As reported, South Korea's Hyundai, along with Japan's Subaru, were the only car companies in the US which enjoyed increased sales last month.
Hyundai's Assurance plan, begun in January, allows consumers to return their new Hyundai vehicles within a year of purchase if they lose their jobs.
Now, with what they're calling Hyundai Assurance Plus, the company also will pay the vehicle loan or lease for 90 days during the year while the owner looks for work. If the owner keeps the car, the payments do not need to be repaid. Hyundai Assurance Plus will initially be offered from Monday, February 23 to April 30. Such a deal!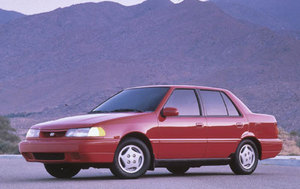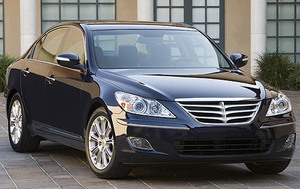 (Top, this entry-level 1992 Hyundai Excel quickly became known for its poor quality, but that car bears no relationship other than its maker's name to its new V8-powered Genesis, lower picture, which has won several automotive awards).
I'm still waiting for just one of the Detroit Three to make a similar offer; seems to make a lot of sense when compared to Detroit's current "come on in, because we're givin' 'em away!" marketing tactics, which is the kind of sales tool traditionally used by smaller import companies, like Mitsubishi.
Please hit us with your comments on what you think of the president's auto task force and who's on it; who from the list should be there, who should not, and, perhaps most important, who do you think is missing.