It appears that for at least another week or so, there will be no major decisions regarding: A) the $25 billion bailout for the Detroit Three (but we now know Sen. McCain wants it doled-out slowly and in increments; Sen. Obama is still in favor of the original request for $50 billion), B) Help for new car buyers needing financing, C) Help for those late with their car loan or lease payments, and finally, D) Help for those whose vehicles have already been repossessed.
So, as we stay on-alert for news on all of the above, let's start a conversation and preview two important auto shows.
The Los Angeles Auto Show is now officially the first big extravaganza on the national car calendar. It opens Friday, November 21st and runs through Sunday, November 30th at the Los Angeles Convention Center.
Another show opens sooner, the annual Specialty Equipment Market Association, or SEMA Show, which runs from November 4th through 7th at the Las Vegas Convention Center, and sets the stage each year for car, truck and motorcycle performance enthusiasts and amateur and professional race drivers and teams. SEMA expects there will be new products displayed from about 2,000 of their 7,000 member companies worldwide. (As SEMA opens on election day, we're voting early and planning to attend an Obama Victory Party somewhere in Las Vegas that evening - Shouldn't be too hard to find one!)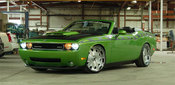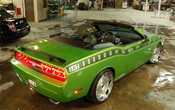 (This Dodge Challenger convertible was built specifically for the upcoming SEMA Show; its supercharged Hemi V8 engine produces 560 horsepower - Not what our green world needs, but it's just one car, so I say enjoy! It's up to car-makers and educators to make high mileage/low emissions and good handling sexy, just as they've been doing for almost a century with horsepower).
"The hot rod parts business" has grown, as SEMA, into what is now estimated to be a $36.7 billion "aftermarket industry."
Both shows will be industry bellwethers and closely watched worldwide, more so than any other auto shows in decades.
We'll see how gas prices, environmental considerations and the world financial crisis effects SEMA members, and, at the LA Auto Show, see what the car-makers themselves choose to present to the public as their visions for near-future cars and trucks.
I don't mind someone spending as much money as they like on an exciting, powerful and interesting car, and I applaud companies developing great concepts, show cars, race cars and exotic "race-cars-for-the-streets."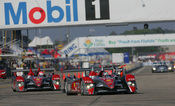 (Audi's R10 TDI clean diesel race cars have dominated endurance sports car racing the past three years; there's no question that diesel technology developed for these race cars has already "trickled down" to Audi cars like their Q7).
So many parts of our own cars were developed through motor racing, that the car world is one arena where a "trickle down" theory -- of technology, not money -- actually works.
Car company problems aren't because of Chevrolet's Corvette, Ferrari's new California, Porsches, Nissan's GTR, any of BMW's M-models, Chryslers with Hemi engines nor even the $1.6 million, 1,000 horsepower Bugatti Veyron with its quad-turbocharged DOHC 64-valve W16-cylinder engine.
All these cars -- and many other purely high-performance models -- are made in extremely limited numbers and priced too high to ever find a home in an average garage (like mine). The sales theory behind these "halo" cars is that while a person may not be in the market for a Corvette, they might visit a Chevy dealer to see the new 'Vette and perhaps wind up buying a Malibu hybrid.
There's no reason a company which can produce a car with all the technology of a 205-mile-per-hour Corvette ZR1 selling for $100K can't make a family car which gets between 40 and 50 miles per gallon of fuel. But all the public sees are the all-too-automatic-tears-and-hand-wringing every time the government (and the public) asks for improvements in safety, recyclability, higher mileage figures, lower emissions and more.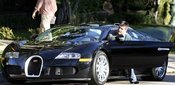 (TV's "American Idol" producer and judge Simon Cowell exits his Bugatti Veyron somewhere in the La-La Land of Los Angeles).
Starting around 1992, car-makers worldwide took their cue from Detroit in seeing a unique opportunity in the US market which existed nowhere else. Big SUVs. It meant shoving their V8 engines (and sometimes developing a V8 for the first time just for this job) into full-size trucks and selling them to people like us, who had little reason to own, drive (or park) a truck which might weigh over 6,000 pounds with the handling characteristics of an aircraft carrier.
In the mid-1980s I was editor of an industry magazine called Automotive Fleet, and then about 25% to 30% of all car and truck sales in the US were to government and corporate fleets. Vehicles from the Detroit Three made-up by far the bulk of all fleet cars and trucks sold. Washington, along with local and state governments and large corporations often had rules mandating the purchase of only "domestic-made" fleet vehicles. That's changed dramatically; governments and companies now buy just like the rest of us, with decisions based on a vehicle's overall value.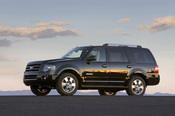 (Ford's Expedition could be a poster boy for the over-6,000 pound SUVs which got huge tax breaks for their owners; more on that, and the Secret Bailout for race track owners, in a posting later this week).
Gas prices have thankfully knocked-down the number of big trucks being sold to folks who don't need them, like me; I only hope those sales figures stay down as gas might get even a bit cheaper.
We'll have plenty of coverage of these shows -- and more -- in this space, so please check back for our stories, photos, videos and audio podcasts reports.
And we look forward to perhaps meeting some of you at the SEMA Show and the LA Auto Show. Frankly, I'm hoping we find some great news on issues including car and part recycling, auto, truck and motorcycle safety, and on gas-saving and emissions-cutting products, as we file some of the first reports from the frontlines of the "Great Automotive Downturn of 2008."
SUBSCRIBE AND FOLLOW
Get top stories and blog posts emailed to me each day. Newsletters may offer personalized content or advertisements.
Learn more