NASCAR has a fabulous chance to grab some positive, international public attention as insiders and fans vote on the first five members of the sport's new Hall of Fame, but, as they've done before, the powers-that-be have blown it.
NASCAR's first and best-known Black race-winner, Wendell Scott, isn't among those eligible for the Hall. He didn't even make the top 25; voters for the final five couldn't pick Wendell Scott if they wanted to.
And ... some cynics (and probably realists) ask ... who can blame NASCAR for the "omission"?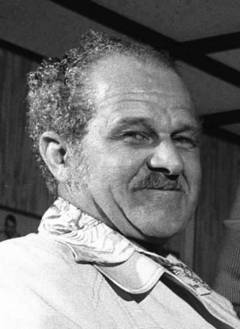 The sport's TV ratings and attendance have dropped as its popularity has reached a plateau, coincidentally much like the Republican Party's, with its major base of support in the nation's southeast and those fans being overwhelming male and White. Why risk the enmity of some of those fans, it's probably asked by the sport's leadership and top sponsors, by nominating Scott for that first Hall of Fame group?
Scott was the first African-American to compete regularly in and certainly the only one to win a NASCAR Grand National race, now known as Sprint Cup, the sport's top national series. And this was in the American south of the 1960s, not the 21st century.
Scott's life story was portrayed in the 1977 film Greased Lightning, the driver played by Richard Pryor.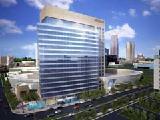 NASCAR Hall of Fame, under construction in Charlotte, NC
It isn't as if, the sport's sponsors and owners know, there would be some massive increase in minority NASCAR fans if Scott were nominated. For too many at the top in NASCAR, Scott's nomination or his entry into the Hall must be thought of as a lose/lose for the sport.
And I'm basing this on NASCAR's so-far feeble attempts to bring minorities into the sport as fans and/or participants, their "Drive for Diversity" program seeming to be talked about more in court cases than realistically-displayed on the tracks and in the pits and garages.
Talk about cynical: the sport's attempt to label current Sprint Cup driver Juan Pablo Montoya and his success as a product of their diversity program was worse than laughable; Montoya was born in Colombia and is the only driver to have won the CART championship, the Indy 500 and the 24 Hours of Daytona all at his first attempt.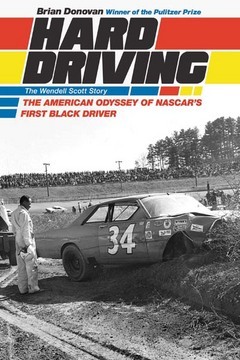 "Hard Driving" by Pulitzer-winning author Brian Donovan recounts Scott's career
And NASCAR apparently still doesn't discourage the display of the "rebel" flag at their events while it quietly settles, out-of-court, discrimination lawsuits. For those who want to defend that flag-waving, think for a moment of the Nazi flag and other Third Reich symbols being paraded by crazy white supremacist and anti-Semitic groups. Would you feel comfortable and welcome at their events? Any patriotic American knows the rebel flag for what it is: a symbol of racism, the phony call for "states' rights" and a fondness for the dissolution of the Union.
Some might wonder: what does it all matter? It's "only" a sport.
Here's why: this sport is bought-and-paid-for with hundreds of millions of dollars from America's largest corporations and, thus, from the American people. NASCAR founder Bill France Sr., in 1953, founded International Speedway Corp. to construct and manage tracks and promote races. ISC also owns several major NASCAR-related businesses and is now a publicly-traded company.
In other words, NASCAR is no private country club, university or so-called civic organization. Almost every consumer in America has a money stake in NASCAR.
And "Big" Bill France ran his sport his way, threatening and taking action against anyone espousing organizing drivers or anyone else into any sort of union which might threaten his absolute control.
This is probably the reason many big NASCAR veterans now speak openly about Scott being treated poorly, but during his NASCAR career never spoke out in his favor. This "tradition" continues in today's NASCAR, still run with a heavy hand by the France family.
NASCAR tried to pass-off Juan Pablo Montoya as a product of their "Drive for Diversity" program
Those who ask, "Should Scott be in the Hall of Fame simply because he was the first consistently top-running Black driver in NASCAR?" are raising the old red herring which claims racism is over in America.
Using that same argument, we can ask if Jackie Robinson should be in baseball's Hall of Fame "just because" he was Black or if there's something historic about Barack Obama being an African-American; of course Robinson should be in the HOF and Obama is special because of their ethnicity. How can that be ignored?
But like Robinson and Obama, Scott was a winner, too. He was often in NASCAR's top ten in national points, won a major national event (which NASCAR awarded to the runner-up so the local white beauty queen wouldn't have to kiss him) and seemingly took it all in stride, never lashing-out at the sport during his career even though he seemed to have every right to do so.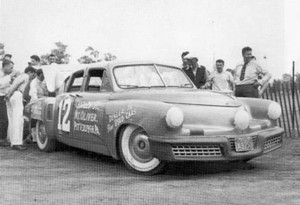 Scott raced a few years after after this Tucker competed in NASCAR events
Based on his combination of grit, courage and driving and wrenching skills, and his race, especially in that place and in that time, Wendell Scott should be a member of NASCAR's inaugural class Hall of Fame.
What do you think? Remember, top executives of many NASCAR-supporting car-makers, other sport sponsors (and potential sponsors) and officials stop by this blog on a regular basis, so let them hear your voice. And let's hear from all the sport's fans, here, too ... and I'm one of them.
FOLLOW HUFFPOST