Steve Parker's "The Car Nut Show"
LIVE Saturday starting at 5pm Pacific/8pm Eastern
On TalkRadioOne.com
No lack of topics this week on our general interest live call-in automotive talk show - General Motors approaches bankruptcy, Volkswagen says they'll continue to develop their hydrogen fuel cell car even if Pres. Obama doesn't like the technology and thousands of dealers bite the dust and the big one. And will our cars and trucks really reach 39mpg on average by 2016 as the president proposed this past week? That's all it was - a proposal. Laws still need to be written and past to increase mpg and lower emissions. Call-in and be part of the show! At TalkRadioOne.com.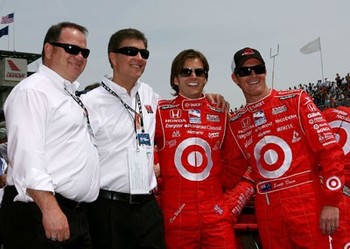 Chip Ganassi (left) with the boys after winning Indy; since 1999, these teams have won the Indy 500: Marlboro Penske Racing, Target Chip Ganassi Racing, Andretti Green Racing, Rahal Letterman Racing and AJ Foyt Enterprises. Rahal Letterman and Foyt have little chance this year; Danica Patrick is an Andretti Green driver, and for the future of open-wheel racing in the US, I hope Patrick wins and it's not another Penske or Ganassi clone this weekend; did Helio Castroneves win American Idol, too?
Steve Parker's "World Racing Roundup"
Sunday starting at 5pm Pacific/8pm Eastern
On TalkRadioOne.com
The Indy 500, the Monaco Grand Prix Formula 1 street race and the NASCAR Coca-Cola 600, the longest event on the Sprint Cup circuit --- all today! Three of the signature events of world motor racing and we'll cover them all from the inside out. Steve still says, "Anyone but a Penske or Ganassi driver" has to win Indy; a Danica Patrick victory would be the best thing for American auto racing in 20 years! But a woman winning the Indy 500 has about as much chance of happening as a black man becoming president of the United Sta ...oh, wait a minute ...