I've known a lot of writers in my life. They tend to have strong feelings about the subjects they choose to write about, and once their book is published they're even up for a good debate.
But make no mistake about it -- writing is an essentially solitary enterprise. And generally speaking, readers are meant to be passive receivers of wisdom. There's no doubt the web has changed this for news... just look at the wild, engaged, often intemperate debates that rage in the comments of The Huffington Post and you know the voice of the reader is here to stay. But writers, by and large, have been above the fray.
Which is why finding myself having to consider, for the first time, changing something I'd written after it had been published because of reader criticism had me at a bit of creative crisis.
But, I've gotten ahead of myself. First, some background.
Over the past year and a half, I'd been toying with the idea of writing a book about The National 9/11 Memorial. I'd spent 10 years since 9/11 watching the site cleared, readied, and reborn. I'd gotten to know the people behind the remarkable project, and been able to photograph the site as it emerged from an empty pit to now a remarkable pair of voids and waterfalls, wrapped by a bronze parapet of names.
But the more I spoke to publishers, the more I realized that I didn't want words and paper. I wanted something that didn't quite exist yet; a digital book that could present text, video, and still images. A journey through the history of the Twin Towers and brought readers up to current day.
I knew the name -- it would be The 9/11 Memorial: Past, Present, and Future.
And as I shaped it -- with the multi-touch gestures of the iPad in the forefront of my mind -- it became a hybrid. Half book, half App. I decided it was an AppBook. And magically, it came together over the summer of 2011 with my wireframe designs and developer Jeff Soto writing the code.
Because I knew that different readers would want, or need, different ways to explore the material, I was careful to create a clear roadmap of the story. For some readers who were too young to remember September 11th, I shared video of the day. But for others who remember it far too vividly already, we created a way to explore the great old historic Twin Towers video, and then explore the conception and construction of the memorial.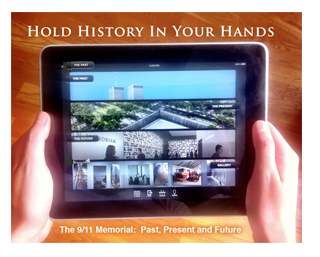 The AppBook launched on September 1, 2011 -- and from the very first moment the response from reviewers, bloggers, and users was positive. Review site App Advice said they "strongly recommended" the AppBook. And AppleNApps said: "The 911 Memorial, may be the best download for your iPad you ever made."
But it was the reviews from users that made me especially proud. Tikatikaeq2 said "I feel like I have been given such a gift. It is gorgeously presented and in prefect taste." And AppiGoLucky wrote; "This app blends the old art of journalism with a new technology in a way that lets consumers enjoy the story in ways that were never possible before."
But sprinkled in among the five star reviews, there were a few of the reviews all writers dread. One Star reviews. At first, I tried to ignore them, feeling like they were just outliers.
But once I read a user review from TT's Apps that said "A comprehensive 911 memorial should include events at the Pentagon & Shanksville, PA" I started to think, maybe he was right. Then Vadd111 wrote "Nothing in here about the other two attacked sites? Hardly a 9/11 memorial in that case," and I had to face the critics.
This is something that I think all writers are going to need to confront in the new world of digital publishing. Is the first published version the finished creative work, or is it the begining of a conversation with readers that will together evolve the work? I'm not sure. For me -- the decision to release the new app as a Version 2, and to add a good amount of new material seemed right.
So, today it's live. A collaboration with my critics.
-- There's a new section called Shanksville / Pentagon that includes 6 Images and 4 New Videos
- -There's a new section called Touring the Memorial 1 New Image (map)
-- There's a new section called: 9/11/11 6 Images and 4 New Videos
- -There's a new photo gallery -- The Memorial: Opening Day (50 new exclusive images)
You can find the new app version 2.0 on iTunes here:
The 9/11 Memorial: Past, Present and Future
The changes are mine. But they were driven by what I see as the coming "Readers Revolution." And as they find they have this new power to engage content, and creators, it seems like a trend that is likely to become more of a force in the creative process.
I'd love to know what you think.
SUBSCRIBE TO & FOLLOW CULTURE SHIFT
Level up. Read THIS and be the most interesting person at your dinner party. Learn more