The world goes through cycles. Periods. Chapters. We've just come out of the industrial age. We're peering around the corner of the digital age. And the problems we face loom large. Energy. The Environment. Poverty. Inequality. Health Care. Obesity.
These a big problems, problems that have been building up a head of steam for some time. They're not going to go away, and they're not going to be resolved with tweaks and minor fixes.
And while Democrats, Republicans, and the various factions and splinter groups may be willing to hold their ground and tough out the economic and environmental tsunami that is on the horizon -- there's no one who comes to TED who's that sanguine about the issues that face us.
Worth noting there are no politicians at TED. Actors sure. Scientist, in abundance. Thinkers, writers, painters, digital creators. But this is a conference of doers, folks who make things and do things and are here to share what they know and leave with new found inspiration.
When I think back on the past five years of TED's, I remember specific revelations that changed the way I see parts of the world. The emerging trend to micro-finance and the power of change generated by technology (in the case cell phones) as evidenced by Iqbal Quadir (click to view TED Talk) and Grameen Phone. The jaw dropping images Alan Russell shows a newt re-growing limbs.(click to view TED Talk) The power of music that was palpable in the hall as conductor Benjamin Zander (click to view TED Talk) of the Boston Philharmonic brought an entire room to its feet with a conductors baton and the power of music. I could go on and one. Each TED talk its own collection of human passion and energy -- presented in front of a room of people ready to absorb, engage, and act on these ideas.
It's like a tiny human nuclear reactor of inspiration.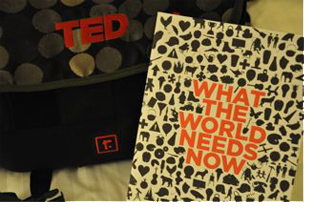 Over the next 4 days -- the issues of health care, poverty, the environment will all be brought down to human scale. And many of the worlds most gifted minds will bring their solutions and theories here to see if they can't gather the critical mass necessary to bring them out of the labs and into public view.
It's a place where big ideas and new ideas get center stage.
Where else can you expect to listen to Benoit Mandelbrot, Sarah Silverman, and Elie Weisel? Madelbrot created the concept of "fractals" and is one of the world leading thinkers on Chaos theory. Sarah Silverman is funny in a dark and subversive kind of way, and Elie Weisel is the the preeminent writer and thinker on the Holocaust and Tolerance. Tolerance, New Science, Humor. I'm pretty sure that's a good start to answering the question "What Does The World Need Now?"
SUBSCRIBE TO & FOLLOW TRUMP'S FIRST 100 DAYS
How will Donald Trump's first 100 days impact YOU? Subscribe, choose the community that you most identify with or want to learn more about and we'll send you the news that matters most once a week throughout Trump's first 100 days in office. Learn more