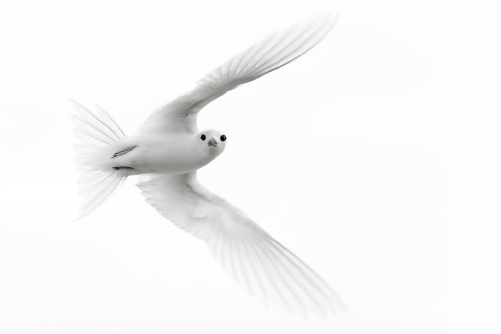 Midway Atoll in the Pacific north of the Hawaiian Islands. "Every morning I had this group of [white] terns flying on my shoulders almost touching," says wildlife photographer Daisy Gilardidni. This particular white tern "was just really curious... She's really looking at me... [like] she wants to talk to me.... Little gorgeous creatures that want to interact with you. It's unbelievable. " (c) Daisy Gilardini

Daisy Gilardini has a remarkable ability to establish a visual intimacy with the animals she photographs. Over 21 years of photographic expeditions, she has visited 65 countries and often braved extreme conditions -- always driven by a passion that began as a girl when she loved riding horses in Switzerland and wanted to be a vet.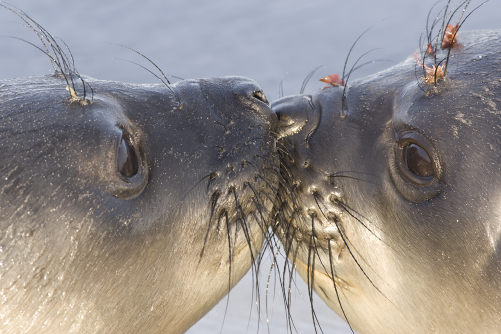 Sea Lion Island, Falklands. Baby elephant seals nuzzle muzzle-to-muzzle -- before they grow up and their proboscises become prohibitive. Gilardini says "I just love the animals. I'm much closer to animals than people. I'm very uncomfortable taking pictures of people... With animals, I'm in my element." (c) Daisy Gilardini
I had the opportunity to talk with Gilardini about her wildlife photography before she gave an IRIS Lecture at the Annenberg Space of Photography in Los Angeles last month.
She told her audience that her favorite place in the world is one of the coldest. Antarctica.

.
The entire lecture can be viewed here. (And I'll have more on on why Antarctica won Gilardini's heart later in this piece.)

Research, Respect & Patience
Gilardini's approach is physically, mentally and artistically demanding, requiring preparation and patience as well as intuition and improvisation.
She reminded me that good photography of nature is much more than heading outdoors armed with a long lens.
Here are three important aspects of her approach.
You must know the animals you are photographing so you can anticipate what they might do.
You must respect the animals and take care not upset them by infringing on their space or disturb their natural rhythm of life.
You must wait and wait and wait -- often in weather that would make a walk-in freezer feel like a heatwave -- ever vigilant for the right moment.
"I think my images speak because I wait for the animals to come to me... approaching me. I need to let them decide to come to me. And then it's easier and you can see from the picture... [If you see ] an upset animal, you see anger, you see fear, how can it be a good picture?"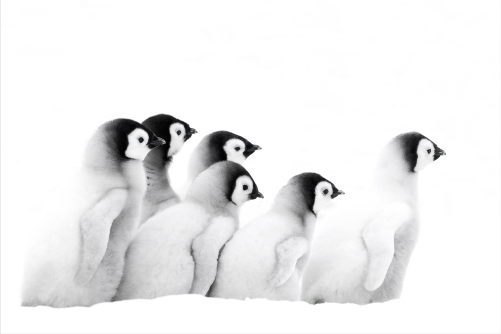 Snow Hill Island, Antarctica. In a book published last year called Polar Wonders, Gilardini wrote that the population of emperor penguins has declined by 50 percent in the last 30 years. She says scientists blame climate change. (c) Daisy Gilardini
Gilardini told me the story of one expedition in the Arctic where a fellow photographer would enter the territory of arctic terns so they would come and dive-bomb him, providing him with opportunities to get some dramatic wide-angle shots. It was the opposite of Gilardini's approach at Midway Atoll where she waited till a group of white terns came to her. In the Arctic, the diminutive Daisy confronted the photographer.
I said you don't do that. You don't chase the animals. We're here to take pictures of them. They in the end are going to give us income. And we have to respect them. I really stood up and said no. And it was tough because it was a three-week trip.
She said the photographer eventually changed his approach.
"If I think something is right, I fight," said Gilardini.
Extreme "Obsession"
Gilardini has a ready smile, which to me conveyed an open heart. But I also sensed a backbone of steel. In her book, Polar Wonders she points out that her 36 expeditions to the North and South Poles reveal "an obsession or addiction."
These extreme adventures transport me out of my ordinary worldliness and lead me to discover my own primitive instincts... The polar regions, with their harsh and unforgiving environment have the power to bring back the wild animal that resides deep inside all of us... By returning to the foundation of existence, I feel comfortable by simply following the rhythm of nature, which inspires deep respect and awareness for the importance of these delicate wilderness areas.
The love of these environments inspires her conservationist ethic and provides a strong motivation for popularizing her work:
"By showing the beauty and diversity of the polar regions I hope to bring awareness about the huge issue of climate change and inspire people to a more environmentally friendly lifestyle."

Motivated by Melting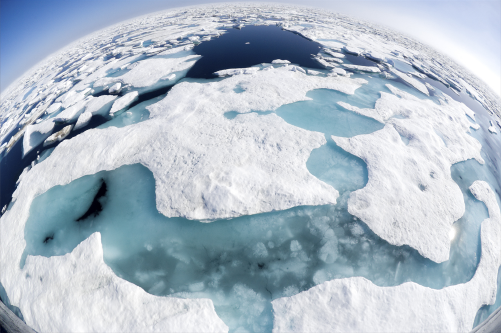 Baffin Island. Melting ice at the poles presents a threat to the entire planet. Gilardini likes to present talks with climate change experts like Professor Konrad Steffan of the University of Colorado at Boulder, which she did recently in Santa Monica. She says she "hooks" the audience with "amazing places and amazing animals" to open their hearts. Then he can present his scientific findings, such as a rise of two degrees Celsius (about 3.6 degrees Fahrenheit) since 1991 in the earth's global temperature average. (c) Daisy Gilardini
For Gilardini, the joy of making photographs in the polar regions is made even more meaningful when she returns to show the images in her lectures.
It's really exciting when you know something really special is going on. The adrenaline starts flowing in your veins and you say, Wow I got it. ...And when you share it with others, that's the other part I love. Sharing and trying to do something to bring awareness about what's going on with global warming. Some people say it's just penguins and polar bears, but they don't realize ...

It's not close enough for them to touch. The time when people realize is when in the Swiss Alps you don't get snow. Oh, then it's global warming... but then you're touching the money. People don't have jobs. Oh the world is changing. They don't realize that if all the ice on the planet right now would melt, there would be a rise of 70 meters in sea level. Can you imagine the millions and billions of people who have to move? I mean [parts of ] Bangladesh, China, Europe - all under water. And what do you do with all these people?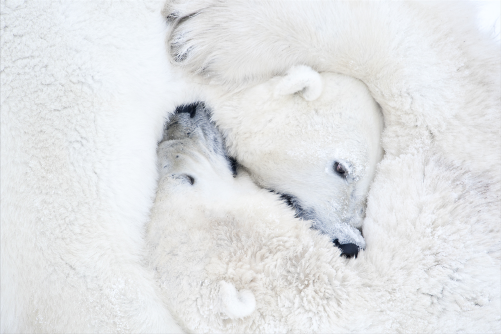 Wapusk National Park. Manitoba, Canada. Young polar bears like to play rough -- half cuddle, half clench. Gilardini says she has waited for hours on end, day after day, in temperatures as cold as minus 54 celsius (minus 60 Farenheit) to get a chance to photograph the right moment. "Minus 54?" she says. "I couldn't even wear my glasses. They stick to my skin." (c) Daisy Gilardini
Unusual Career Progression: Accountant to Wildlife Photographer
Studying eight years to get a Master's degree in accounting is not the normal preparation for a career as an international wildlife photographer. But Daisy Gilardini says she has no regrets.
I consider myself lucky and I don't regret the period of my life when I was in the office doing accounting. I would do it again. Because if it wasn't for that I wouldn't have been able to start traveling and find the thing that I really love.
She managed to build up the business while liberating more and more time to travel the world taking pictures. Finally, in 2006 she sold her accounting business and went full-time into photography.
I'm happy that I studied accounting. It gave me a solid background in how to organize things. You have to be square to do accounting. But it really gives me a focus on things and I learned you really have to maximize your time. Especially being a woman and an accountant you have to have some character to be successful, you have to be a bit aggressive also, but that helps me in the photography world which is mainly men. I learned how to deal with them ...just be focused on what I do. Be successful, too.
I asked her if "character" meant backbone, the ability to stand up for herself.
"Yes. I don't want people to step on my fingers ... If you're not like that in business, you cannot survive. So you learn to do that. Handy for life."
But even as hard work and conviction forged her character, compassion and curiosity make her an artist of the heart.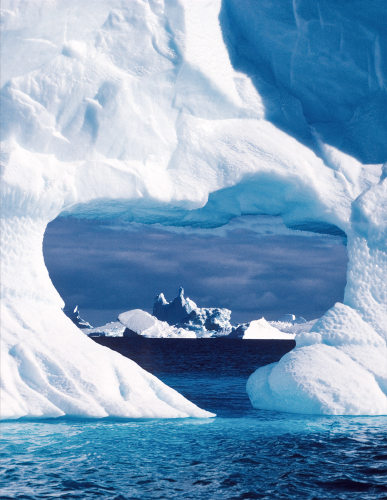 This is the photo that represents Gilardini's love affair with the southernmost part of planet earth. "It was taken in 1997 on my first trip to Antarctica," she told me. "I was off the coast of Peter the First Island. One of the most remote places. The zodiac was cruising along this iceberg and suddenly this heart appeared... It was just a snapshot... and actually it's not even cropped perfectly. But it's such a strong image... really symbolic." (c) Daisy Gilardini
Gilardini told me she wants to return every year to Antarctica. She finds peace and harmony there -- in part, because there are so few humans.
The only people living there are the scientists. So the animals... they're not afraid of you. They want to interact. And that's so rare. You go the the Emperor penguin rookery. You sit 10 meters from the rookery. And in 10 minutes you are part of the rookery. They come. they greet you. They want to touch you. They are really a curious animal...

For me it's the Antarctic -- the quantity of the animals, the variety, is just unbelievable. The scenery is breathtaking so put it all together and it can seem like another planet.
Disclosure: The Huffington Post is a sponsor of the current exhibition running at the Annenberg Space for Photography -- "Extreme Exposure."

SUBSCRIBE TO & FOLLOW THE MORNING EMAIL
Start your workday the right way with the news that matters most. Learn more