In my last blog I quote E.B. White's comment that living in New York is bearable because you feel like you "[belong] to something unique, cosmopolitan." Deitch Projects epitomized that for many of us.
I don't know Jeffery Deitch but most of the fans of the Brooklyn Dodgers didn't know Walter O'Malley when he took his ball and left town in 1958 either. That's what it feels like to fans of the Deitch Projects gallery. Artist Michelle Vaughan's response to the news was a laconic "gutted". Lane Twitchel, who showed there in 1999, writes,
Jeffery Deitch helped an enormous number of young artists, myself included. He functioned at a level almost always much higher than the artists themselves understood, and perhaps this lead to some confusion. This period of his career was marked by the same intense devotion to art that he has always had. His gallery was like no other in New York, it defined an era, it will be missed.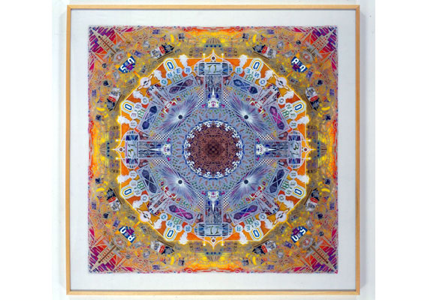 Lane Twitchell, Pluribus: State 31, 1999, Cut paper mounted on mylar, acrylic and collage, 61 x 61 inches.
I couldn't agree more. His departure leaves a gap in the cultural scene (not to mention the troubled commercial real estate market) here in New York and is bewildering. Why would a successful gallerist give up New York for the seedy, flat, season-less, jittery experience of Los Angeles couped up in the sterility of a real job? And what of his employees and artists? It's a terrible time to be without a gallery for both parties. Gutted indeed.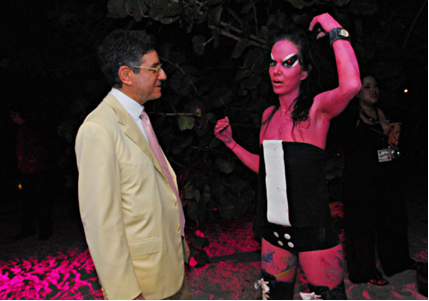 Jeffrey Deitch and Kembra Pfahler, Heaven & Hell, Sponsored by Deitch Projects, MAC Cosmetics and The Raleigh Hotel, December 5, 2007, Photo credit: Kristy Leibowitz
Roberta Smith starts off with the ominous line, "When the going gets desperate, the desperate get creative." She's referring to the past and present for MOCA, I think, but I couldn't help but wonder, was Deitch Projects in trouble too? Either way this move doesn't make any sense to me. I don't have any problem with gallerist as museum curator. How many former curators have crossed over into the auction houses or private galleries? Plenty. Jeffery has enough relevant experience, a successful track record, and there will be enough people inside and certainly outside the organization on the look out for conflicts of interest. The trouble I have is this is an administrative job being taken by an entrepreneurial entity.
When will he tire of trying to squeeze another percentage point out of the gift shop or a few more tourists into the gallery?
Follow Steven Mesler on Twitter: www.twitter.com/kurokowa