It's not often we get to see video surveillance of a crime in progress, but that's one of the many fascinating things you'll find on the website of the Philoctetes Center for the Multidisciplinary Study of the Imagination. It's Bernie "the perp" Madoff during a round-table discussion titled "The Future of the Stock Market". He's there sitting among his peers, an employee, and in the house his clients built expounding on what a mensch he is. You see, according to Bernie, it isn't luck and it isn't pure mathematics, it's the blend of these things and his own cunning instincts for the perfect transactional moment that make him such a successful money manager. In short, he's an 'outlier' and you need Bernie.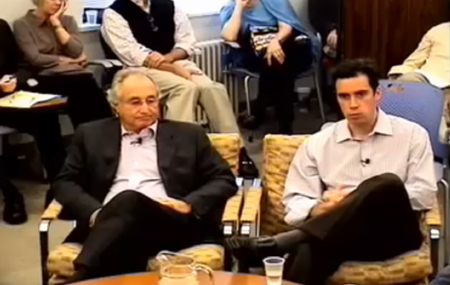 Screen shot of Bernard Madoff (left) and Robert Stampfli (right) from "The Future of the Stock Market".
The video was recorded on October 7, 2007 which coincided with the cracks in the housing market bubble beginning to let the light in. There are jaw dropping moments in light of the revelations of Bernie's massive fraud but I will not rehearse them here, I want you to watch the video instead. Co-founders of the Philoctetes Center Francis Levy and Edward Nersessian won't rehearse that moment or any of the other private feelings they have about the turn of events. The most I ever got out of them was a response to Bernie's statement regarding how impossible it was to break the law given the current regulatory environment. Edward wrote, "To me, as a student of human psychology, his exaggerated assertion is not surprising."
You can watch that video on the Philoctetes website, here.
It's hard enough to live in New York City without Bernie gutting a great institution. While I will agree the city is less Urban Cowboy than it used to be, it remains our country's most challenging urban environment to get by in for all but the wealthy. Debates of the pros and cons of remaining here take place in every apartment, office, and studio on a daily basis. In Chicago they ask where you went to high school, Seattle if you work for Microsoft, and in New York how much you pay to live here.
E.B. White wrote in his essay, "This is New York" (1948): "Every facility is inadequate-the hospitals and schools and playgrounds are overcrowded, the express highways are feverish, the unimproved highways and bridges are bottlenecks; there is not enough air and not enough light, and there is usually either too much heat or too little. But the city makes up for its hazards and its deficiencies by supplying its citizens with massive doses of supplementary vitamin-the sense of belonging to something unique, cosmopolitan, mighty and unparalleled."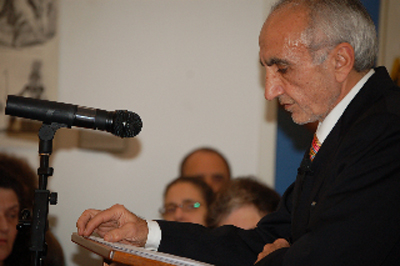 Edward Nersessian M.D., Co-founder
Last year I attended a screening of a documentary by Marion Cajori on the painter Chuck Close, of whom I am a great fan. It not only was a fantastic documentary but the subject stopped by for a chat before the curtain fell. He then took his seat in my isle three seats down. Talk about "unique, cosmopolitan...and unparalleled"; I skipped home all the way to Brooklyn and used the slimmest of segues all week to bring the event up in conversation. I'm still talking about that evening.
Francis writes, "We are interested in the intersection between science and art. In his
famous Two Cultures essay C.P. Snow inveighed against the separation
of these cultures. In short where these two modalities of experience
come together is in the notion of thought process in both what
neuroscientists call the higher brain activities and in emotion which
is related to the limbic areas of the brain. We are interested in
originality, in creative process, in innovation."
Unfortunately we are on the cusp of losing this organization. Every dime of the money to support the institution was swallowed up by Bernie's deception. It's gone. It's never coming back. The moment they were made aware that they'd been eviscerated by Bernie, Francis and Edward put out a clarion call to the community for donations to support the institution while they imagined a new way forward. The response exceeded their expectations.
Francis writes, " We have received grants from Bloomberg LP, from the Department of
Cultural Affairs of the City of New York, from the Templeton
foundation, the Leon Levy Foundation, yesterday we were informed that
the New York State Council on the Arts will be making grants to us in
both poetry and music categories and our large following on line (our
videos have received over 300,000 hits on You Tube on which we have
our own channel) and in person have contributed. Still even bare bones
this is an expensive enterprise. I think we are determined to keep
Philoctetes alive. We need to find some major donors. We need a Paul
Mellon, some one interested in art and the mind. We need someone
interested in psychoanalysis, neuroscience and art, the three areas
that constitute our mission. We need a patron."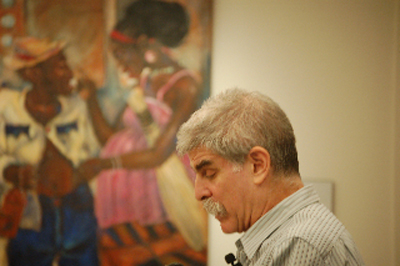 There is no other organization in the city that covers so much ground. This past week alone included the following events: round-table discussions on The Inventions of Bob Dylan, Mathematics and Beauty, Poetry and Microgenesis, Naming God Naming Infinity-Religious Mysticism and Mathematical Creativity, a performance by the Wingdale Community Singers, a documentary on Alice Neel, and a discussion on The Future of Health Care on the same day Congress passed ground breaking legislation on that subject matter. The Philoctetes Center isn't a retrograde think tank, they are explorers, they are interested in a better New York City and world going forward.
But it's over. Unless it's not. December 31st will be the last day unless we create a new heap of money to propel it forward. It is as simple and confounding as that, a matter of money.
SUBSCRIBE TO & FOLLOW THE MORNING EMAIL
The Morning Email helps you start your workday with everything you need to know: breaking news, entertainment and a dash of fun. Learn more