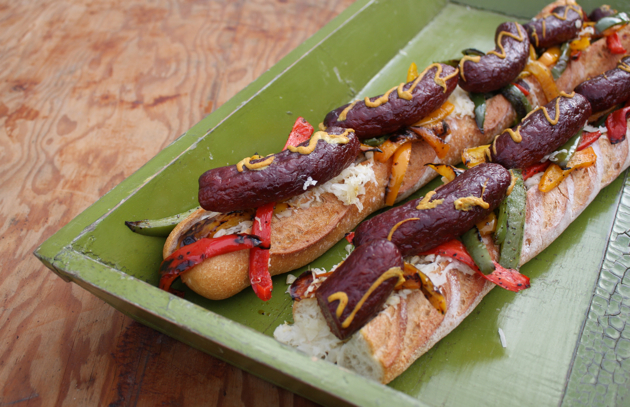 Several great bratwurst debates rage among Wisconsinites: Do you parboil the brats before grilling? (Heresy cry purists.) Do you prick the sausage to release some of the steam and fat? (Not unless you want dried shriveled-out sausage and a raging inferno on your grill.) What's the best method for cooking the brats? (Tradition calls for direct grilling over a moderate fire.)
Being a part time Yankee who spends the rest of the year in Miami, I've sworn not to wade into the controversy. But I've grilled enough brats over the years to have my own preferred method -- one which dodges the risks of setting this highly flammable food on fire while at the same time leaving it astonishingly crusty on the outside; plump and moist inside; and even imbuing it with the soul of American barbecue, a smoke flavor.
You guessed it: My preferred method for cooking brats is indirect grilling with wood smoke. And one of my favorite ways to serve brats is in a Mile-Long Smoked Brat Sandwich, pictured above. You can see how it's made in this Gold Plate Tailgating video.
So what else do you need to know about bratwurst?
In Germany, there are 42 recognized varieties, most distinguished by their size and the spices used to flavor them. There is even a bratwurst museum in the village of Holzhausen.
Brats (the word rhymes with cots, not cats) were introduced to the U.S. by German and Austrian immigrants in the mid-19th century.
What makes a brat a brat? In general terms, there's the meat (pork; pork and beef; or pork and veal), the grind (coarse), the casing (natural), and the seasonings (which include salt and pepper and sweet spices, like mace or nutmeg).
Always sold fresh (bratwurst are neither cured nor smoked), brats are practically a religion in Wisconsin, especially in the self-anointed "Bratwurst Capital of the World," Sheboygan. Locals grill them over charcoal and eat them on a special hard-crusted, soft-crumbed roll called a semmel, with brown German mustard, dill pickles, and an optional flourish of diced onions. In this town, it's considered sacrilege to serve brats on anything resembling a hot dog bun. But you might get away with it in Green Bay or Madison.
Mandatory fare for tailgaters in the Badger State are "double brats" -- two brats served on the aforementioned semmel (preferably baked in a brick hearth oven as they are at Sheboygan's City Bakery) or kaiser roll with condiments.
The bratwurst hot tub arose to meet a dire need of Packers' fans and other Wisconsin sports fanatics: how to grill the brats before the kickoff or during halftime and keep them warm and moist so you can enjoy them during the game. If you live in the Badger State, you're surely familiar with the procedure, and if you don't, it will quickly become part of your repertory. Without further delay, I give you the bratwurst "hot tub."
For more surprising facts on brats, check out my blog post "A Yankee Grills Bratwurst" on BarbecueBible.com.
CHECK OUT THESE BOOKS BY STEVEN RAICHLEN:READ MORE ABOUT GRILLING AT BARBECUEBIBLE.COM:

SIGN UP for Steven Raichlen's UP IN SMOKE newsletter to learn more about barbecue!
Steven Raichlen is the author of the Barbecue! Bible cookbook series and the host of Primal Grill on PBS. His web site is www.barbecuebible.com.