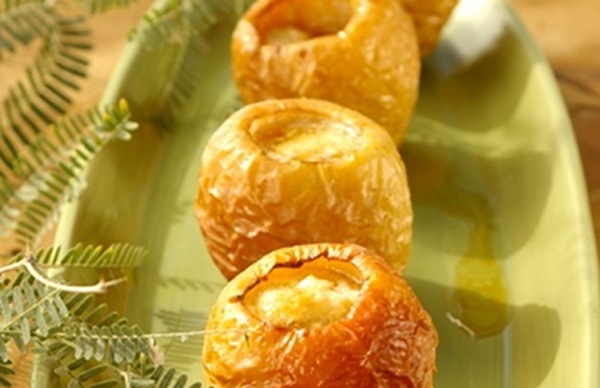 It looked like a charcoal marble at first glance and it stopped me dead in my tracks. It was a carbonized crab apple on a Stone Age hearth in the southwest of France -- visceral proof of the common bond we moderns share with our prehistoric ancestors: our passion for -- make that obsession with -- live-fire cooking.
So why bring up this archeological curiosity and its link to our primal ancestors now? Because October is National Apple Month, and it's time to celebrate the contributions this storied fruit has made to American barbecue.
Substantial those contributions have been. Apples possess a natural affinity for pork, which probably gained the fruit admission to the barbecue world in the first place. As for how else apples and apple-based products can be used by grill and smoke masters? Let me count the ways:
As a base for barbecue sauce:
For a sweet, Missouri-style sauce, try out my Spicy Apple Barbecue Sauce -- inspired by B.B.'s Lawnside in Kansas City.
For a tart and tangy North Carolina-style barbecue sauce, combine cider vinegar, water, salt, and hot pepper flakes.
One of the most unusual barbecue sauces in North America is the white barbecue sauce served at Big Bob Gibson's in Decatur, Alabama. To make it, combine cider vinegar, mayonnaise, and black pepper.
As a fuel and smoking agent:
Many pit masters swear by the sweet smoke apple wood produces -- among them, three time Memphis in May Grand Champion Mike Mills of the Apple City barbecue team and of the 17th Street Bar & Grill with locations in Murphysboro, Marion, and O'Fallon, Illinois. Burn whole apple logs in your pit or light apple wood chunks in a chimney starter.
Soak apple wood chips in apple cider prior to tossing them on the coals of your charcoal grill or in the smoker box of your gas grill. Use apple wood pellets in your pellet grill or apple wood sawdust in your stovetop smoker.
For more ways to incorporate inviting apple flavors into barbecue, check out my blog post "An Ode to Apples" on BarbecueBible.com.
CHECK OUT THESE BOOKS BY STEVEN RAICHLEN:
READ MORE ABOUT GRILLING AT BARBECUEBIBLE.COM:

SIGN UP for Steven Raichlen's UP IN SMOKE newsletter to learn more about barbecue!
Steven Raichlen is the author of the Barbecue! Bible cookbook series and the host of Primal Grill on PBS. His web site is www.barbecuebible.com.