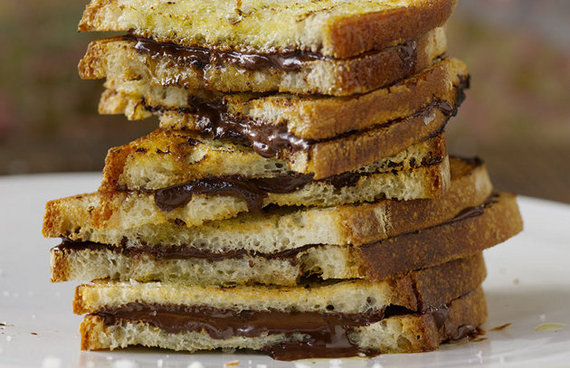 Forget those sugary candy hearts. Nothing says Valentine's Day like chocolate. Today, millions of Americans will converge on confectionaries, food markets, and even drugstores to purchase heart-shaped boxes of chocolates. (Opt out of this annual ritual at your own peril.) One thing is for sure -- we're talking a lot of chocolate. According to the National Confectioners Association, Americans will spend three-quarters of a billion dollars on Valentine's Day chocolate.
Candy is dandy, but I have a better idea. Show your love with chocolate -- and by firing up your grill.
And it's not just for dessert anymore. The fact is, more and more chefs and grill masters are harnessing chocolate's unique flavor profile (sweet, bitter, earthy, aromatic) and cooking properties to enhance savory dishes.
Consider the Boucan Restaurant at the Hotel Chocolat on the Caribbean island of St. Lucia, where the "cacao cuisine" menu includes yellowfin tuna with cacao pesto and cacao nib- and peanut-infused chicken satay. Boucan also smokes fish and meat over cacao bean shells. (Its sister restaurant in London, Rabot 1745, also serves a cocoa-influenced menu.) At Spain's late great El Bulli, Chef Ferran Adrià grilled bread with melted chocolate, olive oil, and flaky sea salt -- an after-school treat he loved as a youth.
Valentine's Day is upon us. Here's how to capture the romantic powers of chocolate at your grill.
Add it to barbecue sauces. Melt a square of unsweetened chocolate in your favorite barbecue sauce. You'll be amazed how it energizes and deepens the flavor. Try Jake's "3 C's" Barbecue Sauce (made with cocoa, cherries, and chipotles), or my Mexican Chocolate-Chili Sauce (my take on Mexican mole poblano -- a stunningly complex sauce that never met grilled chicken or pork it couldn't improve.
Incorporate chocolate into your favorite rib recipe. One of my faves is the Chocolate-Chipotle Baby Backs, developed by another grilling Raichlen -- my anthropology professor cousin David Raichlen.
Don't forget dessert. Like that classic camping dessert, the s'more. Send it to graduate school by sandwiching a slab of premium bittersweet chocolate, like Valrhona or Amano Artisan, between homemade chocolate chip cookies.
Call me a hopeless romantic. To paraphrase Shakespeare: "If chocolate be the food of love, grill on!"
Get more grilling tips for Valentine's Day.
Do you have a favorite use for chocolate in barbecue? Share your recipes, photos, and details on the Barbecue Board. Happy Valentine's Day to all!
SIGN UP for Steven Raichlen's UP IN SMOKE newsletter to learn more about barbecue!
READ MORE ABOUT GRILLING AT BARBECUEBIBLE.COM
Steven Raichlen is the author of the Barbecue! Bible cookbook series and the host of Primal Grill on PBS. His web site is www.barbecuebible.com.