The Internet is many things. It's a Kurzweilian Eden, a vast yet accessible universe that requires only a keyboard, some curiosity and a finger (or something) to push lettered keys in order to happily traverse its breadth.
But along with functioning mostly as a delivery system for commercial enterprise and as a virtual, multi-dimensional Mobious loop of instantly accessible porn, it is also a bottomless trove of history and art and once-thought-lost ephemera that rounds out the education of even the most negligent student.
It's also, it seems, a repository for all the vitriol and bad manners inherent in the human character, a deep-seated nastiness that the common rules of social interplay would normally regulate. And it doesn't reside in mere criticism, rather the tone of observation has become as far from constructive as is possible aided in part by the anonymity of the Internet giving formerly restrained individuals license to behave in ways their moral upbringings traditionally prohibit.
Social media has created a legion of social delinquents, billions of people speaking not their minds but their spleens, venting everything from the gum-cracking snark befitting a hair-twisting mallrat to the froth-flecked rage of a bell tower marksman. It is a recently discovered wellspring that is far more plentiful and combustible than any containing oily crude.
What's more, it's positively de rigueur to dis, cool to ridicule. Not that there isn't an endless supply of things to deride, but instead of merely pointing and laughing why not add an attempt to correct the subject of mockery?
It's just too much damn fun, is why. But it's more than fun -- it's empowering. And power (as that hunk-a-doodle-do Henry Kissinger told us) is the ultimate aphrodisiac.
And it seems to be majorly addictive. These social hubs are more like massive cuspidors of bile, wells of that same gunk that flowed under New York City in Ghostbusters, except that it courses through our TVs and computer screens and car radios, coating the rapt citizenry in itchy goo. The only advantage assholery seems to have over heroin, cigarettes and alcohol is that you don't have to show your ID to obtain it.
America hasn't been building many things lately, whether it's infrastructure or good will. The Rise of the Low would be an incredibly clever way to describe it, don't you think?
NO, I DON'T THINK! YOU ARE A THESAURUS-SUCKING LIBERAL! YOU'RE JUST SOME ACTOR WHO LIVES IN A HOLLYWOOD FANTASY AND KNOWS NOTHING OF WHAT IT'S LIKE TO LIVE AS A NORMAL HARD WORKING AMERICAN! AND YOU HAVE MINISCULE GENITALIA! AND YOU'RE OLD! HA! AND YOU SMELL OF PEAT AND BOURBON AND WET CORDOUROY! HA AND HA, AGAIN!
Even if you engaged in such -- and only partially true, by the way -- drivel, you'd be proving my brilliant ("BULLSHIT, STUCK-UP, PUSSY ACTOR !") point.
And while I bring this issue up I am fully aware of my own culpability on the subject of puerile behavior on the social sites I myself haunt. I have on many occasions engaged in less than civil exchanges that would make a sailor blush (which would be hard to detect, given what I imagine would be their wind and sea-salt chapped faces). People like to refer to these spats as "flame wars" but they are really schoolyard slap-fights between kids wearing "Stinky" outfits: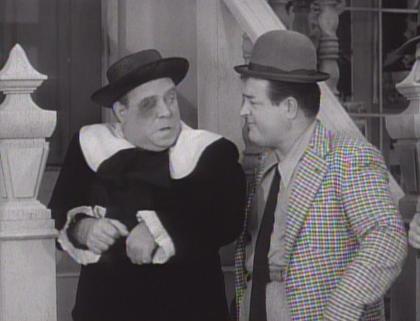 Maybe if there weren't a beckoning vacuum there'd be no urge to fill it.
Far from being discouraged by the rampant imagery and relentless rotation of interchangeable pop trends, destructive rhetoric in the form of fetishistic attention to things that explode, heavily muscled avengers, and vainglorious pseudo-patriotism is braided into the daily intake of all the suddenly cranky sons of bitches who waddle through life every day in these fifty states and who now insist they are as put upon as the denizens of the Lodz ghetto.
I know it's sappy, but I bet there's a market for civility and niceness out there that, while probably not as titillating as a junkyard scrap between shirtless adversaries, it'd sure be healthier. Then we wouldn't need that socialist, fascist, Kenyan, satanic Obamacare crap.
SUBSCRIBE TO & FOLLOW TRUMP'S FIRST 100 DAYS
How will Donald Trump's first 100 days impact YOU? Subscribe, choose the community that you most identify with or want to learn more about and we'll send you the news that matters most once a week throughout Trump's first 100 days in office. Learn more