Yesterday, on a long-awaited balmy Los Angeles day, Burberry chief creative officer Christopher Bailey hosted a classic English Tea at an Ivy-covered estate in Beverly Hills. The cute-as-a-button Brit had flown into town on a one day jaunt to celebrate the brand's very first beauty line, which launched at Nordstrom earlier this month.
Though the weather was schvitz-worthy, the intimate crowd -- which included Kate Bosworth, Lake Bell, Rachel Zoe and Jayma Mays -- managed to stay cool as the cucumber and chive tea sandwiches being served.
And Bosworth particularly stood out in a nude lace creation from the Burberry Porsum pre-fall '10 collection.
"We're twins!" the actress laughed as a fellow guest strolled by wearing the dress' black-hued counterpart. Only Bosworth added her own spin to the outfit with a tanned leather belt, lending a young, laid-back quality to the look.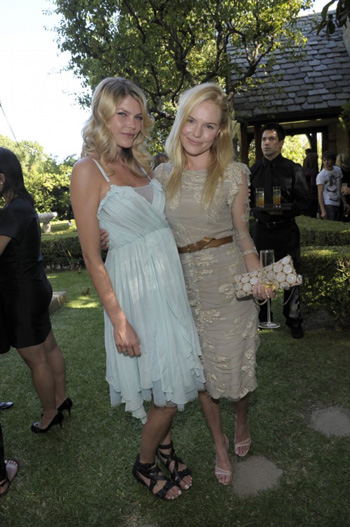 GARDEN PARTY: Model May Anderson and Kate Bosworth.
She wasn't the only bold faced name to wear slick accessories. Nylon Fashion Director Dani Stahl, who was hosting a Lia Sophia jewelry event at the Sunset Tower Hotel later that evening, sported a cool copper headband; While Zoe effortlessly strutted the lush green lawn in a pair of stilt-like platform sandals that became a topic of guest conversation.
But the accessories with the most buzz were the lipsticks, eyeshadows and blushes in Burberry's brand new line of cosmetics. The collection, simply called Burberry Beauty, consists of twenty extremely wearable, classic shades including Brick Red No. 19, a deep, blood-hued lip color, and Russet Blush No. 01, a natural, peachy cheek powder.
Bosworth is a fan.
"I'm in love with the collection," she gushed to Bailey before inviting him to later meet her at Chateau Marmont for a drink.
But Bailey, who was only in town for twelve hours, had to decline.
"Next time," he said, looking genuinely bummed. As the air finally started to cool, it was anyone's guess what the designer would miss more: the company of a movie star or the first genuinely perfect night of summer.
Click here to read more at StyleSectionLA.com/blog
Follow Style Section L.A. on Twitter: www.twitter.com/stylesectionla