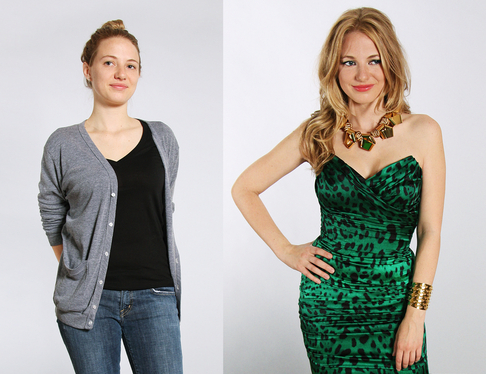 Green dress by Dolce & Gabbana ($2,595); Gold necklace ($395) and cuff ($225) by Alexis Bittar; Black pumps by YSL ($795). All pieces available at Saks Fifth Avenue, call 800.347.9177 for more information.
Everyone has been in a fashion rut before, when you're caught up in a routine of wearing only clothes that are comfortable and safe, applying makeup one-handed on the subway and sporting a ponytail everyday.
One StyleCaster reader who was ready for a little makeover pick-me-up is publisher manager Samantha Farr. As she explains, "You can usually find me in a t-shirt, jeans, and high-top black Converse or my favorite black lace-up boots." To help Samantha break out of this routine, we invited her into our studio to be made up and asked our friends at Saks Fifth Avenue, hair salon Mizu New York, and makeup artist Pamela Taylor to help bring out her beautiful features. Check out below to see the sexpot transformation:

THE 'BEFORE' SHOT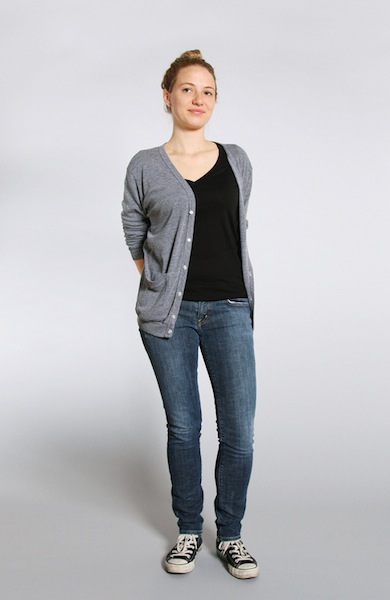 HAIR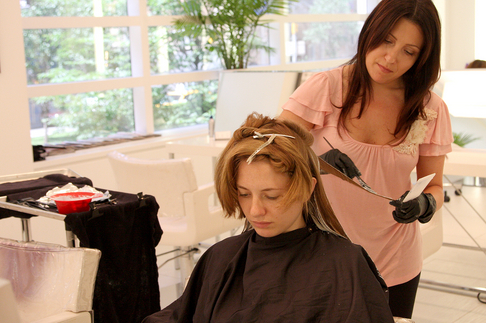 Colorist Francesca Montanille of Mizu New York played off Samantha's natural color, explaining that sometimes, "less is more and you don't need a drastic change for an impactful makeover." Montanille evened out Samantha's hair color and went back over her hair to play up some of Samatha's natural highlights.
As for the cut, Samantha wanted to keep the length of hair she's growing out, so Mizu New York hair stylist Dominick Pucciarello gave her long layers a light trim. Dominick advises, "Women growing out their hair tend to prolong a hair trim, but that means when they do get their hair cut, I have to cut off even more because the ends are unhealthy. I recommend every six weeks getting a clean-up trim so your ends don't split."
MAKEUP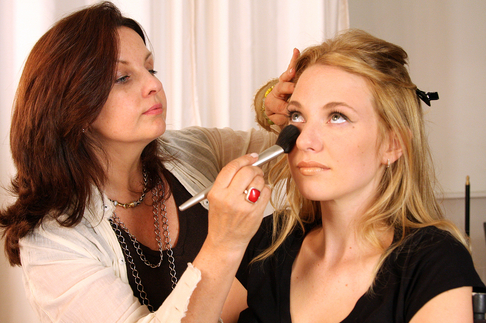 Samantha with makeup artist Pamela Taylor
Although Samantha can pump up her makeup for evening, she typically keeps her makeup look pretty tame, explaining, "I ride my bike to work so I try to keep it minimal." Makeup artist Pamela Taylor tapped into Samantha's daily low-maintenance makeup look by dusting a golden highlighting shimmer over her cheekbones and incorporated gold tones into Samantha's lip shade to play up her natural coloring. To make the look a little more dramatic, Taylor finished off with a shimmer black liner around Samantha's eyes.

WARDROBE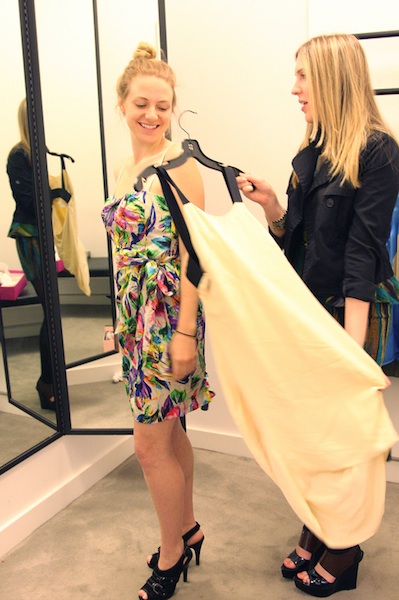 Samantha with StyleCaster's Emily Finkbinder at Saks Fifth Avenue
StyleCaster's Emily Finkbinder styled Samantha's new look: a killer emerald green leopard print Dolce & Gabbana corset dress that was a beautiful contrast to her fair skin. Samantha confesses she's usually a casual dresser, but this hot femme fatale number highlights her curvy but petite figure. "For most women, it's daunting to switch immediately to a fitted dress," Finkbinder explains. "But the ruching doesn't take Samantha too far out of her comfort zone without resorting to an A-line dress."
Plus, to give Samantha a little bit of height and anchor the dress, Finkbinder paired it with a platform pump by YSL. "With this kind of dress, you need to go all the way with a shoe; a kitten or mid-heel won't work."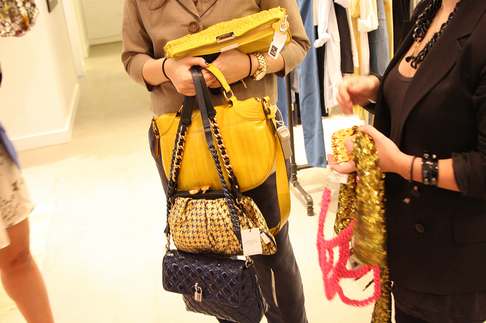 Handbag heaven! Accessories options at Saks.
AND THE FINAL LOOK...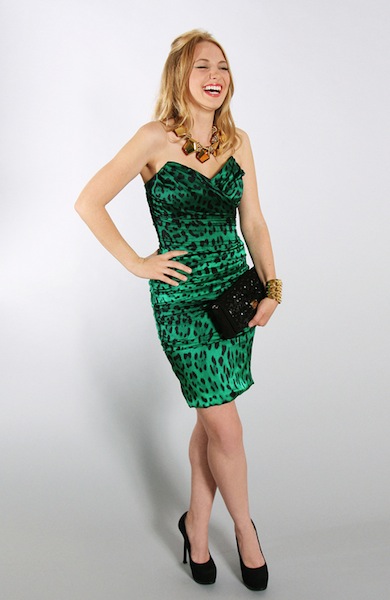 What do you think of the transformation? Let us know in the comments below!
Think you're in need of a makeover? Email us at experience@StyleCaster.com to be considered for our next makeover story.
To see more behind-the-scenes photos of Samantha's makeover, go to StyleCaster.com!
SUBSCRIBE TO & FOLLOW LIFESTYLE
HuffPost Lifestyle is a daily newsletter that will make you happier and healthier — one email at a time. Learn more