Despite the very low expectations for a major agreement, there are major areas where the observers expect to see progress this year:... the creation of programs to prevent deforestation (known as Reducing Emissions from Deforestation and Forest Degradation, or REDD). Progress in those areas would go a long way toward building trust and partnership between nations, observers say.
(REDD) is an effort to create a financial value for the carbon stored in forests, offering incentives for developing countries to reduce emissions from forested lands and invest in low-carbon paths to sustainable development. REDD+ goes beyond deforestation and forest degradation, and includes the role of conservation, sustainable management of forests and enhancement of forest carbon stocks.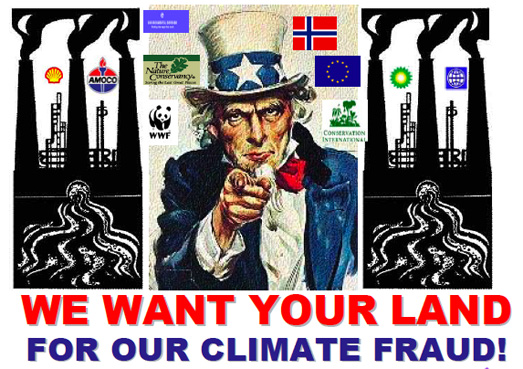 Indigenous and environmental rights groups warn that an agreement on REDD at the upcoming UN climate change conference in Cancún, Mexico will spell disaster for forest peoples worldwide, limiting the rights of indigenous and peasant people over their territories. The real solution, the groups argue, is for developed countries to reduce fossil fuel emissions at the source.
Yes we need to stop rampant deforestation -- but REDD will neither protect forests nor reduce dangerous pollution. REDD will allow polluting industries to avoid reducing emissions through offsets from trees and other so-called 'environmental services.' From an indigenous and human rights perspective, REDD could criminalize the very peoples who protect and rely on forests for their livelihood, with no guarantees for enforceable safeguards. REDD is promoting what could be the biggest land grab of all time.
Carbon Markets buy and sell permits to pollute called allowances and carbon credits. Carbon markets have two parts: emissions trading (also called cap and trade) and offsets. They are false solutions to climate change because they do not bring about the changes needed to keep fossil fuels in the ground. They claim to solve the climate crisis but really allow polluters to buy their way out of reducing their emissions.
It allows Northern polluters to buy permits to pollute or carbon credits by promising not to cut down forests and plantations in the South. There are hundreds of REDD-type pilot projects in the world and, many of them violate Indigenous Peoples' rights and have resulted in militarization, evictions, fraud, disputes, conflicts, corruption, coercion, conmen, crime, plantations, and 30-100 year contracts and deals with oil companies and other climate criminals.
REDD could drive land speculation and result in massive land grabs in the name of saving the climate. It could result in violations of the UN Declaration on the Rights of Indigenous Peoples. In fact UN admits that REDD could: criminalize indigenous agriculture and lifestyles, violate indigenous peoples' rights, lock-up forests and marginalize the landless.
UNEP funded Mau Carbon Forest Project in Kenya is a humanitarian crisis in the making. Due to this project more than 20,000 Ogiek people face eviction from their ancestral land. Kenyan Prime Minister Raila Odinga announced that every single Ogiek would be facing arrest if they did not voluntarily abandon their ancestral lands in the Mau Forest region of Kenya -- where the Ogiek have lived for centuries. Ogiek could become REDD refugees but they have vowed to resist any move to evict them.

During UNFCC Convention in Bali indigenous people protested the fact that they were shut out

from the negotiations even though it is their land that UN was considering for carbon offsets
Maintaining indigenous peoples' participation inside the Bella Center was very important during the waning hours of the conference to ensure the rights of indigenous peoples would be recognized in the Accord (Copenhagen Accord). This did not happen. Neither human rights language nor the rights of indigenous peoples were recognized in the Accord.
SUBSCRIBE AND FOLLOW
Get top stories and blog posts emailed to me each day. Newsletters may offer personalized content or advertisements.
Learn more