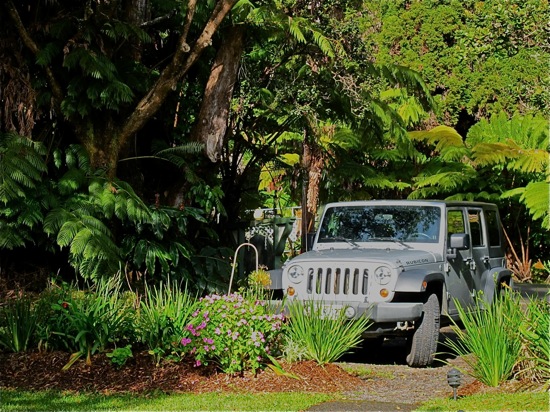 When I finally decided to spend my milestone birthday on the Big Island of Hawaii, I realized I didn't know all that much about it. Sure, I had friends who had visited there (and several who have places there), but I wasn't aware that there are two distinct sides to the island with two airports: Hilo on the east and Kona on the west. After making a few airline reservation blunders, I decided it was best to fly into Hilo, rent a car, and then depart from Kona on the other side. A week would give us plenty of time to explore the island, and indeed we did. My hubby and I put on nearly 700 miles in our goofy Jeep Rubicon, which we saw coming and going down the highways and byways.
We flew Hawaiian Airlines from a rainy Seattle on the morning of my birthday. After a brief layover in Honolulu (there are direct flights to the Big Island, but they were super expensive), we landed in an overcast Hilo. Our home for three nights was The Volcano Teapot Cottage, a 1912 bungalow located in the town of Volcano Village, just a few minutes from the entrance to Volcanoes National Park. The two-bedroom cottage is nestled on three acres of lush vegetation, complete with a hot tub in the tropical garden. A full kitchen is stocked with everything you'll need for a full breakfast, along with plenty of teas to choose from (and teapots!).
Since we're not beach people, we enjoyed being up in the cool mountain climate, and found plenty of places to drive to and explore. Here are some of the highlights:
Hawaii Tropical Botanical Garden: This lush 40-acre garden in the Onomea Valley opened in 1984, after the owners spent six years hand-clearing the tropical jungle. Visitors meander along a 500-ft boardwalk, which leads all the way down to the Pacific Ocean. The flora is spectacular, and there are waterfalls and a birdhouse with parrots (they bite!). If it rains, umbrellas are available to borrow at the visitor center.
North to Waipi'o: Driving north from Onomea Bay, we made stops in Laupahoehoe, the scenic Waipi'o Valley and on to Honoka'a. The plantation town is pretty much closed on Sundays, except for a sports bar where we popped in to watch part of the Super Bowl.
Hilo: It was a rainy day, so we focused on indoor activities. They included purchasing a power cord at Tropic Mac (Mac & iPod Healing, since I'd left mine at home) and a visit to the Lyman Museum and Mission House. Its shell collection is impressive and it has one of the best mineral collections in the world.
Kilauea Lava Field: Located southeast of Hilo in the Puna District, there are lava viewing sites that may be reached at the end of Highway 130 near Kalapana. It was surprising to see homes still in the area, unaffected by the flow of lava to the sea. We saw no flowing lava, just fields of what appeared to be hardened, black cake batter. For updated lava viewing conditions, call 808.961.8093.
Star of the Sea Painted Church: Not far from the Kilauea Lava Field is this colorful 1928 church, originally located in Kalapana. During the lava flow of 1990, it was relocated to this spot on Highway 130 above Kaimu. The Catholic church is known for its frescoes, stained glass and trompe l'oeil murals.
Volcanoes National Park: Located just three miles from our cottage in Volcano Village, we spent a rainy afternoon exploring the area. Although there are numerous day hikes, the weather was so poor that the Kilauea Visitor Center suggested we go to the Thomas A. Jaggar Museum, located on the 11-mile Crater Rim Drive. The museum specializes in volcanology and has equipment and a working seismograph on display. The overlook provides a good view of the caldera and main crater, along with interpretive displays about Kilauea. Little did we know that one month later, Kilauea would erupt, putting on quite a show for both locals and visitors.
Dining: We enjoyed dinners in Volcano Village that were a quick drive from our cottage. Kiawe Kitchen Cafe, next to the Volcano Store, specializes in wood-fired oven pizza and pasta; Thai Thai Restaurant has tasty Thai food (sit down or take out); and for a special dinner, make a reservation Kilauea Lodge, housed in a former 1930s YMCA camp building. They're also open for breakfast and lunch, along with weekend brunch. Other fun stops along the way included Le Magic Pan in Hilo for French crepes and fresh salads, and the 50s Cafe & Fountain in Laupahoehoe for burgers and other big food in a fun, retro atmosphere.
NEXT: Holualoa - Away from the crowds in Kona
Big Island of Hawaii - Hilo and the East Side