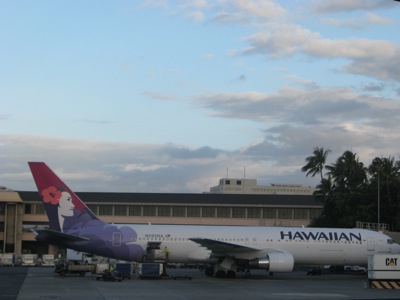 Hawaiian Airlines at Honolulu International Airport, Oahu. Photo: Sue Frause
While many people like to celebrate their milestone birthdays with a big bash, I've always preferred to fly away from it all. Especially since I'm an Aquarian born in February, which isn't known as the loveliest month in the Pacific Northwest.
For my 40th birthday, I was ready to be whisked away to Paris, but it didn't happen. As the song goes, I love Paris in the springtime, I love Paris in the fall. But winter when it drizzles? Not at all. We postponed our French adventure to later in the year. A decade later, when my 50th loomed large, there was no doubt about where I wanted to go: a spa with a couple of gal pals. Our trio's destination was Rancho La Puerta in Tecate, Mexico, and it was the perfect half-century gift!
No surprise that the Big Island came out on top. It's got the weather (low 80s), proximity (easy flight from Seattle) and the all important flip-flop factor. Plus, it's the only island in Hawaii my husband and I have yet to visit, and the favorite of a number of friends. One couple loves it so much that they bought property there.
Well, Oprah I'm not, so I'll settle for a week of warm breezes, relaxing days and nights and no set plans except going to the summit of Mauna Kea on Superbowl Sunday. I guess the mysteries of Pittsburgh and Green Bay will have to be solved without me.
And Reykjavik will just have to wait.
SUBSCRIBE TO & FOLLOW LIFESTYLE
HuffPost Lifestyle is a daily newsletter that will make you happier and healthier — one email at a time. Learn more