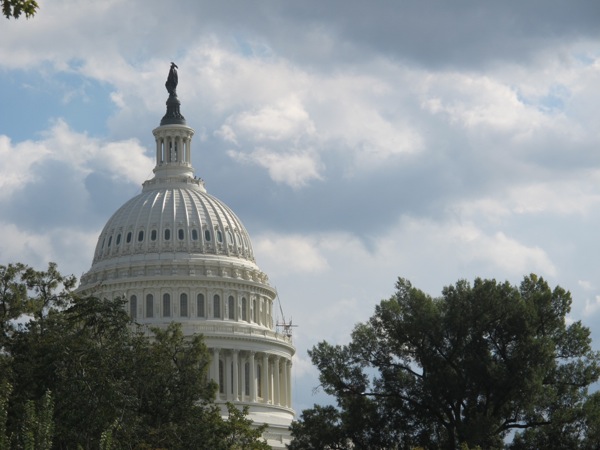 Will the U.S. government decide to go on spring break Friday at midnight? Photo by Sue Frause.
I'm somewhat nervous about the potential government shutdown this weekend. Not so much that the national parks and museums will be closed, but because I have international travel plans in early May. That in itself wouldn't normally be a problem, but last week I sent in my application for additional passport visa pages for both myself and my husband. With only three blank pages left in our passports, I didn't want to risk being turned away at the borders of Singapore and Vietnam for insufficient pages.
Ironically, the US Department of State is hosting its third annual Passport Day in the USA on Saturday, April 9. Regional passport agencies and facilities across the country are scheduled to be open that day to accept passport applications, with no appointments necessary. If the government is up and running.
According to ABC News, which put together a list of government offices that will be affected, there could be a glitch for travelers:
"Passport Processing: Not Working. Passport processing employees will be sent home during the shutdown, causing delays in the 200,000 passport applications currently pending. Visa processing will aslo be delayed or halted."
I express mailed our applications on April 1, 2011 to the National Passport Processing Center in Philadelphia. Fingers crossed that the expedited service fee I paid will kick in, and our passports will be returned in time for our Asian adventure.
According to The Washington Post, the 1995 and 1996 government shutdowns had a big impact on travelers applying for visas and passports, along with the travel industry: "Up to 30,000 applications by foreigners for visas went unprocessed each day and 200,000 applications for U.S. passports went unanswered. Both moves resulted in millions of dollars in losses for tourism-dependent industries and U.S. airlines."
SUBSCRIBE AND FOLLOW
Get top stories and blog posts emailed to me each day. Newsletters may offer personalized content or advertisements.
Learn more