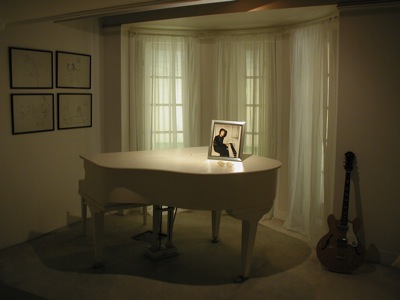 It's hard to believe that John Lennon would have turned 70 this year. He was born in Liverpool, England on Oct. 9, 1940 and died in New York City 30 years ago.
No surprise that his home town of Liverpool is hosting the John Lennon Tribute Season to celebrate his life through music, film, poetry and art. It begins on Oct. 9 and ends on Dec. 9, 2010 -- the day after the anniversary of his menu.
Among the events are a Lennon Remembered tribute concert and a birthday bash at The Cavern. The Beatles Story is exhibiting White Feather: Spirit of Lennon, about life with John Lennon by his son Julian and John's first wife, Cynthia.
Pictured above: John Lennon's piano on display at The Beatles Story in Liverpool, England. See below for a slideshow of Liverpool from a visit I made in 2004. All photos by Sue Frause.
REMEMBERING JOHN LENNON'S LIVERPOOL (Photos by Sue Frause)