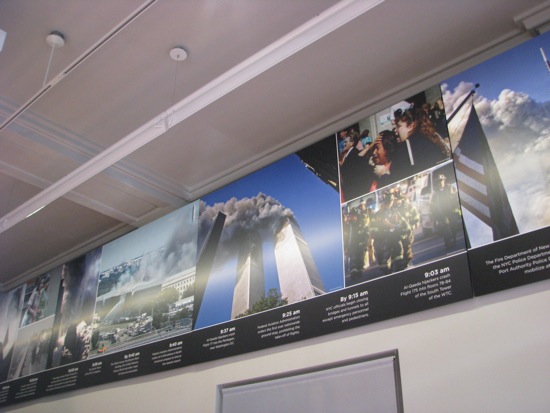 Timeline at the 9/11 Memorial Preview Site near the World Trade Center. Photo by Sue Frause.
A tweet from CNN that came through after the announcement of the death of Osama bin Laden raised a bit more concern for me than it usually would: "State Dept. warns Americans abroad of 'enhanced potential' for violence after #Osama bin Laden death http://on.cnn.com/k6b6tS."
I'm flying off to Singapore on May 3 and will be curious to see what heightened security there will be at the airports, if any. From there, it's on to Vietnam. Here's part of the official Travel Notice from the U.S. Department of State, Bureau of Consular Affairs:
The U.S. Department of State alerts U.S. citizens traveling and residing abroad to the enhanced potential for anti-American violence given recent counter-terrorism activity in Pakistan. Given the uncertainty and volatility of the current situation, U.S. citizens in areas where recent events could cause anti-American violence are strongly urged to limit their travel outside of their homes and hotels and avoid mass gatherings and demonstrations. U.S. citizens should stay current with media coverage of local events and be aware of their surroundings at all times. This Travel Alert expires August 1, 2011.
Harriet Baskas, a travel columnist for MSNBC.com and USATODAY.com, is also curious. She tweeted, "Flying somewhere today? Let me know if 'things' seem different at the security checkpoint, ticket counters, on the plane."
Jaunted.com posted this: After Bin Laden Death, What to Expect from TSA and Airport Security. As far as encountering "anti-American violence," hopefully not. The only time I ever experienced any hostility toward my country was in Norway in the early '70s. It was during the Vietnam War, and upon arrival at the Oslo train station, a bunch of young hecklers shouted, "Yankees, go home!" No wonder I spotted so many Canadian flags on fellow travelers.
SUBSCRIBE TO & FOLLOW LIFESTYLE
HuffPost Lifestyle is a daily newsletter that will make you happier and healthier — one email at a time. Learn more