She will knock the Washington Post and Washingtonian photographers out of their socks.
Newly appointed White House Social Secretary Desiree Rogers moves like Beyoncé and wears clothes like Tyra Banks. Indeed, her backless gowns and designer dresses have rendered her one of Chicago's Best-Dressed Beauties for years.
Let's put that in context: Best-Dressed Executive, Board Member, Philanthropist, mother, and like many of President Obama's and the First Lady's friends and appointees, Harvard MBA.

The "they" that always like to calm down the chic and frump down the fancy in Washington will invariably put a crimp in the very stylish Desiree's approach to fashion, but Social Secretary Desiree already knows how to put a jaw-dropping look together that is still appropriate for sitting on the dais of the Economic Club with CEOs, giving a speech when she was President of People's Gas, or running the Illinois Lottery, where she'd often pull the winning ticket out of the basket, on-air, herself.
Elegant and so utterly Women's Wear Daily is her apparel credo.
When I moved through the corridors of Washington in my day, the rule of thumb was "it's okay to wear it if it's eight years old and you wouldn't be seen in it in New York."
The rare combination of accomplishments that precede the Obama appointment -- from waving from the Zulu Social Aid and Pleasure Club float during Mardi Gras in New Orleans (her family descended from the city's finest lineage), to being a Board Director of Blue Cross Blue Shield of Illinois and President of Social Networking at Allstate Financial -- have given her a confidence and a well-polished aloofness that allows her to carry herself in just the right way in front of people.

Photo by Tom Maday
When Desiree puts it together, it works. Her demeanor and approach to her tasks is always serious.
Her thank you notes arrive within two days, and her e-mails are answered within seconds. She is never tardy. She is a Harvard MBA who attends alumni gatherings, volunteers for the Museum of Science and Industry near the University of Chicago -- where her daughter graduated form the prestigious Lab School (which the Obama girls attended), and was married to the CEO of Ariel Capital, John Rogers, Jr., one of President Obama's chief fundraisers and Inaugural Co-Chair. They are the perfect divorced couple, always speaking well of one another and able to stand side by side, smiling at an event for their daughter. Or the Obamas.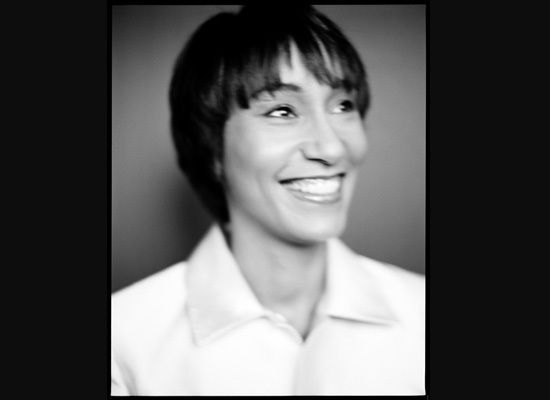 Photo by Tom Maday
There is a shyness that is part of the Desiree allure that is part caution and part listening before she speaks. She doesn't like to make mistakes.
She will do very well in her new role as White House Social Secretary, bringing a more serious and open-house aura to the grand old House on Pennsylvania Avenue. And if the press and public allow it, she will sashay in a very special brand of glamour.
Let's hope they do. The new Madame Social Secretary will edit herself. And a gorgeous, single White House Social Secretary will be fun to follow, picking up our spirits in such very serious times.
Wink back at us sometimes, Desiree, and make us smile. Even as you do your serious work.
Let the chronicling photogs get sockless.