I am about to return a book that is 31 years late. I checked it out of my school's library when I was in 3rd grade. I can't imagine the fines. I hope that my recent donations of art and books to their fundraising auctions will soften the blow, as well as a heartfelt note of apology, but how do you calculate such a bill?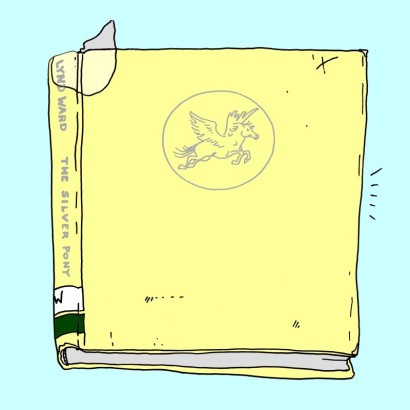 Image by Summer Pierre
My 3rd grade teacher knew my intense love of horses and suggested The Silver Pony by Lynd Ward to me. So, I checked it out and brought it home. I can remember getting the notice at school that it was high time to return the book to the library, but then -- I just didn't do it. Maybe I had my mind on other things that year. It was the year I wasn't supposed to see my dad anymore and it was the year my mom asked, "How would you like to live in the van for awhile?" We didn't end up living in her van, but I did go to live with relatives for a few months until she settled us in a new apartment about 90 miles away from anywhere I knew. The Silver Pony must have come with me to the new town. I know it came back with me 6 months later when, after a custody battle, I moved in with my dad and returned to the school. Yet, I still didn't return it and I certainly never forgot it.
It wasn't a book I particularly cherished. The Silver Pony kind of freaked me out. I remember being surprised that there were no words -- only page after page of stark gray and white illustrations telling the story of a farm boy's adventures flying around the world astride Pegasus. Sounds pretty, right? Yeah, except I hated the shadows of the boy's mouth crying out as his father spanks him. The picture of Pegasus being shot at by missiles and satellites in space made me shut my eyes and turn the page quick. I was showing the book to my husband the other night and it still brought back an unnerving feeling looking at those pictures. When you see violence, pain and fear without sound, why is it that your ears ring? Mine still ring at the sight of the Pegasus shrieking wordlessly in a blinding flash. It's beautiful story, but not necessarily pretty.
If only pretending something didn't exist equated forgetting. I can see The Silver Pony on all the shelves I lived with as a child and then as an adult in half a dozen states. I can remember avoiding the view of its spine with the green tape and letter "W" reminding me where it came from. Like a bill I couldn't pay, I knew I had to take care of it someday. It took me 30 years, but I am finally ready to return it to where it always belonged. All this avoiding just takes up too much space. I can't take it with me anymore.