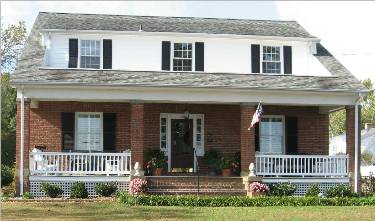 On Maryland's quaint eastern shore in the city of Cambridge stands the only surviving residence of American sharpshooter, Annie Oakley. It's a two-story Colonial Revival home whose red-brick façade and glossy black shutters look nearly new.
Located at 28 Bellevue Avenue on a prime corner facing Hambrooks Bay, the house was built by Oakley and her manager-husband, Frank Butler, in 1912. By then, the couple had spent a quarter century on the road, mainly touring with Buffalo Bill's Wild West, and they sought a rustic sanctuary.
If you look closely you can see the second-floor deck from which Oakley allegedly shot birds in the skies over the calm Choptank River. And though the home is now privately owned and closed for tours, it apparently still features the built-in shelves where Oakley displayed her many trophies. "The Peerless Lady Wing Shot" (as she was called in the ads for Colonel Cody's show) was barely five-feet tall, so the kitchen counters were set low to accommodate her needs. After the Butlers sold the property, however, a future owner raised the counters, thus eliminating this design quirk.
Oakley's niece, Annie Fern Swartwout, extolled the pleasures of her aunt's "dream house" in her 1947 memoir, Missie: The Life and Times of Annie Oakley. "I joined Missie and Jimmie [nicknames for Annie and Frank] in the summer of 1914," she wrote, "and we did enjoy the boating and fishing, and later in the fall, the hunting. The house was only a few hundred feet from the beautiful bay, and it was heavenly to sit on the porch and... dream."
I understood Swartwout's fondness for this vista when I drove to Cambridge two Sundays ago. It was a crisp autumn morning with cerulean skies and the foliage was at its peak. My companion and I easily found Annie's home, and from a grassy slope that must have been part of Oakley's front yard we saw the halcyon bay stretching for a good mile.
Yet Annie Oakley felt restless in retirement, according to her niece and other biographers. Frank Butler called Cambridge "a sportsman's paradise," in an article he wrote for American Field, but the famous couple sold their property in 1917 and never put down roots again, preferring to stay in hotels or visit relatives.
In 1995 "the Annie Oakley House" in Cambridge was listed on the National Register of Historic Places, though the official marker was apparently stolen a while back. Sadly, the sharpshooter's family homestead outside Greenville, Ohio, was razed decades ago, and the Butlers' 1893 home in Nutley, New Jersey, suffered the same fate. Last summer both Cambridge and Greenville marked the 150th birthday of Oakley, who was born Phoebe Ann Mosey on August 13, 1860, near Woodland, now Willowdell, Ohio -- facts I learned while researching my new novel-in-progress about "Little Missie."
It's worth visiting Cambridge for other sights, too. One can see many fine Victorian homes, tour the Harriet Tubman Museum (Tubman was born there), and learn about the novels of author John Barth, another Cambridge native. On a whim -- sans reservations -- my companion and I had a delicious lunch of Maryland crab cakes and coconut coleslaw at the Water's Edge Grill in the Hyatt Regency Chesapeake Bay Golf Resort and Spa. Downtown restaurants were closed around noon that Sunday, so Monday through Saturday might offer a greater range of options if you plan to stop for lunch.
I took the above photo on October 31, 2010.
SUBSCRIBE TO & FOLLOW LIFESTYLE
HuffPost Lifestyle is a daily newsletter that will make you happier and healthier — one email at a time. Learn more